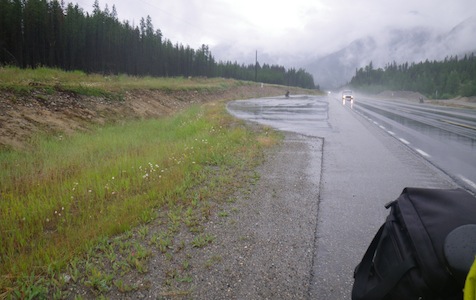 Rocky Mountain 1200 DNF
by Rod Dailtz
There! I've said it: Did Not Finish. Abandoned. Fortunately for my peace of mind, there were 49 other riders out of 112 starters who were also DNF. Good company, including one of the two organisers, whom one might assume to know the terrain and weather.
I do not wish to be arrogant, but as the only Scot to have completed Paris-Brest-Paris six times, and having cycled over the Alps from Thonon-les-Bains on Lac Leman to Antibes on the Med, and from Thonon-les-Bains to Trieste on the Adriatic, and over the Pyrenees from Hendaye on the Atlantic to Perpignan on the Med, I felt I had a good chance of completing the Rocky Mountain 1200. Tough, it didn't cooperate - see the words on http://www.randonneurs.bc.ca/rockymountain1200
I think this is my very first DNF - I have been out of time before, for example one London to Brighton 55-mile run, but I have finished those events properly another time.
Janet and I flew out on July 17, to make sure that I would have time to fix my bike if it arrived with damage. One time I arrived in Paris, and found both tyres slashed - perhaps the customs suspected drugs in the tyres? You never know what may happen. I have had bags delayed a day or two. I have travelled many times with a bike, and only suffered one big dent in the frame, and a little ding in the wheel which was easy enough to sort.
The flight gave some views of Baffin Island, and later the shore of Hudson Bay with icebergs - the handheld GPS I use on the bike was helpful to figure out where we were!
Everything was fine, and I was pleased to be able to check four rental car models to find the best one to fit my bike in. Vancouver YWCA provided comfortable reasonably priced accommodation, to acclimatise. Vancouver is a nice city with lots of water and parks, an Aquabus service along the waterfront, and excellent local cherries.
Leaving Vancouver there was some rain, but the basement parking allowed me to repack everything in the dry - it is always a pain, carefully packing to meet the airline and security requirements, then repacking to fit in the car with the right things accessible, and this time to have all the cycling kit together. Mountain Equipment Co-op supplied some important things, DEET for local mosquitos and Mountain House freeze-dried meals for camping in case of emergency. Costco supplied a discount Garmin GPS with lifetime North American maps, which will come in useful visiting my daughter Erika in New York, and - since it is late summer (still hot) - a half price soft-case cool-box. North America is so good with ice, nice to keep the butter and the beer chilled.
Up Canada Highway 1 through the Fraser Canyon, big hills and a huge river. Hell's Gate offers a cable-car ride down to water level for $20 but the walk was so much better after hours in the car. The river is massive, something like 100 feet wide, today 154 feet deep, record was 207 feet when it was over the bridge. Surging along, what a place to imagine kayaking! A leisurely drive the next day on through Lytton, looking sad and old, and Cache Creek, much livelier with a grocery and a pizza/bakery which was well hidden! From Cache Creek the scenery was wildly unexpected, in place of the traditional pine forests, the open hills were reminiscent of Nevada, with brown grass and occasional sagebrush. A "temperate desert" but with plenty of river water for irrigation.
The Hospitality Inn in Kamloops was pleasant, with an outdoor pool, a barbecue, a huge open view to the north over the town and river. It was nearly full of a Jehovah's Witnesses convention, but they seemed reasonable people, with bottles of beer by the barbecue. I enjoyed a lovely large steak and coleslaw, which is sold in Canada as a kit, sliced veg with a sachet of sauce.
On Sunday, a hot sunny morning, I cycled down to register, collect my jersey, and have my bike checked. It seemed a friendly crowd, many nationalities. Back at the Inn, I decided to cut down my Shimano sandal, where a ridge pressed against my big toe, which had caused me trouble on the National 400. The doctor had diagnosed a bone spur, and recommended Ibuprofen, but reduced pressure would help more. The rest of the afternoon and evening was more of a struggle, my Dragonfly cooker was not working properly; eventually I concluded the old pump was damaged. Stripping down more of the cooker than ever before was not part of the plan to relax!
The weather in the evening was spitting with rain to the start, road a bit wet, so I wore overshoes. At 9:50 pm the organisers called for everyone to go outside, but at 9:55 a heavy shower sent us all inside to put on waterproofs. The start was uneventful, an orderly long line of bikes, split up by the occasional traffic light.
The route up to Jasper is Canada Highway 5, a major road initially four lanes, with bikes riding on the hard shoulder. This was not nice, since the rumble strips were not placed consistently. These are not like UK gentle bumps in the white line, but wide, deep slots cut into the surface, and when my bike strayed onto it, it felt like an electric shock. In the rain and the dark, my headlight did not pick out the rumble strip well, so I often rode just in the traffic lane. The speed limits are lower in Canada, so the big lorries are only 50 mph - but up to 66 tons, not like the wimpy 44 ton juggernauts people like to criticise in the UK.
Mostly it was dark, with no idea of the mountains around, but now and then lightning showed the surroundings. Thunder, very loud, followed typically 15 seconds later - three miles away, or high.
I arrived in Clearwater control at 4am, a fair enough time for 124km and 479m climb. I had finished all three bottles I carry, desperate for something, not just water, salt, and Trebor Refreshers (which usually I find very good). Actually I nearly missed the control, after all the effort I had put into the GPS route, the precise hall had changed and was half a mile south and on the other side of the main road! Little of the food was to my taste, best was a dry beef sandwich, and several cups of coffee. I was among the last to leave the control, not much behind.
About 5:30am I saw a rider flag down a pickup, and load his bike in. I later found he was the first to abandon, not sure why, or whether the pickup had been summoned by phone.
The GPS tried to take me on several silly detours, but since I had studied the route and have had plenty of experience with GPS quirks, I was not fooled. At least the GPS tells you accurately where you are, even if its route choice is unreliable. Strange, when the car GPS from the same company does so well.
I arrived at Blue River control, 108km and 520m of climb, at 10:45 - the control offered some very welcome sausage, bacon, and egg, and loads of coffee. I was a bit slow, though 2:30 inside the time limit. There were some massive showers, the gutters running full, rolling stones along.
The road to Valemount was raining, varying from light to heavy. Valemount is a small population spread out over a wide area, the hall is way out the back, a long way from the highway. Again there was little food I liked, I looked for a shop but all I could find was a petrol staton, which sold me a can of Orangina (one of my favorites!) and some chocolate.
After 12 or 15km, I had a puncture, which is very rare since I changed to Continental Contact tyres five years ago. It happened within sight of a railway bridge, which gave a little shelter, though the road surface was still streaming with water, so patching a tube was out of the question. A girl in a 4x4 stopped to ask if I was OK, I said yes, thank you for asking, I was determined to go on. A second puncture at 30km in wide open country left me worried, I had searched carefully but failed to find any cause for the first puncture, but obviously there was something in the tyre. Now I had a problem. I had three tubes, but if I was unable to patch a pinhole, I could easily run out of good tubes. There was no incentive to go back, well it was 30km to where there was little food and no heating, and I was already a bit hypothermic. Jasper was 90km ahead, in darkness, heavy rain (which had already soaked me), uphill, and with - based on what I had seen - no buildings or shelter anywhere along the route.
I had time in hand to arrive in Jasper, if nothing more went wrong, but I knew I needed to sleep there and would spend at least two hours, more likely three, and I would leave out of time (which is fair enough). I was pretty sure that I would be out of time when I arrived at Lake Louise, and the high passes would be far colder than Jasper, probably too cold to handle without dry clothing.
With all that running through my mind, when two guys stopped in a sports 2x2 and offered me a lift, it was too easy to accept. If I had refused, it would be difficult to predict whether anyone else might stop - though my experience shows the Canadians are extremely generous! - and I could have ended in a serious situation. At best, I should have been able to carry on to another control or two, and then been forced to abandon anyway.
So.
Actually making use of that lift was another problem, the rear seats are intended for children or emergencies, and had quite a bit of luggage on them. The guys were determined, we took the wheels off the bike, and they put down the convertible top in the teeming rain, I sat down as tight as I could and they fitted the bike frame and wheels around me. It was great to be warm, if not entirely dry, and 90km and about an hour later, we arrived in Jasper - I remembered the town layout, also my GPS guided us in.
At the Jasper control, everyone seemed to be far too concerned about my state. I felt well enough, wanted a hot drink and a warm shower, but I needed to be sure my bike and kit was in order first. The two guys who gave me a lift were good adventurous types, they were currently exploring northern Ontario, and had a project to explore Baffin Island, and were delighted to find out about Audax cycle challenges! They thought it was a first-rate idea, and talked to people at the control for a while.
The time-check man sent an email to Janet for me, telling her the score, that was at about 1am. When I woke up about 6am, she had replied, saying she woke at 4am and was on the road to fetch me. I had thought I might have cycled on to Lake Louise now I had my gear mostly dried, but that was way too far - as it was, she had to drive 440km there and the same back, not the longest day we have driven but possibly second longest. She left at 5:15am and arrived about 10am, covering in five hours what I had taken 23 hours to ride. We had a breakfast, and drove back to Kamloops, the weather gradually improving until we arrived in full sun, bright and warm. I felt fine, the only issue was a postage-stamp totally raw spot on my thigh, which must have been from the bike on top of me.
At the "Wrap Party" for wrap-up, I found the first rider Nigel Press completed in 52 hours 52, which is seriously fast. Peter Turnbull, the other rider from UK, told me his knee was bad and he had considered abandoning, but a good sleep made it OK, and he finished in 80 hours 58.
Over the next few days, we drove over many of the roads on the course, which were fairly similar, big major transcontinental highways where cyclists ride on the hard shoulder. At Lake Louise, we walked up from the chateau to one of the tea-houses, and coming out we were in falling snow which was beginning to lie on the hillside. Otherwise, the rest of the holiday was bright and sometimes a little too warm. We saw several bears in different places, most surprisingly one climbed over the motorway crash barrier just in front of my car, 5km from the major town of Hope. Not what you want to see while riding a bicycle! Someone told me on the first day, the bears would have been resting out of the rain.

Now the conclusions. The main problems were:
- My waterproof clothing and bags were not up to standard. Four years earlier, the event had unbroken blue skies, and the problem was 40C heat on the final day - I was prepared for that, also I knew it could rain, but I was not prepared for more than 24 hours of heavy rain.
- In spite of a good pasta meal the day before, my nutrition was not good, and my energy low.
- The huge long expanses of totally uninhabited country, with nothing but trees, was lacking in stimulation as well as supplies. In Scotland and Europe, there are always many riders, many villages, shops, cafes, and late-night petrol stations to fill my needs, and give shelter.
- Being at the mercy of other people's food choices does not always work. In the UK, I don't get on with rice pudding and omelettes. In PBP there is a huge range, entrecote, chicken, fish, rice, pasta, baguettes, enough to suit anyone.
What should I have done differently?
- I carried three tubes and a folding tyre (which I forgot about!) I should have used the tyre, but by the time I needed it, the ride was really a lost cause anyway.
- I should have carried more food that I like, normally a stash of muesli bars, and yoghurt is very good. There was no chance to resupply, even at the controls.
- I needed better waterproof jacket - well I do have a couple, which I did not bring. Also my bar bag was hopeless, I poured a cupful of water out of it! So old, since 1985. I ceremonially burned it on a campfire a few days later.
- Ali Holt (the organiser who finished) told me that everyone who reached Jasper and had a full set of dry clothing in a drop bag completed the ride. I have never used drop bags, but - if I try this again in 2016 - I will have two drop bags!!
****
Thank you to all my supporters. I am proud to have a total pledged of very nearly £3000, though some donations were conditional on finishing. The Snow Roads 300km ride in June was covered by the Adventure Show, a BBC Scotland programme, which will be broadcast in November. The producer told me she would include a link to my page at www.justgiving.com/Rod-Dalitz so perhaps there will be a few more donations to come.
****
13 of my photos: http://www.flickr.com/photos/roddalitz
Only two were taken on the ride, all except Frank Slide were along the route.
Google "Frank Slide" for the amazing story of this recent landslide, which shows you the Canadian scale of doing things.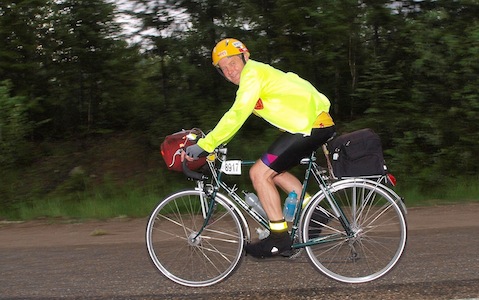 September 5, 2012