Other Information fo:
Permanent 74 - Happy Elephant
204 km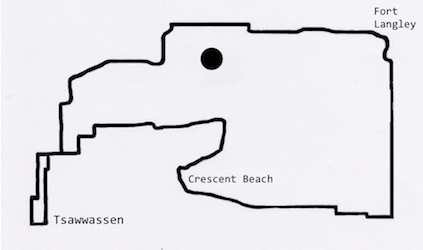 This route was originally a reworking of Bob Koen's 2008 permanent # 26 "Bean Brothers", which in turn was a reworking of Manfred Kuchenmuller's 2008 "Flying Beaver" LM Spring 200. Happy Elephant was revised in January 2019. The route has changed significantly from its earlier incarnations. [Eric F, November 2010 and January 2019]
November, 2010: Eric Fergusson designed this route. Here is his 2019 revised RideWithGPS map, etc.
---
January 15, 2011: Mini Report in newsletter by Ryan Golbeck
Route note from Eric Fergusson, January 2011: There's been an intersection modification at 149.0 km. The cross street is no longer marked "Telegraph Trail" (Bear Right). Turn right on 198 Street ( I think it was 198) - it soon becomes Telegraph Trail. If you miss it, turn right on 192 Street and you'll rejoin the route (left on bike path) at Golden Ears Way just after the Surrey/Langley waste transfer depot.
October 25, 2011: Photo Gallery. Photos: Eric Fergusson
December 8, 2011: Report. Chris Cullum
Route notes from Chris Cullum, December 2011: 80th Street near the Boundary Bay Airport (at 69 km) is closed for the construction of a new overpass. Continue straight on 72 Street, then right on Hwy #10.
_