On the eve of PBP 2007 I've finally gotten around to stringing together the fragments of a PBP 2003 story that I've been scribbling down for four years. Here it is. [Eric F. July, 2007]
Ups & Downs
PBP '03
by Eric Fergusson
Blackout
Even the first leg of the flight from Vancouver to Toronto felt surreal. The BC interior was dotted with the forest fires we'd been hearing about in the news. Pockets of flame and smoke scattered over the rugged mountainous landscape. And it was just about to get a lot worse.
There were clear skies all across the rest country that day, including over the north shore of Lake Superior, where I noticed the plane abruptly changed course. It wasn't long before everyone aboard was aware that we were flying in circles.
"Ladies and Gentlemen, we're being told that there's a blackout in Toronto and they're shutting down the airport. We've been directed to land in Sault St. Marie… they don't believe it's a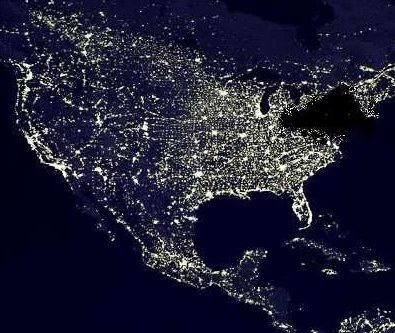 terrorist attack… and by the way, the power's out in Sault St. Marie also." Of course this turned out to be bigger than a Toronto/southern Ontario problem. The August 14th blackout was the biggest in US and North American history affecting much of Ontario, and the US from the mid west to Massachusetts - 40 million people, $6 million USD.
Four hours later I was sitting twiddling my thumbs with the other bored and hungry passengers in the shade of probably the biggest plane to have ever landed on the Sault airport runway - more a landing field than a runway actually. Ten hours later in a pitch-black downtown Sault hotel I was helping an assistant hotel manager with a dying flashlight break into a (an electrically operated) vending machine. Hickory Sticks never tasted so good.
To make a long story short, my next day included some frantic rebooking, catching the last Montreal-bound flight out of an overstressed but now reopened Toronto airport, and a midnight dash through the Montreal airport to catch the last flight to Paris. It looked like I was going to make it to PBP after all, but what an ordeal. Riding PBP is supposed to be the challenge, not getting there.
In the end my arrival at Paris' Charles DeGaulle Airport was only delayed a little over a day. Henry was not so lucky. My PBP roommate Henry Berkenbos, who had never been east of the Lake Louise in his 54 years, was scheduled to leave just hours after me, but his flight never left Vancouver. Surprisingly, Henry and I were the only BC riders to get caught in the blackout, and Henry was the only rider to miss making it to the start of PBP 2003.
In 1999 Nobo and I had ridden from CDG airport to the hotel in Plaisir, and I was keen to do it again in 2003. Gonesse, Saint-Denis, Levallois-Perret, Sèvres, Versailles, Saint-Cyr-l'Ecole and then to Le Pavillon des Gatines, our PBP home away from home. Better late than never. Then on Sunday, the bike-check, sign-in and ritual Canada and BC team photos: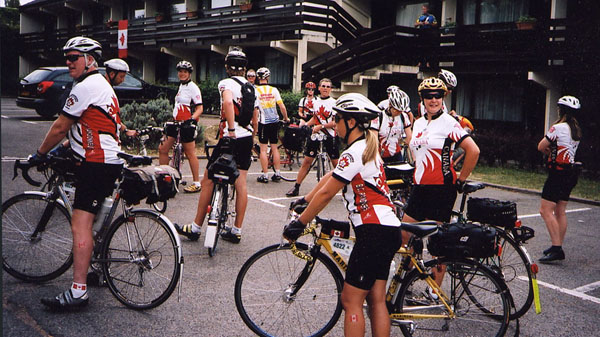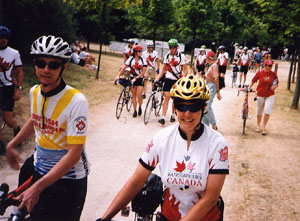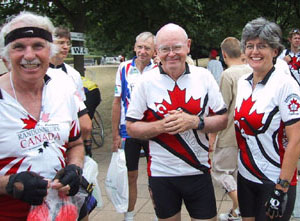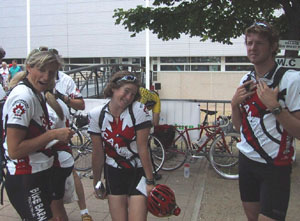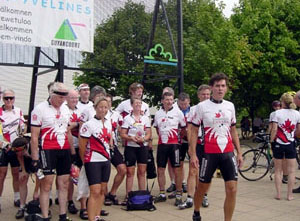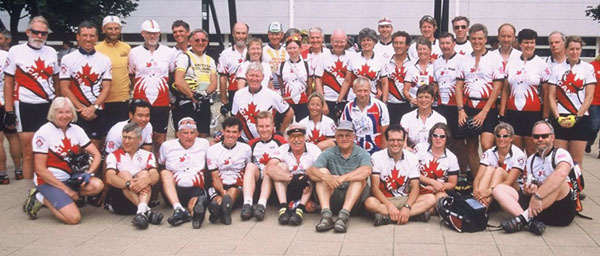 Here's the BC team photo for 2003 taken in front of the "Gymnase de Droits de l'Homme", the start/finish location of PBP since 1991. Note Dan McGuire front and center, in non-cycling clothes - one of the original four BC randonneurs back in 1979. Dan completed PBP in 1979, '83 and '87. Click to enlarge.
Photo: Harold Bridge.
---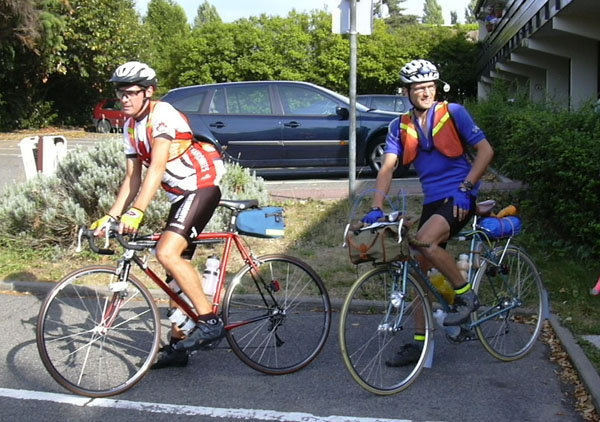 Me and Michel leaving for the 8 p.m. start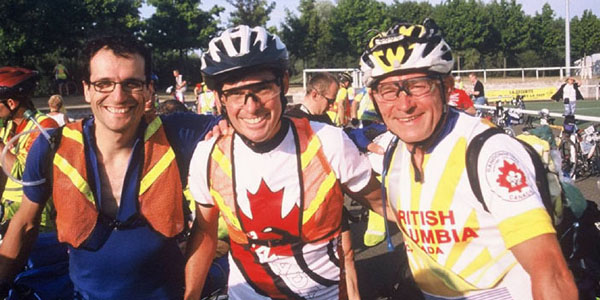 Michel, Eric, Ken
In the Chute
Five of us were slated to start in the 8 p.m. (80 hour) start group. (Now four without Henry.) Keith was probably somewhere up near the front, and Ken, Michel and I were somewhere in the middle approaching the start chute together. It was Noel Simpson from Audax UK who was marshalling in the chute. He chose the moment that separated the two 8 p.m. waves… the gate came down in front of me - Michel was the last one through. Me and Ken were sorted into the wave two, 8:15 start.
First Night
As always the first night was exhilarating - the fast speeds, the mass freewheel hum, the line of red tail lights snaking over the horizon… You'd think that riding in those big groups with riders all around might feel dangerous. It doesn't. I guess it's because you're surrounded by skilled riders who know how to keep safe, even at those first night speeds. I did see one crashed rider off to the left side of the road however, early that night. Looked pretty bad too. This crash was on my mind when I later saw Harold and Dan at Mortagne. They were asking if I had seen Keith. "Nope" I said, and "uh oh" I thought.
Harold and Dan were supporting Keith who was looking for a top performance like the ones we've seen from him at BMB, GRR and repeatedly in local BC brevets. Even his 1995 Canadian PBP record of 50:09 was achieved with some lighting problems and some time wasted riding off course, so there was definitely room to improve on that. I learned later that Keith did have a minor crash, but had not crashed out as we feared. He simply failed to meet up with Harold and Dan in Mortagne. He decided to carry on even though he was without food and without money. He was able to borrow money from ride officials at one of the later controls, but all the while was losing time. Meanwhile Harold and Dan had raced back to Paris where they knew they had access to the rider tracker web site. By the time they got back together with Keith, any chance of a top performance for Keith was gone. [In the end he was still the first BC finisher, 59:41.]
My own expectations were lower than they had been in 95 and 99. On the 2003 June/Solstice 1000 km my old friend, Achilles tendonitis, had returned. I spent the rest of June and most of July off the bike and eased back in to shape aiming at Harold's early August night-start 400. Climbing was the main problem so I trained on the flat and gently spun up the hills that I couldn't avoid - not ideal training for the PBP course, I realize. Still, my conditioning did come back to me in August, and my tendonitis didn't.
So in a way the pressure was off for this PBP. I knew I didn't have the conditioning to ride hard, but I was easily fit enough to finish. I was looking forward to a more relaxed PBP this time around, though I knew the hills might be a problem. In another part of my mind though, I still reserved some space for my long term PBP goal… a sub-sixty hour time. The fast time was still doable, I imagined, because I had never had a PBP without a major physical problem, so I didn't really know what was possible for me. In 1995 it was a serious case of my tendonitis, and in 1999 it was stomach problems, probably food poisoning. This time maybe I'd get lucky and stay healthy.
Other Ken
I didn't see Keith at all during the ride. Not that I would have expected to, but considering his situation he would probably have slipped back behind me at some point that first night, and then would have passed me some time later. I did ride a little with Ken though - Ken Bonner. In fact I think I may have been talking to him when someone recognized my voice through the darkness. "Eric? Is that you? It's Ken… other Ken."
It was Ken Carter from Seattle. I had heard that he had made it to PBP, but was a little surprised about that because he had suffered a bad crash not too long before. There was a photo of his new wool SIR jersey dramatically shredded as a result of his mishap. But he said his recovery had gone well and he was feeling good.
No Passing Zone
After the Villaines control a medium sized group became another large group by gradually picking up ones and twos out on the road. The intensity was gone from earlier in the evening however, and soon the speed dropped to a point where some of us further down the pack were able to start taking pulls up front. After a short pull up a short hill I found myself detached from the group, and nobody seemed willing to keep up. I didn't feel tired and was still freshly fueled from the "brochettes" I had eaten at the Villaines control, and so felt prepared to continue into the night alone.
This turned out to be a great stretch for me. As often happens, riding alone allowed me to find my rhythm and settle into a solid, steady pace. I concentrated on catching and passing small groups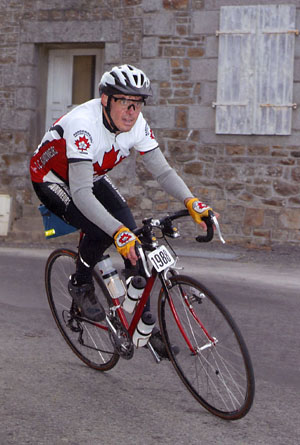 and individual riders "Bon jour, hello". With the first hints of daylight I drifted up behind a group of five French riders in matching jerseys, and few other hangers on. I started to move past making the usual nods and pleasantries, but found quickly that I had entered a no passing zone.
"Hey, Canada… what's the hurry… we've got a long way to go… you must learn to ride in a group…" After a little more small talk with the group leader, which was pleasant enough, I had lost my momentum, and so I surrendered and fell into formation behind the paceman.
Tossed Cookies
The pace was actually pretty good so I was happy to ride this train into Fougères. It was fun to watch our conductor repeat the same routine with a few other riders that caught us and tried to move past. Then I realized that I had a problem. I had been snacking on cookies from a grocery bag in one of my rear pockets, but suddenly the cookies were gone. I must have spilled them while repositioning the bag. And now I was caught low on calories with the control still an uncomfortable distance away. At that moment we were caught by another group and the always cheerful Ken Carter pulled up beside me to say hi. I was still fumbling for the missing cookies, and explaining to him what had happen. Seconds later he had an energy bar in my hand - saved again by the generosity of a better prepared rider.
Violation(?)
Even after a big breakfast at the Fougères control I felt flat and couldn't refind my earlier rhythm. Ken seemed in no particular hurry and ended up sticking with me (dragging me?) all the way to Loudeac.
There was one memorable moment out on the road that gave me something to think about after the ride… Before Tinteniac a car passed us with smiles and waves from the driver. He then slowed down and encouraged us to draft behind him. Ken and I, and a third rider, graciously accepted the offer. He pulled us for a short time, and then pull away and turned off into his driveway with more smiles and waves all around. "Mercy Monsieur."
At the time it seemed like a friendly gesture by a guy who was getting into the spirit of the event, and didn't mind 3500+ riders passing back and fourth in front of his house. But after the event we all learned the lead riders were penalized two hours for riding in front of a car that was lighting up the road for them on their last night. Because of this (and also because of general poor behaviour) these riders were barred from signing up for PBP 2007 despite the riders' claims that the car was not part of any of their support crews. So maybe the motorist lighting up the road that night was just some friendly person trying to do a good deed for visiting cyclists. Maybe Ken and I were guilty of a similar support violation… Well Ken, I wonder if it's too late to turn ourselves in?
Loudeac Respite
Michel was at the Loudeac control when Ken and I arrived. It turned out that Michel stuck with the large lead group for much of the first stage of the ride. What a thrill it must have been. Now he was in more of a go-slow / have fun mode. Slow being a relative term of course. I was suddenly dozy. Ken and Michel pressed on while I found a nice sunny patch of pavement. This was my fifth time passing through Loudeac and I have had a collapse there every time. It was becoming part of my PBP routine.
The Wizard in Carhaix
At the snack counter in Carhaix I listened in on an English rider talking to small group. He had read that the thing to do was to ride through to the control after Brest (i.e. on the way back) before sleeping, and then ride the rest in one chunk. Ahhh! This was Roger Baumann's advice to J.B. "Jock" Wadley from the latter's well-known 1971 account of PBP. 1956 solo men's winner Baumann was Directeur Sportif of the Lejeune/U.S. Creteil team at PBP 1971 (he was not riding because of a ski injury), and Wadley was an add-on to that team. In the story Wadley refers to directeur Bauman as "the wizard of PBP". I wonder if Wadley ever imagined the long reach his "Brestward Ho" would have. I wonder if Baumann imagined that his 1971 words would still have currency out on the PBP course 32 year latter. As for his sleep strategy, (which Wadley didn't follow, by the way) the assembled riders seemed to like it in theory, but night #2 was coming, and 170 km more, including the route's most significant elevation, seemed a long way.
Michel was in Carhaix also, still in good spirits, still in no hurry. I thought I should keep on the road. Michel was going to stick around for the arrival of the lead group which apparently was imminent. Just as well - I was still feeling under-powered and wanted to take my time on the climb to Roc Trevezel.
The climb did not go well. Maybe I was finally being caught out for avoiding hills in July and August while recovering from my Achilles problems. I was passed repeatedly as I inched my way up. A Danish rider, who had been separated from his foursome, shared in my struggle for most of the climb. He was nevertheless in good spirits, and took great pride in the news that there was still a Danish rider in the lead pack of fifteen.
Dane Train
With 20 km still to go before Brest, I was off to the side clothing up, when Michel flew by wearing a big smile at the front a blur of Danish jerseys. "Better hop on board, train's leaving the station." I scrambled to catch up, and then struggled to keep pace. Michel, on the other hand, was having no problem with this ride. He was reveling in it. At one point a car drew close, and Michel started talking to the occupants. It was an animated conversation all in French with Michel gesturing dramatically, with both arms for most of the time. When the road tilted up Michel didn't seem to notice - still chatting he kept pace with the car, while Danes and I were dropped for a time. Michel's exuberance, and earlier Ken's, and practically everyone else's general cheerfulness, pointedly emphasized to me that everyone else seemed to be having a lot more fun with this than me.
Despair
In the disappearing light we crossed the bridge into Brest. We picked up other riders as we approached the control and had become a pretty big group. On the final short climb up to the control I slid all the way down, and then off the back of this group. I barely made it up without getting off my bike and walking. It didn't feel like a bonk, or tiredness or exhaustion, but my legs just wouldn't work. I was a mess. I had intended to press on from the turn around at Brest after a brief refuel, but the despair monster was tugging at my sleeve. Even after a full meal in the cafeteria I was not feeling revived? To help me with my next decision, the night had become very cold, and the idea of riding through it had little appeal. Michel and I both signed up for four hours of sleep time in the big gymnasium.
This should have been an opportunity to become well rested and get back on track… but no. I barely slept in those four hours. There was of course the ambient snoring, but the real problem was that I just couldn't get comfortable on the cots they have at Brest. I had the same problem in '95 and '99. Why hadn't I learned this lesson? Why hadn't I requested a mat instead of a cot? I would have been better off with floor space.
New Day
By the time Michel and I reached Carhaix it was light again. This time the full meal I had in the cafeteria did revive me and I was ready to go. Michel was still in no particular hurry and decided to stick around to wait for Karen and the other BC riders coming in from Loudeac on their out-bound legs.
The stretch after Carhaix was a real highlight for me and a morale boost. This is where I crossed with the PBP bulge - hundreds of riders were coming the other way, some of them in BC jerseys waving, and some calling my name. Unfortunately it was tough to recognize many of them because the rising sun, low in the eastern sky, was in my eyes for much of this stretch. One voice I recognized though - it was Susan Allen's. And there were Doug and Susan across the road waving cheerfully.
Audax
In the moguls before Loudeac I was picked up by a group of about 10 riders. It was an international group that showed signs of having been together for a while. There were four strong older French riders at the core of the group including a leader with a whistle who was controlling things. When riders misbehaved he'd blow his whistle to show disapproval and give direction. The other riders were generally deferential and cooperative. I joined the paceline and made sure to behave myself. As we picked up more riders, the original group became diluted and discipline began to break down. On the climbs some riders began to surge ahead and the group started to fragment… No amount of whistle blowing was going to hold this group together now. The run into Loudeac was fast and fun. And for the first time I didn't stop to sleep at the Loudeac control.
Autograph Hounds
Surprisingly, on the roads before Tinteniac I was still seeing riders on their outbound journey to Brest. Were they still within the limit? They must have been - the marshals rip off your number when you fall off the back of the event. Still, there's no way these riders could finish at this pace, with so far to go. Yet here they were trying. What courage, but how depressing.
In Tinteniac I was mobbed by a group of kids who all wanted my autograph. This was a first for me. Well… maybe they didn't necessarily want my autograph - they insisted on me identifying my country beside my name. They were collecting countries, not riders. Those "Canada Goose" jerseys sure made it easy to figure out where we were from.
Cold Shoulder
I was picked up after Tinteniac by a very chatty group. It was another international collection of riders, but at the core of this group were about five or six Italian riders all carrying on conversations with other riders in a variety of languages. There was even time for one of them to exchange some broken English with me. "Hey Canada, how's your ride, where are you from, ah Vancouver - Beautiful! Mountains / ocean, I want to visit Vancouver one day, how is the cycling?..." For a while the kilometers just melted away, and finally I was beginning to have fun.
Then it changed. The non Italian riders gradually dispersed. Some raced ahead, a few stopped. Suddenly it was just me tucked in behind the Italians. The alpha male at the front was riding along side his tall, exquisitely lycraed girl friend. She was the only woman rider (going our direction) that I had seen for some time. Obviously a strong cyclist… and very well chaperoned. My cheerful friend had fallen into formation, and I was beginning to feel a little out of place. The alpha male then dropped to the back, and gave me a good hard stare. Moments later he did in again. I had no trouble recognizing the international code for "get off my paceline" and I dropped back 30 meters and slunk along alone.
Not long after this the Italians stopped abruptly in small town where complementary coffee was being offered at the road side. They were looking at their watches and saying to each other "Café? Café? Si, Café!" They stopped, with no notice of me as I passed by.
Jambon
The quick food counters at the PBP controls, the "bars", are great time savers. If you want to grab and go, they're a very efficient way of getting caloried up and not losing too much time in the cafeterias. The thing is, they're not particularly vegetarian friendly. Your choice is ham sandwich - "jambon" - or pate sandwich. The poor cousin, baguette with butter, is also usually available. I'd been fueling up at most of the controls with coke, "orangina," and the buttered baguettes. At Fougères, I knew I didn't want to stay for long. It was already late afternoon and I wanted to be well on my way before night #3 was upon us. Unfortunately, there were no plain baguettes at the Fougères bar. I knocked back more orangina than usual, but it wasn't going to be enough. I broke down and bought a jambon with the intention of throwing away the ham and eating the remaining buttered baguette. But it seemed like such a waste. "What the hell" I thought… and I ate the sandwich, including the ham. It was the first meat I had eaten in years.
I guess I had taken too long at the Fougères control. My legs were stiffening up and the energy I had enjoyed through most of the day had slipped away. Back out on the road I found myself riding with a similarly weakened Spanish rider whose English was as poor as my Spanish - we exchanged grunts in very poor French. We also exchanged feeble pulls while virtually every rider I'd seen since Carhaix passed us like we were roadkill. (No sign of the Italians though.) I think we were actually dragging each other down, and as in Brest I felt myself surrendering to despair. Then my Spanish companion bid me "au revoir" while indicating that he was experiencing serious GI problems, and he needed some personal ditch time. I was alone again, and in a deepening physical and emotional rut.
Invincible
Given the pathetic start out of Fougères, what happened next was very unexpected. The next several hours would turn out to be the most extraordinary cycling experience of my life.
After leaving my Spanish friend I rode on alone at a comfortable if slow pace, and after a while managed to find a rhythm that worked well enough. My legs were loosening up a bit and my riding was becoming less laboured. Then a slight tailwind push… and something in me clicked. I suddenly found I could ride faster and faster. I was riding up the hills almost effortlessly. No matter how hard I pushed myself, my legs just weren't straining, so I pushed even harder and was going faster still. I tested myself in little ways at varying speeds over the varying terrains - nothing seemed difficult and recovery was instantaneous. Is this what an out-of-body experience feels like? On the remaining roads to Villaines, I caught and passed all the riders who had blown past me after Fougères, including the English rider who had been preaching Baumann in Carhaix 24 hours earlier. "Looks like you found your legs again mate."
I managed to hold onto this momentum all the way to Villaines and arrived to the cheers and applause from the well wishers outside the control. I know from earlier PBPs that these are "stocked" well-wishers, organized by the town or the control committee, but it nevertheless felt wonderful, and for once I felt there was actually something to cheer about.
Monsieur Mustache
I wanted to get in and out of that control fast. We had just lost the light, but I thought I just might be able to keep hold on to my momentum for a little longer, and maybe even through the night. I grabbed some of the brochettes that had served me well on night #1, and got back on the road. But already I could feel the magic slipping away. Maybe if I just pressed a little harder I could elevate my adrenalin level just enough…
I found myself riding with a very distinctive looking French rider. He sported an enormous bushy mustache - an oversized handlebar mustache. Our paces matched in the kilometers immediately after Villaines, but my new companion had a bit of a phobia about going off course. So we stopped. Frequently. The interruptions, and the tentative riding interrupted my rhythm, my momentum slipped away completely, and the adrenalin rush was officially over. I was back in own skin. It was time to wake up to more mundane concerns, like keeping awake. It was cold again tonight and now I was getting chilled as we repeatedly stopped to try and determine if we were still on course. This section was turning into a slog.
By Mortagne I was worn out and hungry. It was time for a full meal in the large and empty eating area. By now the fast riders had finished and the smart riders were probably sleeping in Villaines. Monsieur Mustache was content to wait for me, and he fell asleep in a chair at the next table. I woke him up when I was ready to go… and then he decided to have a full meal. So I waited for him. I knocked back a big bowl of coffee, and then another.
Monsieur Mustache and I finally got out of there and we did our best to stay upright for the rest of the night. Our progress was slow however, and even the welcome sight of the rising sun wasn't helping our pace. We then overtook a rider that Monsieur knew. They must have been old friends, or club mates. I felt that I had been propping up this guy through most of the night, but now suddenly he had found a new gear. There was a change of attitude too. He wasn't so worried about going off course anymore. He and his friend started upping the speed and soon I was struggling to hang on. Faster and faster we went until the control at Nugent de Roi. They opted for the express control and then dashed off to the finish. I collapsed face down on a table in the control food zone.
Escort
Prying myself away from Nugent was a chore. My legs were dead. I wasn't really waking up. I was riding at snail's pace. The short steep hill through the forest at Rambouiller was a monumental effort, and then I found myself at a "T" intersection with no direction arrow. A few moments later a French rider showed up, and he didn't know which way to go either. For the first time I pulled out my route sheet and we tried to figure out where we were. Then a group of about eight riders pulled up - very fresh, very clean. They were just some guys out for a club ride and were surprised to learn that they had stumbled on to the PBP route. But… they knew the way home. "Gauche monsieur."
One of the riders was particularly interested to hear that I was from Vancouver. Like the Italian rider I had spoken with earlier, my new friend hoped to travel to Vancouver one day, and to the Rockies. The club riders rode with us almost to the finish. They treated us a bit like celebrities and, interestingly, were very careful not to pull us - they were always beside or behind. They knew the code. As the finish approached the French PBP rider had dropped back, and all but one of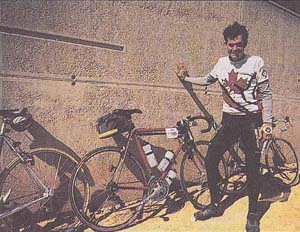 the club riders had peeled off. My club rider, the one I had been talking to, delivered me to within sight of the finishing oval, bid me felicitations, and left me to finish on my own. I was in at 62:26 - still far off my sub-sixty hour goal, but well ahead of my 1995 and 99 times.
Brain Dead
After checking in at the finish control, I staggered back to my bike where I was approached by a Swiss Journalist Jean Ammann who was doing a series of articles for a feature on PBP for his paper La Liberté. I said I'd be happy to help him out, but when I tried to speak… ahhhhhhh. Blissed out, distracted and incoherent I stumbled through the brief interview realizing one thing with clarity - giving an interview in this state of mind is the last thing anyone should being doing. The guy nevertheless made some sense of it later and a short article did appear in La Liberté [link].
---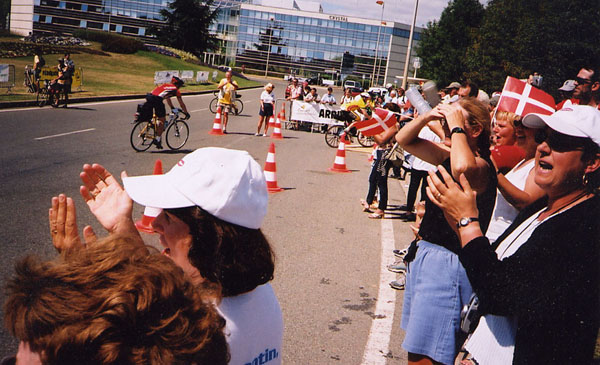 The (Real) Finish
The bonus of getting back a little early is that you can return the next day rested and refreshed to experience the real finish of PBP - to see the bulk of the riders who finish in the final afternoon, in the few hours before the control closes. It's definitely more of a carnival atmosphere. I tried to make myself useful as a drinks boy and enjoyed taking pictures of some of the BC riders as they arrived tired but happy.
Lots of BC riders finished for the first time including Tina from Penticton who had sparked the lively exchange on the discussion list about how to train for, ride and equip yourself for PBP. Tina and Sarah Tenant finished together in an impressive 79:00. All of the riders who have been at this for a lot longer also finished. Deirdre finished her fifth PBP - Manfred, Keith, and Ken Bonner finished their fourth. At the age of 71 Réal finished his third PBP (on the tandem with Manfred this time) in 89:39 - that's cutting it a little close Réal. (Actually the official time limit was extended by 30 minutes to 90:30.) The most spectacular DNF had to be 72 year old Dave Gillanders who made it past Villaines 1002 km. So close!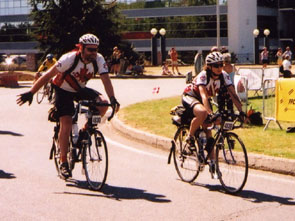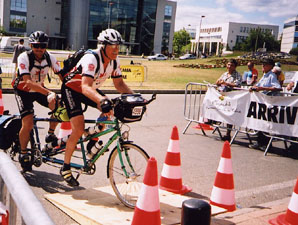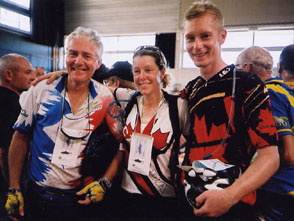 Michel was there too to welcome the other riders home. Apparently he had introduced Ken Bonner to the idea of riding leisurely. They both finished in 70 hours - slow motion for these guys. Unfortunately Michel strained his calf running to meet Karen as she came in, a problem that could have affected his big riding plans for the weeks after PBP: A flèche de France "Paris - Perpignan"; Raid Pyrénéen [east to west] with Karen, the diagonal "Hendaye - Menton", and the Randonnée Alpine. In the end he only missed the "Paris - Perpignan".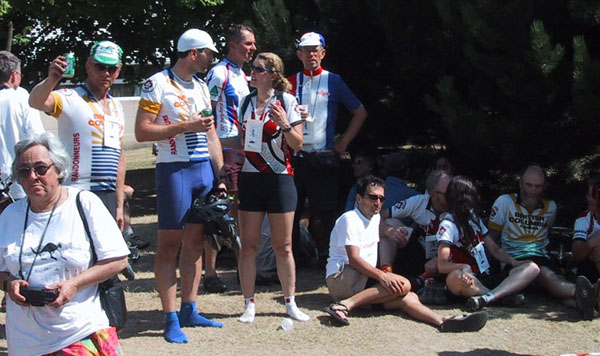 Ken Carter was there too. It looks like we both had the same time goal but he actually managed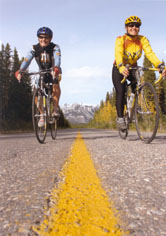 it, but just by seconds, 59:59. Way to go Ken! It was a little disappointing to see in the official time results a few months later that he was down for 60 hours even. Oh well. Still, a great ride considering his crash before PBP, and the time he spent in go-slow mode with me after Fougères on the way out.
Wim and Nancy Pauw from Banff were there also. I was amazed to hear that Wim's time was 57:42. It was the fastest solo Canadian time in 2003. (Note that Jaye Haworth from Toronto clocked in at 52:45 on Jan's Heine's fast tandem.) Nancy's time was good too, and seemed similar to the one she had in 1999. I fell all over myself to tell Wim how great his time was. This was a little embarrassing in hindsight because it turned out that Nancy's time of 64:27 was a little better than her 1999 time and was a new Canadian solo women's record. And she was the eighth woman overall. Sorry Nancy for not noticing. Still this gives me an opportunity to show this fun photo of Canada's fastest endurance cycling couple. (Click to enlarge)
---
Lessons Learned
Here's the obligatory "things I learn on PBP" section. Let me just choose one thing. Upon reflection my biggest problem was diet. I wasn't very well prepared with emergency food for starters. But the main problem was that I was probably protein deprived for much of the ride. By relying on the quicker food "bar" option at many of the controls, but not eating the ham or pate, I was asking for trouble. It's probably why I felt so draggy for so much of the ride. And I can't help but wonder how much the "jambon" I ate in Fougères contributed to that incredible energy surge I had between Fougères and Villaines. Jambon - the new EPO?
Being a vegetarian at PBP may be problematic in another way also. Roger and Ali were the last people I expected to DNF, but they both encountered digestive problems early on in the ride. They wondered later if there may have been meat broths in the sauces that they had thought were vegetable based, and after years of a no meat diet, perhaps their systems rebelled.
I'm hoping against reason that in the future the bars will stock alternatives to meat protein - why not brie or camembert? - but failing that, I'm considering stepping up to the jambon counter again at PBP 2007. My wife Siân thinks I was lucky to get away with it in Fougères in 2003 and that I may suffer Roger and Ali's fate if I don't introduce meat into my diet before the ride... Meat training. Humm. I'm still thinking about it. Maybe I should just pack a big bag of peanuts.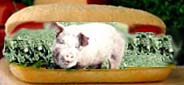 © Copyright Eric Fergusson