This is an e mail Ken Myhre, from Alberta, sent to a few people about 4 days after PBP before he went off hiking in Switzerland. He subsiquently agreed to let us post this as a PBP story. Some of you will recall that Ken stayed at the same hotel as us in France.
__________________________________________________________________________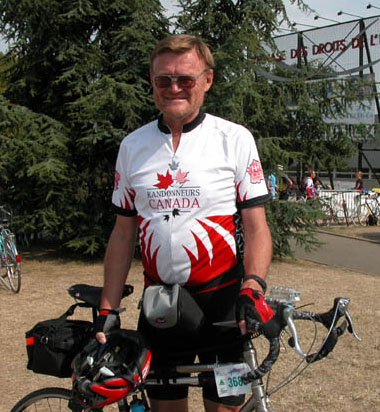 PBP 2003
Manuel (my Brazilian room-mate) and I made the 10:30 pm Monday start. That means 1000 fast riders at 8:00, 500 tandem and weird bikes at 9:45, and two other groups of 500 each 90 hr riders started in front of us. Most of us were trying to get to Loudeac, 452 km away, before we crashed for an hour or two of rest.
The bell went and I next saw Manuel 25 hours and 452 km later. A sea of tail lights 4-6 abreast filled the road as far as my eye could see for the next 200 km. After 20 km of controlled speeds the race began and we all started blasting along, passing and being passed. Up steep climbs, down hills, along winding roads in villages and straighter country roads bordered by the shadowy trees, lit partially by biker lights flashing by. I have little recollection of the time involved other that when we arrived at our first food stop at 127 km, which must have been 5 or so hours. People rode in groups, identified by their club jerseys, and singly. Some were content to ride along the side and leave the passing to others. I have to admit I got wrapped up in the chase, and loved it.
Some time in the morning light, as the beautiful French countryside became visible, my biking exhilaration abated somewhat and I settled into the long ride.
At no time, in the close to four days were there not bikers at least a few minutes away from me, as the great variation in speeds spread people out quickly. At no time, also, were there no French people cheering us along the way as we passed villages, farms and even intersections where people would come to just view the riders. Many also had tables set up with drinks and snacks as we needed them. The enthusiasm and hospitality was incredible.
The riding was tough, steep hills that were climbed one way and blasted down the other. I am not sure, but I would imagine less than 10% would be termed flat, and the hills are steep, being simple paved versions of cart paths of a few hundreds of years ago. The surface was mostly good, but long stretches of rough road surface, erosion and pave(cobble stone) played havoc with my saddle sores that developed soon into the chase on Monday night.
Other than the first night of riding, with the great light that 1000s of riders created, I was able to keep my night riding to about 5 hours. I slept in a dorm, under a table in a cafeteria, on a church lawn wrapped in a space blanket, and sitting on a toilet of a partially built cafe. The night riding I did could be frightening, as many of the roads had no white lines, without which my feeble lights seem to be useless. Many people ride most of the nights as they are either working on personal best times, or feel they need to keep going in order to finish in time. I had one high-powered light with about 3 hrs of battery life that enabled me to do 2 hours or crucial night riding at one point.
I ate well, mostly at control points which were organized mayhem, of people checking in, lining up and getting food, medical attention, showers, sleep, supplies. But I also ate at cafe's along the road, which was usually far more enjoyable.
My riding was pretty good. I made it to Loudeac in 22hrs, pretty fast for me, and which meant that I should have gone onto the next check stop, which would have served me in a number of ways. After Loudeac my time indicators would not be as good, because I spent quite a while at key check stops (9 hours at Loudeac), mostly to avoid the night as I suggested. I got chaffing early, from riding with wet shorts, and that was where my lack of experience may have affected me the most. I was much stronger going up hills that I thought I would be, relative to a large number of riders. (There are also climbers who make climbing seem like down hill compared to me) At no time was there any concern that I had that I might not finish nor finish within the time. I finished an hour and a half or so under the limit, which was about right, by my thinking.
I cant speak highly enough about the experience. It is certainly a tough challenge, that cannot be taken lightly. A number of people had serious accidents, probably brought on by sleep deprivation. My one long night ride was to help a 72 year old brit on his 6th pbp get to the next check point. When I encountered him he was lost and completely disoriented, as the night will do. Rather than stop for the night, I rode with him slowy to the next stop. I think as many as 15 of the 81 Canadians may not have finished, and some that I met were at their limit.
But all said and done...INCREDIABLE.
Talk to you all soon, tomorrow we begin our haute route hike.
Ken
Subsequent to this email, I jotted some other notes on the ride.
The ride conditions were very good. I took a fair amount of things on my bike, did not use any of the drop services. I needed all of the clothes in the cold of the mornings and then some. Most notably leggings, warm jersey and wind jersey, many had warm gloves, I didn't have them, and one morning when I started out it was too cold, (hence the added sleep in a café toilet). I also had a space blanket that worked very well. I had no bike problems, and my new bike (Merlin) was wonderful. (I hope the new owners treat it well) There are a number of things I would do differently, but I am not unhappy about my overall effort. I am particularly pleased that I didn't try to achieve a fast time, as I was tempted to do, particularly when I got off to a fast start.
My favourite things about the PBP:
1. The French People ... along the way, those at roadside kiosks providing drinks, sometimes children, sometimes older, those waiting at the roadside to just give best wishes and to see the action, the volunteers at the control stations,...
2. Monday night start, speed, the night, the lights ahead rolling over the hills and around the corners, the blast through the villages, the sense that I was riding faster than I probably was ...
3. French countryside, incredible peace of the ride along these quiet roads, old stone farms, villages, generally good roads with little traffic, …
4. A large percentage of other riders from all sorts of countries to talk with, draft and draft for.
5. The people I met in the Plaisir hotel, organized by the Real and the BC Randonneurs.
6. The roadside bars and cafes, which I did not make enough of, and would do more of.
7. My bike, which was great, and the feeling that I got early that I was plenty strong enough to handle the ride.
Some PBP peeves:
1. The congestions at the control stations, mostly for food and sleep, and my poor strategizing about how to handle it.
2. Riding at night (except the first one), poor light, no lines on many of the roads, my hopeless eyesight.
3. Boorish club groups riding together from some countries, often cutting you off. Twice they clipped my handlebars. They were never as fast as they thought they were and would miscalculate their timing on cutting in. I didn't like that they rode in groups always two or three abreast, even when cars came up behind and wanted to pass.
4. The "tour de village" that seemed to take us up and down and around the toughest riding as we approached some towns. This is done to give the riders exposure to the town people, but most of the people watching and cheering were not in these sections. Obviously this is a part of the ride, but one that I was unaware of. The next time it would not bother me as much because I would be expecting it.
5. Crotch rot, brought on by my own stupidity.
6. The ride was 1245 km, not 1200, nor the 1225 they were advertising, and these extra kms, meant that some people did not complete in the time allotted.
After my hike, in the French, Swiss and Italian Alps, I returned to Paris and to complete my summer trip, did a two- day ride through the area south of Paris, including the Foret de Fontainebleu, that was exceptional. A great way (I thought) to finish off my summer trip. A few kms from my Paris base, my bike and light touring equipment was stolen while I was in a store shopping for good bike deals. It was Sunday, I was on my way home the next morning, and there was nothing I could do to even report the theft effectively. I had the bike well insured and am now working on replacing things, but the bad taste is still there.
BUT, INSPITE OF THIS SET-BACK, THE PBP IS A GREAT EXPERIENCE, AT LEAST ONCE…
Ken