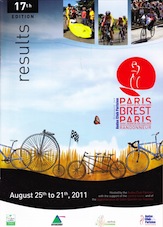 Paris Brest Paris - 2011 (#17)
Plaquette produced for Audax Club Parisien
by Jean-Gualbert Faburel and committee
(68 pages - 54 photos)
This edition is very nice to look at. I really like the graphics on all the 2011 PBP material, especially the "rolling bicycles and butterfly" image that is the icon for 2011, and is the featured image on the cover of the plaquette. There is always a variety of reports and statements in these booklets. A nice feature of these reports, which continues in this edition, is that they are not intrusively edited or harmonized with the other texts - the contributors are free to speak with their own voices, and we hear a wide variety of perspectives.
The time results themselves are a daunting 30 pages long - a very low entertainment to space ratio. Part of the problem is the ongoing practice of dividing the list up by nation or region and then sorting alphabetically, which is inherently dull. But it's more than this. The 2011 presentation looks like raw data from a spread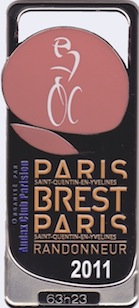 sheet. Occasionally the text spills over into a second line. The formatting, with the line-separated cells, takes up 25% more space per page than the 2007 system (216 names per page vs. 160 names in 2007).The 2007 results were problematic too, because of the distracting shadow images in the background, and happily those are gone from the 2011 pages. Notice how nice the 2003 results format looks by comparison. Maybe a few images would have broken up the monotony of the 2011 result pages.
Despite the better weather in 2011 I found fewer photos to single out for enlargement than in 2007. (In box linked below.) There are a lot of great 2011 PBP photos out there. Maybe a slightly better selection could have been found for inclusion in the plaquette.
As in other recent PBP plaquettes the few ads that are included are cycling (or event) related. Notice the stylish Alex Singer ad on page 56.
The statistics content is significantly reduced in this edition, which is a shame because I think it is a highlight for many readers. No charts and graphs are included and we see none of the country by country stats that have been a mainstay of earlier plaquettes. We are used now to the fact that the stats and list of awards no longer include the first finishers information in the previously recognized categories (i.e. solo woman, tandems, etc). I would like to continue the pre-2003 tradition by providing that data here.
One final word. I particularly appreciated the thoughtful ride analysis offered by Jean-Gualbert Faburel in the final pages. It gives a glimpse into his thoughts about the event, and is also a helpful historical journal and record.
[Eric F.]
PBP 2011 Vital Statistics:
Participants (Starters): 5004
Finishers: 4062
Women Finishers: 208 (5.1 %)
DNFs: 942
Attrition Rate: 18.8 %
1st Solo men: Christophe BOCQUET, André IALENTI, Tony LARGEAU and Marc VEDRINELLE (44:13)
1st Solo woman: Isabelle ESCLANGON (56:37) 217th overall
1st Tandem Laurent JUBIN & Sylvie QUEMENER (61:46) 410th overall
1st Mixed Tandem - (same: JUBIN / QUEMENER)