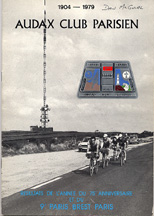 Paris Brest Paris - 1979 (#9)
Plaquette by Audax Club Parisien
(56 pages - 28 photos)
1979 was ACP's 75th anniversary and PBP celebrated by doubling the size of the Plaquette. This is the first of the 3 plaquettes to give the time results in time interval groupings: "En moins de 45h", i.e. "In less than 45 hours". The more exact times were known (and fortunately not lost) but were not included in the plaquette. The to-the-minute times are now in the time results section on this site and on the official PBP site.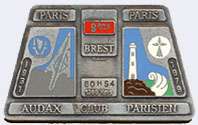 There's a local (British Columbia) angle to PBP #9. In 1979 John Hathaway, Dan McGuire, Gerry Pareja, and Wayne Phillips qualified for and then completed Paris-Brest-Paris. They were the first Canadians to participate in a non-audax PBP (Hathaway had done the audax PBP in 1976). This event, and the series of rides leading up to it, marks the birth of randonneur cycling in Canada and in BC. Thanks to Dan McGuire for providing his copy of the plaquette.
[Eric F - February 2011]
PBP '79 - Vital Statistics:
Participants (Starters): 1766
Finishers: 1573
Women Finishers: 51 (3.2 %)
DNFs: 193
Attrition Rate: 10.9 %
Average Age (Starters): 38.3
1st Solo Men: Bernard Piguet & Pierre Balleydier (44:01)
1st Solo Woman: Monique Juge (68:11) 174 overall
1st Tandem: Jacques Jouffrey / Isabelle Dequatre (52:28) 18th overall
1st Mixed Tandem: Jacques Jouffrey / Isabelle Dequatre (52:28) 18th overall