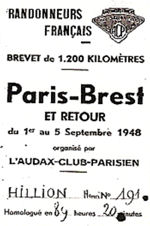 Click image to return to the control booklets page
PBP 1948 - Henri HILLION's control booklet cover.
Here is some additional information and a translation of caption on the AC Briochine web site from Alain Collongues:
"Henri HILLION was in PBP 1948 on a tandem with Hervé ELIES. ELIES didn't finish and HILLION came back alone to Paris with the tandem.
The document is the cover of his control booklet. I suppose it belongs to the club of Saint-Brieuc (AC Briochine)."
More on HILLION's ride... Go to: HILLION's personal account of his 1948 PBP.
(Source: Web site for Amicale Cyclotouriste Briochine: Link)