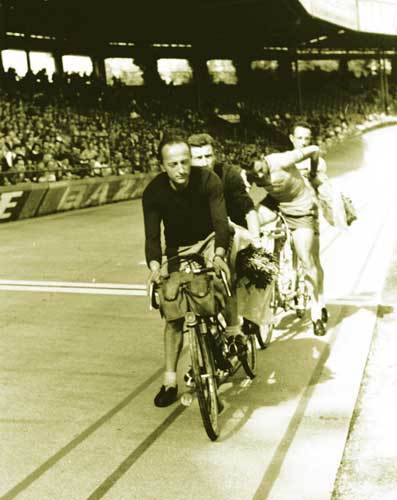 Click image to go to the next one
Two tandems...
This is very likely Jo ROUTENS, Jacques JOUFFREY, Lucien DÉTÉE and Gilbert BULTÉ in 1956.

- Photo date not confirmed -
Photo source: la Web-tv site in 2007 (sponsored by PBP's start/ finish municipality, Saint-Quentin-en-Yvelines?)
in an article called: "L' Esprit du Paris-Brest-Paris"
Note: the photo is marked: © G. Bulté (The tandem co-winner of PBP 1956 was Gilbert BULTÉ.)
Also - in 1956 2 tandems finished in 50:29, the fastest time.
_