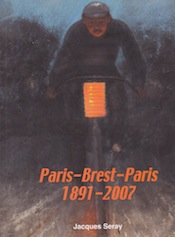 "Paris-Brest-Paris 1891-2007"
by Jacques Seray
published September 2007
There's an emphasis on the performance of early finishers, including in the post 1951 randonneur years, in this beautiful soft cover book. Wonderful collection of photographs, all black and white. There's a brief section on the Audax PBP towards the back. Text in French.
Readily available in 2011.
Jacques Seray. 8 allee de Normandie, 78140 VELIZY, 2007
ISBN 978-2-9508500-3-4