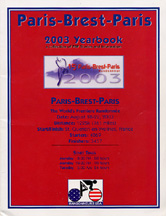 0
Paris-Brest-Paris: 2003 Yearbook
a collection of PBP Stories and Information
Published by Randonneurs USA
Edited by Bill Bryant & Lois Springsteen
82 pages
Available to RUSA members
This is a retrospective of RUSA members' participation in PBP 2003. There are 28 rider stories (one of the contributions is more a survey than a story) sprinkled with a few photos and other images, surrounding a RUSA participants list with finishing times and other rider info.
An interesting feature of this collection is how nicely the stories complement each other. Participants experienced similar sorts of things - encounters with the "British Triple", the overcrowding at Loudeac, and droopy head syndrome ("Shermer's neck") for example, are recurring themes - but the descriptions are always from a slightly different angle. The riders are moving at different speeds, passing through locations at different times and so their observations are out of phase with each other. It all adds up to a vivid portrait of the event that could not have been written by one person. You can think of this as a single story told from multiple points of view.
One thing noticeably absent in this collection is any sort of "view from the front", though it must be said that these voices were heard in the RUSA newsletter following PBP [Fulton, Heine, Lyon]. Still, a ride account by any of these three would have fit nicely into this collection.
RUSA wanted this yearbook to be a benefit for its members and elected not to broadcast an on-line version. Very few (only 4) of the contributors posted web versions of their stories, which is surprising these days, and in sharp contrast to the German PBP 2003 approach. Fortunately, one of my favourites, John Ende's PBP 2003 (ironically placed 1st in the printed collection - get it), is also self published on a web page - linked below. For the other stories, like the wonderful ones by Isabel Brackbill and Judy Isvan, and there are many others, you'll have to invest in a rusa membership. (I'm told that there are still copies of the 2003 yearbook available, and it's well worth pursuing.) Membership information is available on the RUSA web site.
Thanks to Wayne Harrington for passing along his copy of the RUSA 2003 Yearbook.
[Eric F.]