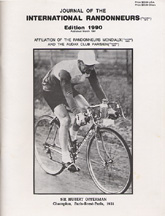 0
Journal of the International Randonneurs - Edition 1990
(published March 1991)
104 pages
Not available
This edition looks back on American riders' PBP experiences in 1987 and earlier, and ahead to the PBP centenary in 1991. Like the 1989 issue, there is no publisher or editorial credit, though in the preface by Phil McCray it is hinted that James Konski is involved in the project.
The booklet opens with a 12 page tribute to "Oppy", Sir Hubert Opperman who won the race version of PBP in 1931. In addition to the cover photo, there are an additional 24 photos of Oppy on three photo pages (see photo page). There is an interview with Scott Dickson, and an account of Susan Notorangelo's record breaking PBP '83 ride written by husband Lon Haldeman. There is also a helpful list of recommendations from a cross section of PBP veterans, and some well written PBP stories. We get a sneak preview of the PBP 1991 route, and are treated to 21 photos mainly of American participants in PBP 1987 (see photo page).
Harriet Fell's wonderful account of PBP 1975 is published here, and happily it is also available for everyone to read on her own web page (linked below). Unfortunately none of the other material from this issue is available on line (yet?!).
Thanks to Dan McGuire for providing me with this booklet. [Eric F.]