This site is an attempt to organize information about Paris Brest Paris. It started out, following PBP 1999, as a single page with links to existing material on the internet about PBP. As the number of links grew, it was clear that one page was not going to be enough, so the links were divided into multiple sections most of which you still see on the main page now.
In the early days the focus was on simply linking to stories, articles, and photo galleries that were already on line. But gradually I started to go looking for information, mainly historical information, about PBP in books, magazines and newsletters. I must credit my wife Siân Echard who watches e-bay and snaps up historical print material and photos when they become available.
As the site began to take shape I found that riders began to send in additional material - photos, newspaper clippings, selections from the post-event "plaquettes", and links to their own PBP stories and galleries. I always appreciate these contributions and I hope they continue. If I can single out just two contributors, I'd like to thank Jean Richard and Alain Collongues for there many efforts, and also their encouragement.
This site existed for a number of years in the absence of a credible official PBP site. Happily this is no longer the situation. The site launched in 2006, has been an valuable source of current, and some historical information about PBP. It is maintained by Jean-Gualbert Faburel.
My PBP pages are a subsection of the BC Randonneurs web site, where I have been web master since 2000. Obviously there is an emphasis on British Columbia and Canadian PBP participation, though most this local content is partitioned off.
I hope you enjoy the site. I welcome your comments and ideas.
Eric Fergusson
---
About the web master
I was born in Corvallis Oregon, 1959. Grew up in Vancouver, New York, San Francisco, Toronto. I started cycling in my early 30s, and rode my first PBP in 1995. I have been apart of the BC Randonneurs organizing team since 1996. I'm currently the web master and 1000 km brevet coordinator.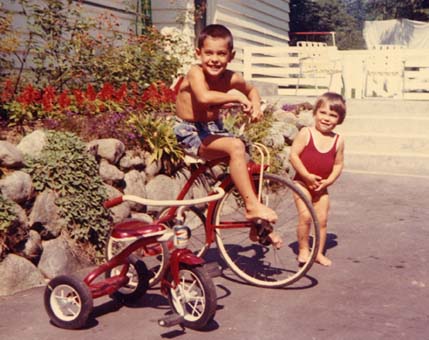 The webmaster with his first riding partner, sister Kelly.
(Isn't she cute!)
November, 2006
Updated periodically