What is the Pacific Populaire Bike Ride?
Greater Vancouver's first major public ride of the cycling season is the Pacific Populaire. Since its inception in 1986 the focus of this event has been to encourage participation by all cyclists regardless of fitness level, cycling experience, or age. For many riders it is an opportunity to enjoy a relaxed spring ride, fresh air, and exercise in the company of other riders in our vibrant cycling community.
The event is also an introduction to the sport of randonneur cycling, where the rides called "brevets" (200 km+) are non-competitive in nature often characterized by cooperation and camaraderie between riders. Road safety is the primary concern for randonneurs. No roads are closed for the Pacific Popularie or any other randonneur event. Participants must share the road with motorists, watch for pedestrians, and obey all traffic rules. Riders who engage in racing or other unsafe riding practices will be disqualified. In accordance with BC law, all cyclists must wear approved helmets at all times during the ride. Your bike should be in good working order.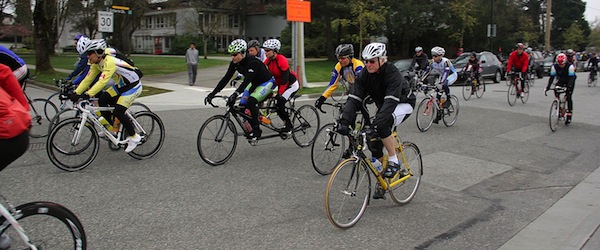 For details on registration, go to the Registration Page. The starts for the various distances will be a few minutes apart, starting with the 100 km leaving at 9 a.m. sharp. The start is on Ontario Street.
The usual randonneur equipment rules and practices have been relaxed for this event - fenders and lights are optional. However, reflective clothing and rear lights are recommended - they will help make you more visible to motorists if it rains. Randonneur time limits also will not apply, so take your time if you have to.
Participants under 19 must be accompanied by a parent or guardian throughout the ride, or another adult designated by the participant's parent or guardian.
The routes all make their way to 'control stops' where riders must have their control cards stamped and signed by a ride official. Food and drink is provided at the control stops, and at the finish if supplies last.
At the end of the ride, the rider turns in the control card, and is awarded a finisher's pin.