November Flood Route 200
Permanent #216
Ride Date: November 8, 2023
by Karen Smith

Permanent #216
Wed, Nov 8, 2023
200 Km
11 hrs 18 min
Solo

Since the time change had just happened a few days ago, I wanted an early start. I set my alarm for 5:30, but I woke up at 4:30. Ha! My body knew… I set out as soon as I was ready, which was 5:43. Oh, but it was so dark!! I knew it was going to be dark, but it was very dark and wasn't light until well after 6:30.
I am slow on the bike now, so I knew that I couldn't do a 200 in daylight at this time of the year... If I have a choice, I would rather start in the dark and have it get lighter, than have the last hour of riding in the dark with busy traffic.
There was much more traffic than I had expected before 6:30! Especially right in my neighbourhood, before 6:00! Who knew everyone was out on the road so early?! I met multiple vehicles at every intersection for the first 10 km.

Because of my early start, when I went through the school yard on the bike route, I met hundreds of kids on the bike path. Apparently they were having gym on the bike path which also goes around their field. I met another class on my return trip. It really slowed me down both times.

There is still a lot of the Transmountan construction on my route, but I only got held up once. I had to do one detour however. Gibson was closed, so I used Banford. No issues with the route distance because all those streets are just on a grid.

There was glass and construction crap all over the roads especially in the shoulders. I was worried that I would get another flat on this ride, but I didn't : )

There were a LOT of trucks on the roads, especially those double dump trucks, on all sections of my ride. They were on Vedder Mountain Rd, all over the Sumas Prairie, on Camp River Road and even on Kitchen.

I saw a lot of trumpeter swans, some flying, but mostly lounging in the fields. I saw one large group of swans on Town Rd near where Majuba hill comes out. There were hundreds of them in a farmer's field. They were calm and relaxed, just hanging out. But across the road from them, there is a small farm that has llamas, alpacas, chickens, goats and geese. Well those domesticated geese were anything but calm. They were running around and squawking and flapping their wings. They were soooo loud! I couldn't tell if they were afraid of those huge swans in the next field or if they were excited to see their cousins...

My back was still somewhat sore on this ride, but much better than my October Permanent. In retrospect, I don't know how I rode that Oct ride.

: ) Karen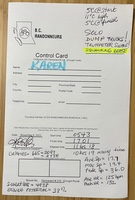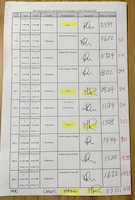 ---
Go to: P#216 Route Page (Database)
Go to: Permanent Results (Database - under construction, incomplete results)
Go to: Temporary Permanent Results
-

November 20, 2023