The Cassiar 1200
Ride Dates: June/July 2023
by Roland Wheeler

Video: Cassiar 1200 2023 - NightCrawler Cut (4:01)
--------
I rode the 2016 Rocky Mountain 1200 ride with the BC Randonneurs. It was my first 1200km brevet, and perhaps the last time that ride will be organized. Criticism was overheard of the scary traffic on the highway #1 between Sicamous and Lake Louise, especially around Golden. As an alternative route, BC Randonneurs planned the regularly-scheduled 1200km ride to be along the "Highway of Tears" from Prince George to Prince Rupert. However, this was scheduled for the summer of 2020. Due to... events... I don't think that ride was well attended.
I don't know what is planned for the 2024 BCR 1200 ride, but I just rode an alternative: the "Cassiar 1200" as I'm calling it.
I originally planned to ride from Tuktoyaktuk to Vancouver, but severely reduced my ambitions due to logistics, time availability and fear of mosquitoes (foreshadowing: the latter was warranted). The route I actually rode is from Whitehorse to Terrace. At about 300km into this route, it occurred to me this might make a nice brevet. A challenging, specialist brevet, but one worth doing. That didn't stop me from continuing at tourist pace, however. I finished in about 7 days.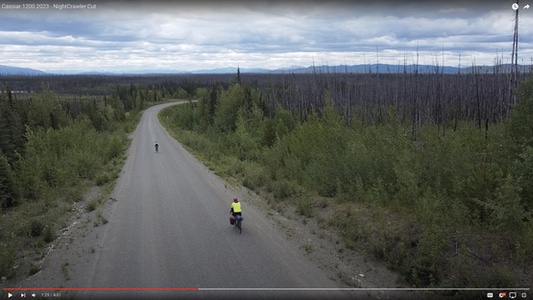 Logistics
The RM1200 was a nice circle route: it begins and ends in Kamloops. A reasonably central city with good options to arrive or depart by auto, plane or bike. The northern route planned for 2020 was an open-jaw route: out and (partly) back. This route is a one-way route between Whitehorse and Terrace, both cities with good options for arriving and departing by air, auto, bike or ferry.
Route
The route I rode was eastward from Whitehorse (with a side jaunt through Carcross and Tagish) down the Alaska Highway to the Watson Lake Junction. From there I rode most of the length of the Cassiar Highway (Hwy 37). This highway intersects the Highway of Tears (Hwy 16) at Kitwanga. I, however, opted to take the Cranberry FSR (Nass Valley Road) through the Nisga'a Memorial Lava Bed and arrived in Terrace from the North. The total length I rode was about 1307km, but the actual route (without all my side jaunts to campsites etc.) is about 1270km.
Avoiding the Nass Valley road makes the route actually slight longer (1285km) but avoids ~59km of beautiful gravel road. Avoiding the detour through Carcross brings the trip down to about 1222km, but Carcross is quite scenic and a nice point of service.
Road conditions
Most of the way was on quite nice paved roads. The Alaska highway has quite nice shoulders, which is great because the roads are busy with many RVs. In some sections the shoulders have a very rough texture due to coarse aggregate. I was happy to have plush tires. The route out through Carcross and Tagish is narrower, but the traffic was quite light the whole way. The Cassiar Highway (aka Hwy 37, Dease Lake Highway) was also paved quite well. It has excellent shoulders for the southern ~2/3. The North ~150km of this highway is narrower, but it has very light traffic. The Cranberry FSR (Nass Valley Road) has about 59km of gravel. The gravel was quite smooth, although each vehicle that passed kicked up quite a lot of dust. The Road from New Ayansh to Terrace was very smooth, ultra scenic and has excellent shoulders.
The terrain is fairly flat. My route climbed about 13,000m, making this a "1% grade" route. For my taste, anything less than 1% feels flat. Some sections were punchy, but there were few large climbs. The scenery up north is breathtaking. The vistas are so grand, the rivers so powerful, the forest fire and pine beetle ruins so devastating they cannot be adequately described. Go see them!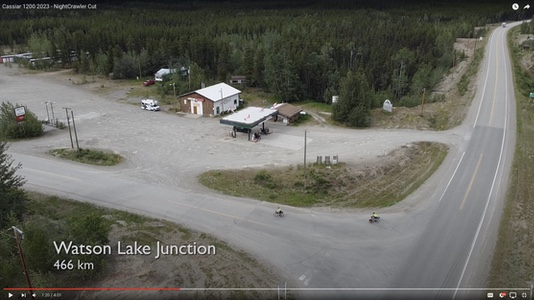 Services
This is a weakness of this route, if you are used to diverse services. This route is REMOTE. Riders need to be prepared for this route. There are few options for dining, food resupply and repair. There's also basically NO mobile coverage from Carcross to Terrace. There's a lot of nice drinking water available, however. The north is blessed with a diversity of beautiful rivers. Two sections with limited water, however, are the north ~75km of the Cassiar, and the section from Meziadin to Cranberry junctions.
Whitehorse (0km) has everything you might need: camping gear, an excellent bike shop, expedition food and so on. Carcross (~70km) has restaurants, all of which were closed when I went through (it was rather late), but the local RV campground store was open. Teslin (~220km) had a full-featured trading post with lots of food options. Johnson's Crossing and the Continental Divide Lodge (~170 and ~350km, respectively) had nice little cafes catering to RV tourists. The Watson Lake junction (~470km) has rather limited services - mostly snacks and coffee (they were out of coffee), although Watson Lake town, which is about 40km of additional riding, is supposed to be fully featured. From there there are no services until Dease Lake (~700km), which had the mostly amazingly equipped trading post with a small selection of EVERYTHING, and an asian fusion take-out restaurant. I visited a nice trading post in Iskut (~800km), an excellent cafe in Bell II Lodge (~940km), and passed various food options in Meziadin Junction (~1032km). Gitlaxt'aamiks/New Ayansh has food services (1170km, though slightly uphill off the Nass Valley FSR), the Rosswood General Store (~1230km) is a popular tourist stop and Terrace (~1270km) has everything you might need.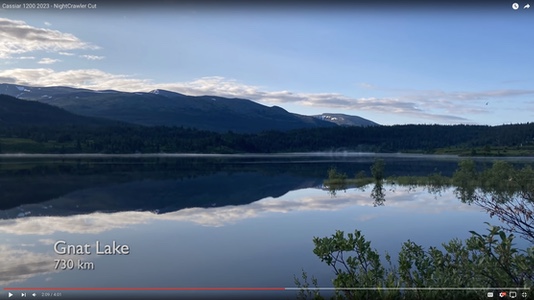 Wildlife
When considering such a ride, many folks may be concerned about bears. There ARE many of bears up north, and I spotted quite a few. However, they were all grazing by the roadsite and happy to ignore me. At camp, I practised good camp hygiene and strung my food from a tree when I could, and never cooked where I camped: I would eat somewhere and ride another hour (or more) before stopping to bivouac.
The wildlife to prepare for more seriously, however, are the insects. Biting insects up north are no joke. They have a short summer during which to hatch, fly, bite, mate and lay eggs. They don't waste time. They are plentiful and they bite hard. I have done bike touring in the north before, however, and was ready. See below for clothing recommendations. Besides the scary wildlife, however, there was a plethora of other wildlife, especially birds. Loons, raptors, owls, ravens and others are plentiful. Squirrels, rabbits, beavers and weasels are among the most common small mammals I saw. I didn't see any large ungulates on my ride: no caribou or moose :-(though I did see roadkill examples of the latter).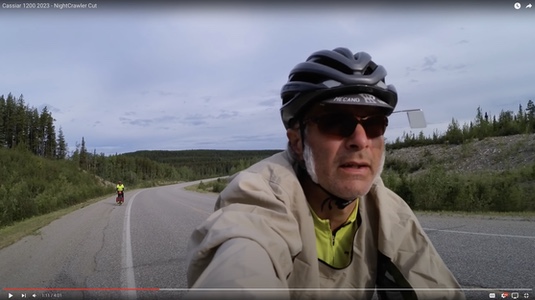 Recommended equipment
As with any grand brevet, it's recommended that you prepare to be self-sufficient out on the road. With this ride, however, there are very few points of resupply and basically no bike service available. Plan accordingly. Some special suggestions follow.
Bug protection - Mosquitoes and horseflies can bite through most spandex-type materials, as well as anything merino. Horseflies can fly about 30km/hr and bite you if you are riding slower than about 24. I brought along a light pair of climbing pants that I could slip on over my shorts for cold mornings and whenever I stopped. The mosquitoes cannot bite through many tight synthetic weave fabrics. I also brought along a "bug shirt": it's a light jacket with a mesh hood that zips over the face. It also works fine as a light cycling over-jacket and allowed me to zip/unzip the face mesh while riding. I had a pair of light gore-tex over-gloves for my hands so the only parts that got substantially bitten were my ankles. Anything that's waterproof will also be bug-proof, but may be uncomfortable if it's warm.
Sun protection - As with any long ride, take the sun seriously. In the north, however, you have about 23 hours of sun. Bring sunscreen and lip balm for a ride like this. A brim hat would also be nice for keeping the sun (and bugs) off your head while stopped.
Wide temperature ranges - as with any long ride, plan for the weather. I had strong head and tail winds, on different days. Some mornings were chilly, and frosts are not unheard of in the middle of summer up north. I endured several days of >30C. That's fairly warm for riding, but up north is can stay hot a very long time, well past the time it ought to be dark! I brought along swim trunks and took advantage of many beautiful lakes to stay cool the last few days. I didn't have much rain so my rain gear and fenders remained dry the whole way. Still worth bringing along, however.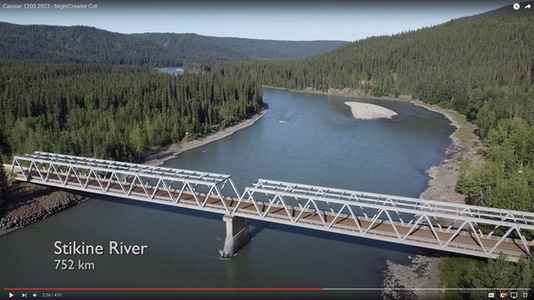 Food and Cooking - I brought along a waterproof stuff sack and a length of light cord so I could string my food in trees, out of reach of your average bear, away from my camp. It also doubled as a backpack for the times when I wanted to resupply with bulky food (like a loaf of bread) that would not fit in my saddle bag. I brought a wood-fired cooking stove and my riding buddy brought an isobutane camp stove. I'd suggest the latter for more rapid food stops. We brought lots of trail mix and dried meals, enough for 5 days. At brevet pace I'd suggest keeping ~3 days' food on hand.
Water filter - the rivers are plentiful, but you don't always know what is upstream. I'd suggest bringing a lightweight water filter for peace of mind. I used the Katadyn BeFree, which is excellent, and serves as another water bottle.
4 bottles - I fitted my bike for 3 bottles, which was not always enough. I occasionally used the water filter (in my feed pouch) as a 4th bottle. I'd suggest bringing 4 bottles if you tend to be thirsty.
Serious spares - evaluate your spare parts kit carefully. Do you have a spare tire? What if you break a cable? Can you patch a hole in your sleeping mat? I brought tools and spares for all of these, and needed the latter.
Tough tires - I set my bike up with fairly aggressive tires: WTB Nano 700x42mm. They're knobby, but with a nice centre bead. I was worried the knobs might slow me down, and maybe they did, but the knobs were handy. Any time I left the road (for water, services, photo ops, camping) was on gravel. I was occasionally forced onto the gravel by passing oversized trucks. Also, the paved shoulders along the Alaska highway are often strewn with gravel and sand, a remnant of snow driving safety. These reasons, plus frost heaves and the odd pothole made me happy to have wide, grippy, plush tires mounted.
Bright and reflective - keep your kit bright and reflective. However, you may never ride in the dark. My bike has dynamo lighting but I left it off for all but the last night near Terrace. I mostly used it to recharge my phone, camera. Bring a dynamo charger, solar panel or large battery pack: there's nowhere to plug in!
Sat tracker - there is NO mobile coverage on this route between Teslin and Terrace. A sat tracker with emergency features would be highly recommended. If a BCR brevet, I'd suggest it being mandatory.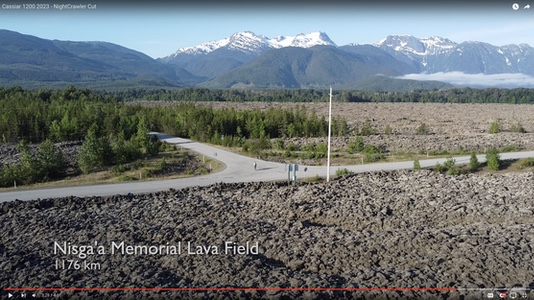 Camping
I travelled ultralight but with the essentials for camping: a sleeping bag, air mat and bivvy sack (with bug netting). There is a near infinity of great camping spots up north. In addition to campgrounds there are pull-outs, recreation areas, rest stops, grassy patches and sidings. It also never got dark except for the last evening and only rained (lightly) one evening. I'd recommend bringing a similar camping solution. There are basically no hotels: this is RV country.
Logistic needs
To make this a proper brevet anything like the RM1200, a few volunteers would probably be needed. As it's a one-way, it might be nice if someone were to volunteer to drive bike boxes (flattened) and drop bags. It might also be nice if someone were to volunteer to setup camp and provide food in some of the more remote locations. Rancheria (~400km), Jade City (~590km) and Cranberry Junction (~1120) might be nice control/support points. Probably this could all be done with a single RV, or at most 2. Given the population density of RVs up North, it should be pretty easy to arrange a few volunteers.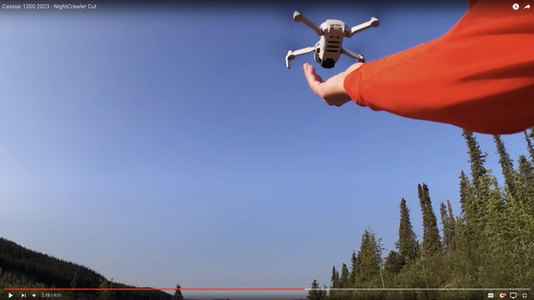 ---
Go to: --
Go to: --

September 27, 2023