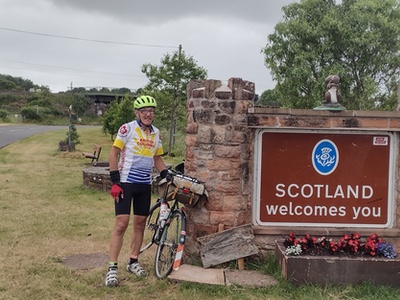 Hills, Heather and Haggis
The Inverness 1200
Ride Date: June 23, 2023
by Bob Goodison
When asked, (ok, sometimes without being asked) I was telling people that I was not going to ride PBP 2023 because I had had such good rides in 2015 and 2019 that it could not be improved upon, and that I believed I had experienced most of what PBP has to offer. At least the positive experiences. I wanted to do something different.
I carefully watched the website for the Inverness 1200, wanting to jump right on it as soon as registration opened up- after all, there was a limit of 100 riders, and in the event that I was unable to go, the loss of the 58GBP entry fee would not be huge. Done. Next, sort out the details. I found a nice little Victorian townhouse for the week, only 300 metres from the start (and also 300 metres from practically everything else in Clitheroe). The mid point overnight was provided in Kirkhill, just past Inverness. I booked a room in Kinross, at about 350 km for the first night, and one at Abington, at 946 km for the third night. Spring training consisted of making sure all of my training rides had at least 100 m vertical for every 10 km of distance. Our spring brevets did not achieve this, so I compensated by riding as fast as I possibly could until I imploded (AKA trying to ride with Jocelyn). Recalling my LEL 2017 ride, and all of the time that I lost while lost, my biggest fear was navigation, so I bought a second GPS unit- a Garmin E-Trex 22x, to supplement my sometimes temperamental Edge Touring Plus. The E-Trex only gives a bread crumb trail, but has the advantage of using AA batteries- one less thing to keep charged. My Edge Touring gets stupid and loses the route if the route crosses itself or has any out and back sections, a problem I solved for this ride by breaking the GPX file into four chunks- one for each day, Ride strategy- Do all (or as much as possible) of the ride in daylight, keep a sustainable pace while getting as much sleep as possible and staying at least an hour ahead of the time cut.
Three days to go- Once again, Bud Macrae kindly let us leave our car at his house in Kamloops and drove us to the airport at 4:30 AM. All went well- for the first time, they wanted to charge my Ritchey Breakaway as a bike, but in the end it went through as luggage. Problem #1- By the time we landed in Vancouver, our connection the Toronto was cancelled. We were moved to a flight to Saskatoon, which would connect to Toronto, but it required a high speed run through the airport to catch it. Sorted. Sort of. Problem #2- We landed in Saskatoon to find that our connection to Toronto would arrive too late for our flight to Manchester. There was an earlier flight, which was delayed, and just happened to have two available seats- if we hurried. Sorted. We landed in Toronto with plenty of time to catch our Manchester flight, but knew there was no way in hell my bike and riding gear had made the connections. Watching the luggage carousel in Manchester confirmed this. We registered the missing bags, and hoped for the best. What would I do if it didn't arrive? Try to scrounge a bike and gear, or just consider it a non-cycling holiday? Problem #3- The route sheet did not arrive in my E-mail until after we had left home, but we were able to find a local office supply place to print it. The route sheet was all but useless to me- the abbreviations were relatively easy to decipher, but the only distances on it were the distance intervals to ride on each road – no cumulative distances. If I had had it before leaving home, I would have typed it into our route sheet template and had something useful. Oh well. Thankfully, the bike and gear arrived by courier, giving me the following day to assemble it, test ride, and relax a bit. The silver lining was that I hadn't had to drag the bike bag and my huge duffle bag on and off buses and trains between Manchester and Clitheroe. The bike had arrived relatively unscathed- a broken tail light mount, scuffed paint on the forks, and damaged bar tape, all of which were my fault for not padding it sufficiently. The broken travel case was not my fault, and Air Canada has paid my claim. Somehow it just seemed right assembling it in the back garden, listening to Beatles music coming over the wall from the neighbours. A short test ride told me all was well, and that the weather was hotter than I would like.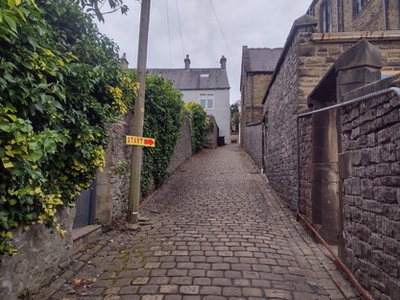 Ride Day! Only one other rider was there when I got to registration, where I met Andy, the organizer. My well-loved Carradice bag was the only one there, despite the fact that we were only 11 km from where it was made. Total registrations had been in the low thirties, with 23 showing up on ride day. Apparently Andy has a bit of a reputation as an organizer..... I found out a few more details- except for the midpoint control, all control proof of passages were to be receipts from businesses., and the steepest hill on the route was about 55 km into the first day, something in the neighbourhood of 20%. We started at 07:00, in lovely weather. An earlier start would have been nicer for me, because I knew I would have to be quick, or at least very efficient, to get to my overnight in Kinross before the bar below it closed at midnight, after which time I would be looking for an "Audax Hotel" (bus shelter) to sleep in. I soon found that there was no one the right speed to ride with- there were three or four fast guys off the front, and we had quickly dropped everyone else. I settled into my own pace and enjoyed the scenery. Beautiful rolling green fields full of sheep, separated by dry stone walls, with the occasional tiny village. I found myself wondering why there was not a waiting list for this ride, wondering how I was ever going to be content riding my local roads at home, wondering what would happen if I met anything wider than a....;well, practically anything, on the rough chipsealed road between the rock walls. By the time we e got to Coal Road (the steep one) I had had my first encounter with stinging nettles when I stopped to take a picture of Pendragon Castle. As expected, Coal Road required some walking. There was no point in destroying my legs on the first day. Descending the other side was not speedy either. Narrow, tight and twisty, with stone walls meant meeting anything could go badly. Also, there were small flattened animals every few metres, apparently unable to escape because of the walls. I thought they might be haggis (what is the plural of haggis? Is it haggises? Or haggi?), but I found a relatively intact one that I identified as a rabbit. The first controle was in Kirkby Stephen. I somehow missed the suggested Spar petrol station and rode along looking for a suitable stop. Some of the fast guys were sitting outside a cafe, but I didn't have time to spare. The other foreigner- Greg from Boston- was in a chemists, but they had nothing I wanted, and I suddenly realized I was out of the village. I turned around and stopped at a candy store, where I bought drinks and ginger biscuits. It took forever because they had no change so could not take cash, and could not get a signal for the card machine. Then they could not print a receipt, so he hand wrote one for me, while the clock was ticking.....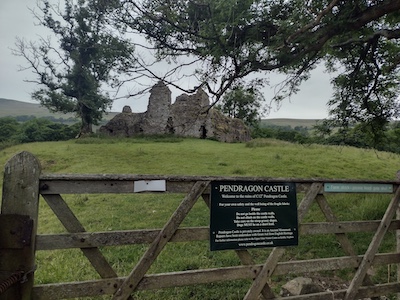 Things went along smoothly for a while. Then, at some point mt Edge Touring lost it's UK maps (and therefore stopped giving me turn alerts) It still gave me a breadcrumb trail, just no maps. The maps would come and go for the remainder of the ride, possibly a problem with the micro sd card I had downloaded the OSM maps on. We got onto a service road that paralleled a six lane motorway, with rough chip seal and poor shoulders. I remembered this section from LEL 2017. It wasn't a fun section then or now, and didn't improve when it started to rain. And rain harder. And harder. Through the Brampton controle uneventfully, and on into Moffat for a hot coffee and a sandwich at the Esso station. It is worth noting that convenience store food in the UK is SO much better than anything we can get here. Finally off the awful service road, and onto what had been one of my favourite bits of LEL- Devils Beeftub. Now just drizzling, it was just as much fun as I recalled. It got a bit less fun and a bit more urban as we approached the South Queensferry controle south of Edinburgh. A sandwich for now, another one for breakfast. I had been leapfrogging the fast group at each controle due to my need for efficiency. I was fortunate to have another rider with me for the fiddly bit to access the Forth bridge as dusk arrived- he was relatively local and had done it before. By now I was dry, and getting close to my sleep stop. It got a little bit dark at about 11PM- dark enough to not see the big puddle that promptly re-soaked my feet. No matter- I made it to my hotel at 11:30- half an hour to spare, an hour and a half later than planned. I checked in and the proprietor immediately left. I had forgotten to get the wifi code, couldn't get power from the single outlet, and couldn't figure out the shower. A quick bath and a comfy bed was all I needed, and I had until 10:54 the next morning to get to the next controle in Perth, about 25 km away.
Day one numbers: 351.4km, 3912m vertical, moving average 23.6kmh. Temp. 11C-25C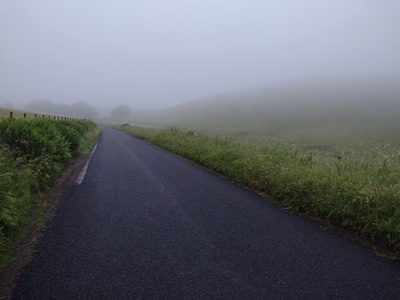 Day two started early, cool and foggy. Before long we were on deserted chip seal roads marked "bicycle and pedestrian friendly". They were definitely that, if one didn't mind the rough surface. I had had a sandwich and coffee of sorts (instant with hot water from the tap) at the hotel, but I really needed breakfast (and a receipt) in Perth. Not seeing anything on the road I was on. I turned towards downtown. It was now 6AM, and someone was putting out sandwich boards outside a Cafe Nero (chain similar to Starbucks). Not open yet, he said, but directed me further downtown, past the Costa Coffee (also not open) to the Greggs. FYI- Greggs is my new favourite fast food franchise! Got an espresso, and a couple of toasted ham and cheese croissantish things, plus a donut that was way better than anything Tim Hortons has produced in many years. Unfortunately, they could not print me a receipt. A photo of the cash register readout, plus another of my bike with their sign visible would do- I hoped. On my way out of town, I spotted a Co-Op on the left and remembered I still needed to fill my bottles. That was the plan, but when I spotted the fresh, hot beef bridie pie, I knew a third breakfast was necessary. Got a printed receipt, too. While getting organized outside, another rider pulled in and told me he was packing it in. His knees were done, and he thought going into the highlands with bad knees would not end well. Good decision, I think. As I started the climbing into Cairngorms National Park I started to become concerned about midges, as some kind of tiny bug was circling my head. It would start with one at the bottom of a climb, then more and more, until there were dozens by the top. A bit of a descent would lose them, only to repeat the process on the next climb. I don't know what they were, but they weren't midges, as I never got bitten. Fortunately they left me alone as I gained elevation. It was a beautiful but unending climb into the highlands, with large patches of blooming heather, to Glenshee-the first of three ski hills we would see during the ride. More – many, many more, larger flattened animals, seemingly every 50 feet or so, littered the road. Could these be haggis? But no, eventually there was one intact enough to recognize, and they were hares. I passed completely through Braemar without seeing a good place to stop, so doubled back and found a Co-Op just off route to control and refuel, and visit with some of the other riders. The next section was very pretty, with quiet, easy, rolling roads through farms. I caught a rider and rode with him for a while. He hadn't slept, apart from a nap at a closed Costa at a petrol station in Kinross. A section of STEEP climbing that had me walking multiple times on the same hill led to the second ski hill of the ride- exhausting, but soooo beautiful. The next controle was at Nairn. I remember nothing about Nairn, but now I look at a map, I can see that it is right on the North Sea, although I didn't realize it at the time. I must have been getting tired. I do remember my frustration at getting through Inverness- it was uncomfortably hot, heavy traffic, lots of stop and go, and a couple of missed turns. I was never out of sight of where I was supposed to be, but sometimes getting back across certain intersections could be very time consuming. Finally made it through and onto a quiet waterfront road on the west side of Inverness, closing in on Kirkhill, where there was the only staffed overnight controle of the ride. Having heard rumours that the organizer sometimes didn't have sufficient food at controles, I stopped at a pub a few kms before Kirkhill for a bowl of excellent tomato soup, a bun, and a pint of bitter, also to use their wifi to message Susan that I was alive, on route, and feeling good. Once at the controle, I was offered the choice of beans on toast, or some foul smelling instant broccoli/cheese noodles. Or, he said, I could have spaghetti, but it would take 15 minutes. Perfect, I said. That will give me time to wash up (no shower available) organize my stuff, access my drop bag, and fill bottles. Since I would now be heading south and had not yet needed them, I moved my knee warmers and extra merino base layer from my Carradice to my drop bag. "Do you have any sauce?", I said as he put a small plate of naked noodles in front of me. "No, I couldn't find any in the shop. I'm not a pasta guy," he said. "OK," I said, "how about some beans?" (For the record, beans on spaghetti may just be the perfect Rando fuel!) I set a wake up call for It was pretty quiet in the sleeping room when I went to bed, but I soon woke up to a (too hot!) room full of snoring that my ear plugs did little to muffle. I somehow managed to get back to sleep.
Day two numbers: 254.6 km, 3040m vertical, moving average 21.4 kmh. Temp 15C-30C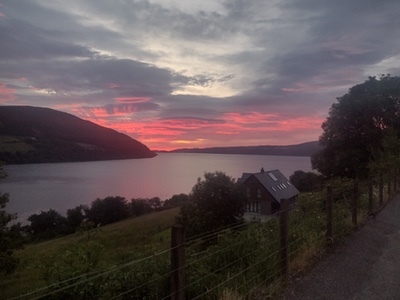 Day three started at 2:30 AM, after a breakfast of cereal and instant coffee. It was as dark as it gets at this time of year- lights not needed to see, just to be seen. Not that there was any traffic. After climbing up and over a forested hump, we were following the shoreline of Loch Ness. There were some delays here, as I had to keep stopping and taking photos of an increasingly spectacular sunrise. I soon caught the group who had left just before me, who had also stopped to take photos. Quiet roads in good condition, with big rollers were the rule through Fort Augustus to the next controle at Fort William. Shortly before Fort William I was caught by one of the faster riders, who drafted me for a while, then pulled in front to take a pull. I soon waved him on, as his pace was a bit too brisk if I expected my legs to last all day. I opted for a gas station sandwich for my second breakfast (cheese and caramelized onion chutney- what did I say about the quality of UK convenience store food?), because I had read good things about the food at the next controle- The Green Welly Cafe in Tyndrum. But first, I had to get there. The eagerly anticipated Glencoe section was every bit as spectacular as expected, and the grade was gentle. Unfortunately, it was now mid-morning, and traffic was awful. Motorhome after motorhome after motorhome, with the occasional exotic supercar such as one might see on an episode of Top Gear. There was NO shoulder, and the edge of the road dropped off into a deep rain rut- no moving over possible. Drivers were good, though, waiting in a long line until it was safe to pass. Nearing the top, there was a crosswind that I estimated to be in the range of 40 to 60 kph. Very treacherous riding, as I was braced against the crosswind, but each time a motorhome or tour bus passed me, there was a vacuum which threatened to spit me into traffic. I could see it blowing black, stormy clouds in my direction, but there was nowhere to get out of it, or even to stop safely to put on rain gear. Finally there was a a roadside pullout, with a tour bus and a (closed) food truck. I took shelter on the leeward side of the food truck to put on jacket and rain legs. Trying to put on the jacket without some kind of shelter would not have been possible. The temperature dropped 10 degrees on a very few minutes, and within half a kilometre of donning the wet weather gear it was gushing down. I expected it to start hailing, but thankfully it did not. The Green Welly was full of dripping cyclists. I warmed up with a good coffee and a hot macaroni and cheese pie and was on my way towards Carnwrath. The rain stopped, and it became uncomfortably hot. The Co-Op in Carnwrath provided what I needed, but was in a busy shopping centre, and was the only stop of the ride where I felt the need to lock my bike while going inside. We turned onto less trafficked, less hilly rural roads closer to Stirling, which was pleasant. There were several flattened badgers and hedgehogs, but still no haggis. What was NOT pleasant was the young asshole who pulled up as close as possible on my right side, so that his equally young passenger could spit on me out the window of the car. I have had all kinds of different projectiles thrown at me over the years, but this was a first. Most UK drivers respect- or at least tolerate- cyclists, but it seems that those that hate us, REALLY hate us. I found another Greggs in Stirling for my controle, which greatly improved my foul mood. The route sheet says it is only 88 km from Stirling to Abington. I find that hard to believe. There was a long, long section of residential area which somehow seemed to be all uphill. On a moderate section- maybe 12% or so, an elderly man and woman were standing in their front garden (wearing their requisite wellies). " Och! Yer diggin deep noo!", he said. I should have replied "Nae, tis but a wee bump", but I only managed "Aye". Onward and upward into a forest of windmills- so close, and making big moving shadows in the evening sunlight that I somehow found a little unsettling. Getting close to Abington, I spotted the first Highland cow I had seen, so naturally I had to stop while she posed for my photo. Into Abington well before dark, for a welcome shower and a comfortable bed.
Day three numbers: 344.9 km, 3226m vertical, 20.4 kmh moving average, Temp 11C-26C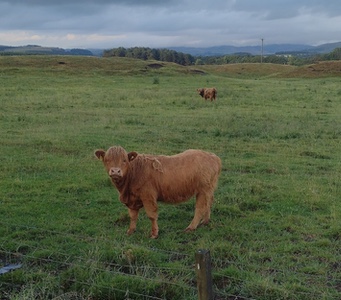 Day four, and I think I'm gonna make it! Still feeling good, as a result of not pushing the pace, eating lots and resting when necessary. Abington to Gretna Green was mostly a gentle descent, but a lot less fun than it should have been because someone had made the stupid assumption that they would not need their warm clothes and left them in their drop bag. Cold, cold fog (think pre-dawn Brest to Carhaix for comparison). It dropped to 5C before finally starting to warm up. I was in a steep sided valley, and although I could see sunshine on the top of the hills, it took a long time to get to me. I missed the recommended Gretna Green controle, but was reassured that I was still on route by seeing one of the other riders at the Shell station where I got my receipt. This day had only one big climbing section- Shap Fell- not super steep, but long, with spectacular views. Unfortunately, at the top, there was that vicious crosswind again, but this time with only a bit of rain. The descent was another white-knuckler, steep, with the wind eddying off the rock bluffs on my left destroying any stability. No shoulder, and the ever-present roadside rain rut made it dangerous to take my attention off controlling the bike to admire the gorgeous valley unfolding below me. By the time I reached Kendal, I needed food and a bit of a rest, especially after a missed turn that sent me up the wrong side of the river. "Harry's Award Winning Pies, Established 1966" called to me, and I answered. What else could I do? The roads got busier, and busier but all the big climbing was done. At the cotrole in Carnforth I met up with the other foreigner again. He was not enjoying the heavy traffic any more than I was, but was generally enjoying the ride. Traffic got really bad going through Lancaster, and a lot of time was lost to traffic lights and the occasional missed turn. My GPS maps were gone again, and although it was easy to tell when a turn was needed, it was equally easy to get the wrong one when there were several roads to choose from. I got in and out of the penultimate controle in Broughton as fast as possible, after messaging Susan with an ETA at the finish. I added half an hour to the time I expected to take, having finally learned that everything about this ride takes way longer than you think it should. I initially decided to ride the final 27 km as fast as I could- but after a few missed turns decided to just slow down and enjoy it. Half a kilometre from the finish, my GPS units both said I was finished. I knew Clitheroe fairly well from our time before the ride, so finding the finish was not a problem, but I managed to come into it from the wrong side. Fortunately, that was OK with Andy- three of the first four riders in (I was the fourth) came in from different directions! Done! I signed my card, took photos of it and handed it in, without looking at the time Andy wrote on it- somewhere in the neighbourhood of 83.5 hours.
Day 4 numbers:263.2km, 2082m vertical, 21.2kmh moving average, Temp 5C-26C
23 starters, 16 finishers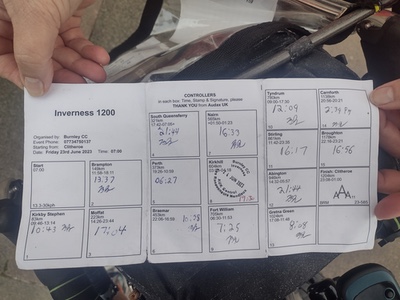 Epilogue: Canadians have a reputation for being friendly and helpful. My recent experience tells me that we have a very long way to go to even come close to the friendliness and helpfulness of the residents of northern England and Scotland (one wanker near Stirling excepted). Susan and I spent the next couple of weeks travelling around, using buses, trains and a rental car. I ate haggis at a hotel in Dumbarton, and at a pub in Bo'Ness, and we toured several castles.
Am I glad I did this ride? Absolutely! Would I do it again? Very unlikely. I love riding in the UK, and the scenery was spectacular but in my opinion, LEL does a better job of keeping riders away from heavy traffic. Hmmmm..... Danial has been posting teasers about route changes to LEL, and I still haven't seen a haggis in the wild......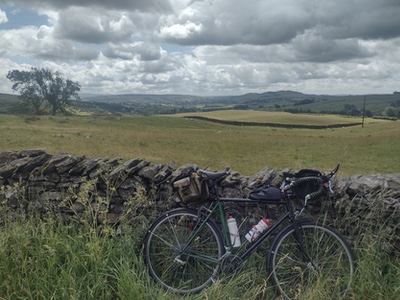 ---
Go to: Bob's Ride Photos (Google Photos - 66 images)
Go to: Inverness 1200 (Website)

August 5, 2023