BC & Canadian Participants (Registrants) for PBP 2023
PBP Ride Date: August 20, 2023
from the PBP organizers by way of Peter Leiss & Mark Payten.
Here is a quick view of the BC riders who have qualified and registered for PBP 2023. It's taken from an Excel spreadsheet, which also includes all Canadian paricipants (linked below). The list was provided by the Paris Brest Paris organization. Notice that there are two tabs at the bottom of the file - one for BC and one for Canada. It was sent to Randonneurs Canada rep. Peter Leiss who passed it on to Vancouver Island Brevet Coordinator and BC PBP23 info facilitator Mark Payten.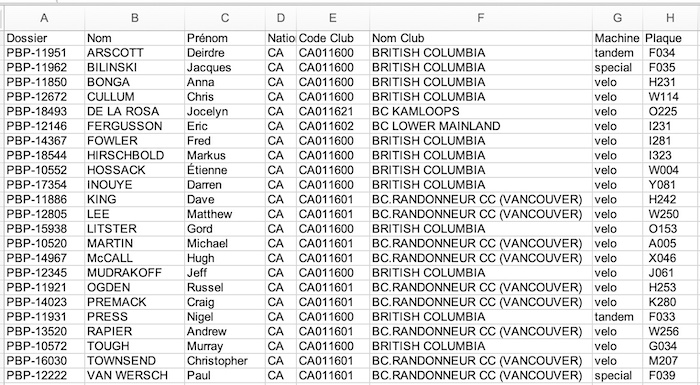 Canadian Participants/Registrants for PBP 2023
(Excel Spreadsheet)
---
Go to: PBP Official Site
Go to: The PBP Hub (History & Stats about PBP - elsewhere on the site)

July 24, 2023