June Flood Route
Permanent Brevet #216, 200 km
Ride Date: June 22, 2023
by Karen Smith
DONE
June 22
200 km
11 hrs 20 min

It was a great day for a ride!
I started out in 10 degrees shortly after 6 am. It felt much hotter than the high of 27, probably because the last couple of days were still Juneuary...

Just before I got to my place for the second home control, at 132 km, my rear shifter failed. But I had forgotten all about it at my control. You know how it is, off the bike - you are focused on other things...
So I started out again, and after a kilometre I tried to fix my shifter but gave up and rode home and switched bikes. It cost me a bit of time, but now I had a fully working bike.

The only other eventful thing that happened was a big accident on the Yale Rd overpass. The road was completely shut down with a semi blocking the scene. I didn't want to have to detour, so I got off my bike and started walking across and asked the emergency personnel if I could cross, and they let me continue walking. Phew! I was hurting by this time and just wanted to get home.

Once I was over the overpass I got back on my bike. Now I was heading east towards home and the skies were black.
Where did that come from?
With 12 km to go, I couldn't ride fast, but I was riding as hard as I could. I just wanted to finish before the rain.
I got a few sprinkles in the last 2 km, and as soon as I got to the garage the skies opened up to a heavy downpour.
Phew again!
: )
Karen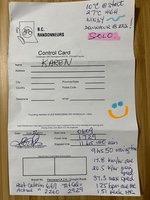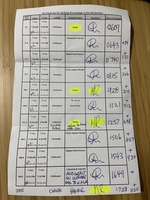 ---
Go to: P#216 Route Page (Database)
Go to: Permanent Results (Database - under construction, incomplete results)
Go to: Temporary Permanent Results

July 1, 2023