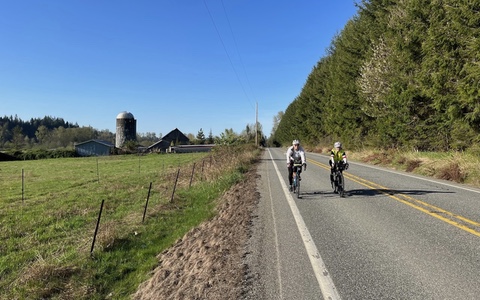 Flèche Pacifique 2023
Team: Hell's Belles
Ride Dates: April 28-30
by Murray Tough
After a cold, wet spring, the Flèche Pacifique was on the first hot weekend of the year. We rolled out of Harrison Hot Springs at 4:00 PM for the 24-hour ride. Our goal was a relatively civilized 371 km ride. The rules for the Flèche are that you ride as a team on a course of your own design. You can choose your start location but you must finish at, or at least near, Harrison Hot Springs. You must cover at least 360 km in the 24 hours. Napping is okay but you are not allowed to stop anywhere for more than 2 hours.
There was a bit of musical chairs with the teams as the ride date approached. Injuries and illness led to last-minute changes because every team must finish with a minimum of 3 riders. The all-female team "Hells Belles" was down to two riders. As a rookie, I was delighted to be invited to ride with two of our most experienced randonneurs. "Hells Belles and a Beau"!
The first leg was to Hope and back. We quickly settled into an efficient pace line; we had found our groove. Despite the heat and a long wait in a construction zone, we were making good time. To be fair, the wait probably wasn't that long but we had just started and were more than a bit eager to put some miles in the bank. We rode along the banks of the Fraser River in a narrowing valley with steep slopes rising to snow-capped peaks on both sides. Our highway hugged the north bank with few hills and gentle grades. On the way back to Agassiz we were entertained by a steady stream of freight trains and one long passenger train featuring the distinctive, dare I say, historic, stainless-steel cars that have been traversing the Rockies since the 1950s.
We rolled through miles of flat, fast and frequently malodorous farmland from Chilliwack to Abbotsford. Huge dairies, expansive fields of green, rows of greenhouses, grazing cattle and rows of vines all set against the backdrop of mountains, which were becoming silhouettes with the fading light. I love riding at night and who doesn't enjoy a sunset but I don't enjoy nightfall. Is it a primal fear of the pending darkness? We were comfortably ahead of the pace when we stopped for our first break at a Tim Hortons in Abbotsford. Then we made our way to the border by the light of our headlights and a silvery half moon.
The formalities at the border were quick. We weren't the first team to go through that night so our story about crossing the border late at night, with a plan to ride through the night, for fun, wasn't as incredulous as it must have sounded. It had stayed warm well past nightfall but now it was getting cool. The stop at the border was a good time to add some warmer layers.
We continued through the darkness until we reached the all-night Denny's in Bellingham. Once one decided on the crêpes, the rest of us followed suit and ordered the same thing. The climb out of Bellingham might have been faster if we hadn't just eaten a big meal but we soon found our groove again. Our paceline wasn't as tight during the night, without traffic, we tended to ride two abreast so that we could chat and share stories more easily.
We had planned for a short sleep in a post office. The US Postal Service keeps them open all night just in case a Canadian cyclist needs a place to sleep. The post office was lovely and warm. The floor upon which we slept was filthy. Anna and Deirdre used their vests to sleep on. I was wearing just about everything I owned so I slept on my gloves. We hadn't been there long when we could hear someone on the opposite side of the mailboxes. I think he was more surprised than we were when he opened the door that had a bike leaning against it. We thought for sure he was going to tell us to leave but after a lengthy, good-natured chat he left us to sleep. He would wait until after we left at 4:30 AM to start vacuuming. Clearly, he was referring to his side of the mailboxes since the public side did not appear to have been vacuumed...ever. After an hour's rest, it was once again time to start pedalling.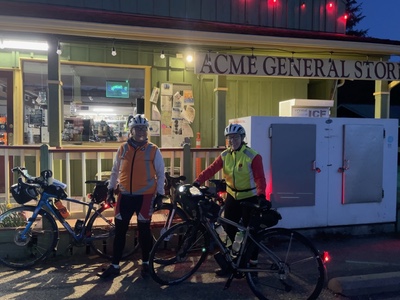 It was very cold outside after a rest in the heated post office. It was 4?C. The forecast was for an overnight low of 10 but fortunately I had, just, enough clothes to manage. It took a while to get my heart rate back up to the point where I was comfortable riding at that temperature. Nonetheless, sunrise was very welcome.
Not long after sunrise, we arrived at our turnaround in Sedro-Wooley. We were in plenty of time for breakfast at Bonnie Jo's. The staff was exceptionally friendly and welcoming. The clientele were what you might expect in a rural Washington farming community. Grey hair, long grey beards, overalls and jeans; large men who would have been equally comfortable on a tractor or a motorcycle. We must have been a sight! Two belles and a MAMIL (middle aged man in Lycra). French Toast was the order of the day.
On the ride north, we got to see all the things we couldn't on the ride south in the dark. We were still in farm country with a backdrop of mountains, but unlike the Fraser Valley, this was set on gently rolling hills with tree lined roads.
At the border, I was the last to be interviewed. The official looked at me with practiced disinterest and said, "Same story?" "Yes," I replied. "Are you bringing anything into the country?" "No." But my inside voice was saying, "Really? Where would I put it?" He turned his disinterest on his computer monitor, tapped hundreds of keystrokes, handed me back my ID and blandly wished me a nice day.
It's only a line in the sand but somehow it felt like a victory to be back on our side of it. The finish line just felt that much closer.
Not far from the border was our lunch stop at the Birchwood Dairy. It had only been about 75 km since breakfast but lack of sleep was taking its toll, I was really looking forward to the break. We were well ahead of schedule but somehow we couldn't make ourselves sit still. We left the dairy half an hour too soon. The problem with that is the "22-hour" rule. At 22 hours, we were required to stop and note our location. The rule is that we must have at least 25 km left to do when we get to this point. Being half an hour early meant we would be standing at an intersection, in the middle of nowhere, with no shade from the hot sun, while we waited out the half hour.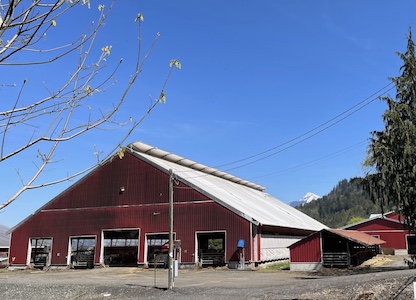 The "plan" was to ride at an easy pace so that we wouldn't arrive early. Remember that groove we were in at the start? We fell into it immediately. Dawdling was clearly not in our nature. We solved the problem by stopping at a bakery in Yarrow.
The last 25 km! Our only remaining obstacle was the dreaded Rosedale-Agassiz bridge. The bridge features two narrow traffic lanes with no shoulders. There is a sidewalk of sorts but it is really just a ledge with lampposts that a contortionist would have trouble squeezing past. Bicycles have no option but to ride in the traffic lane.
And suddenly it was over. At the check-in, the cooler was stocked with cold drinks and the coffee table spread with fruit and munchies. A hot shower, a soak in the hot springs, a short nap, clean clothes then Kathy and I were off to the pub for a meal with some of the other riders. I think we had about a dozen people around a table for five. Despite the sleep deprivation, the conversation was lively... And that was all I could manage. My head hit the pillow and I was out.
It isn't a Flèche without the brunch the next morning. In fact, your ride doesn't count if your team is not at the brunch. The food was delicious, with lots of variety and, best of all, a well-stocked dessert table. We were a room full of ravenous riders in varying stages of calorie deficit but the food never ran out. At the end, each team told their story. We had all ridden different routes and had different experiences. It was fun and sometimes hilarious to hear what other teams had experienced.
Good riding, good weather, good food, good company and good conversation. I'll be back!
---
Go to: Flèche Results
Go to: Flèche Photos
Go to: Flèche Home

May 3, 2023