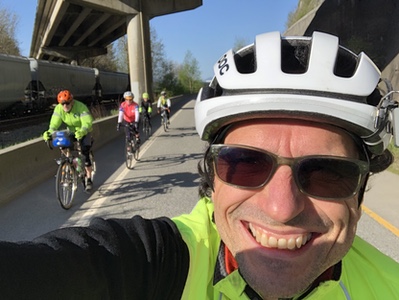 Flèche/Trace Pacifique
Flèche: 360+, Trace: 200+
Ride Dates: April 28-30, 2023
Banquet: April 30
by Michel Richard
Go To: Michel's Photos (15 Images - Google Photos)
Volunteers:
Rick Den Braber: organizer, venue booker, delegator
Colin Fingler: route checker, control cards, trophy math figurer, cheque writer, background fixer
Gary Baker: route checker
Sheryl Henderson: cabin hoster, food & drink wrangler
Karen Smith: cabin hoster, pin orderer and distributer
Ron Himschoot: cabin hoster, drink fetcher
Eric Fergusson: banquet photographer, website curator
Michel Richard: cabin hoster, drink fetcher, control card checker, cat herder, photographer, banquet MCer

Colin and Holly Fingler were originally planned as the cabin hosts but came down with COVID. Sheryl and I took over after all the prep work had already been organized.
Weather from Environment Canada Agassiz:
Sunny with variable winds usually Easterly in the morning and Westerly in the afternoons. 22C Friday, 27C Saturday and 26.1C Sunday (likely records for the event).
Beyond the data sent by Colin here are a few things of note on each team based on memory.
Flèche Team reports:
"Weakended Wariors":
Bob Goodison (Capt), Mike Hagen, Dave King, Paul Van Wersche
479km w. 2796m of climbing
Their ride went smoothly with minor mechanicals. They especially liked the food they ate along the way. The distance and climbing of the route earned the team all the trophies. Is that a first?
Where's Manfred":
Bob Koen (Capt), Ron Himschoot, Alard Malek, Jeff Mudrakoff, Rick Den Braber
364km w. 1725m of climbing
This ride got off on the wrong tire, with a flat at the start and another shortly thereafter. And then Ron Himschoot's rear derailleur blew up at 95km. This left the team chasing the clock for the whole event. They managed to complete their route as scheduled.
"No Hope":
Eric Fergusson (Capt), Jacques Bilinski, Chris Cullum, John Oswald
364km w. 1400m of climbing
This ride also had some issues. The traffic was so bad getting to Harrison that their start had to be delayed by 1h20m. Once away things went smoothly.
"Hell's Belles and a Beau":
Deirdre Arscott (Capt), Anna Bonga, Murray Tough
372km w. 2011m of climbing
A last minute name and roster change due to injury and illness was necessary. The originally all women team subbed in Murray Tough to make a team of three. Their highlight was a nap in a heated post office interrupted by cleaning staff.
"The Most Andrews":
Étienne Hossack (Capt), Nigel Press, Andrew Rapier, Andrew Hartline
360km but DNB
This team had a Vancouver start and finish, but a ferry sailing to and from Vancouver island added a bit of spice to the adventure. The lure of home was too strong for Andrew Rapier, he didn't embark on the second straight crossing. The other three made the 360km minimum. The trip to Harrison proved to be an obstacle too many the next morning however, so their official result is a DNBrunch.
Finally, the only trace team...
"Les Escargots":
Karen Smith (Capt), Michel Richard, Susan Barr, Elaine Jameson, Gary Baker
207km w. 775m of climbing
Elaine was starting with a handicap, having rescued Ron the night before and getting minimal sleep. She's probably the first to complete a trace with a flèche amount of sleep deprivation. I DNF'd as planned at the foot of the Agony (Agassiz) bridge, still not over my recent illness. The rest of the team had an relatively uneventful ride and finished easily during daylight hours.
- - -
Quite a few DNFs this year, perhaps a percentage record. This is unexpected considering the fine weather.
There was a lot of camaraderie and celebration at the cabin as the teams got in, just like old times.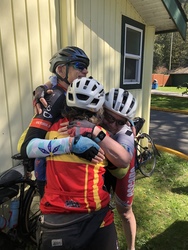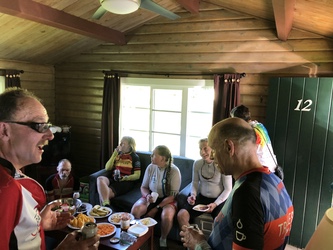 Most teams afterwards ended up the the village pub, to eat, drink and swap tales. The Leafs and Oilers won their playoff series at the same time, so there were lots of other celebrations going on around too. It was a fun atmosphere.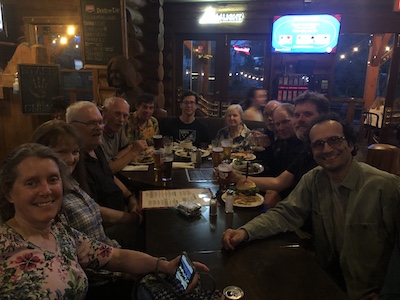 The banquet at the main resort hotel went off smoothly. The food was its usual high quality. Then we got to the awards portion of the gathering. The stories were very entertaining. That's where I got most of the ride anecdotes.
It was an overall great event, in my opinion the best in our calendar. It felt especially celebratory after a three year pandemic hiatus.
I hope to see you all and more next year.
Bonne route et a très bientôt,
Michel.
---
Go to: Flèche Results
Go to: Flèche Photos
Go to: Flèche Home

May 1, 2023