Borrego Springs 600
Ride Dates: March 25-26, 2023
by Murray Tough
It started with a cold and fast descent in darkness from Foothill Ranch, Lake Forest to sea level at Laguna Beach. This is Southern California but I needed my winter layers to be warm. It was still dark as we rolled past the shops, boutiques and cafés on the Pacific Coast Highway in Laguna Beach.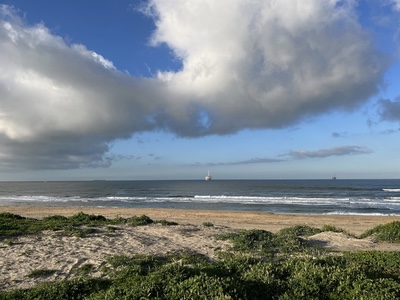 We rode north on the PCH to a turnaround at Huntington Beach. At the Huntington Beach control I forgot to take my photograph for proof of passage and ended up turning around and going back for it. At that point I lost contact with the group but I didn't really mind because it allowed me to stop and take photographs whenever I felt like it. The return was on the Huntington Beach bike trail which meant no traffic. From there I turned inland on the Santa Ana River Trail. The Santa Ana River was flowing swiftly. I am told this is a rarity. They've had so much rain here that there was a roadside sign, lamenting how much the sign writer missed the drought.
I rolled along the river, through valleys, through parks, and through towns as I slowly climbed towards the peak at the city of Beaumont. Somewhere along the way, I saw a roadrunner. Like from the cartoon only real! It was doing what its name suggested, running across the road. It ran so fast that all it had to do was open its wings to get airborne and glide over the curb-no flapping involved.
After Beaumont, there was a gradual descent and a strong tailwind through the desert, past towering wind farms to Palm Springs, Palm Desert, and the Salton Sea. Nightfall arrived before I reached the Salton Sea.
The final 40 km to Borrego Springs was uphill with a punishing headwind. The overnight control was at the 400 km milestone. At Borrego Springs there was hot food and a bed for a very short sleep.
I was on the road before 5:00 the next morning. I only had 200 km to go, but it started with a monstrous climb. From Borrego Springs it was 1100 m of nonstop climbing to reach the summit on Montezuma Valley Road. But it wasn't just the climbing there was also a strong headwind to make it hard. At one point the grade and headwind were so intense that I came to a complete standstill. We were warned that at the top it would be cold. It was about 2°C. I didn't really notice it on the ascent because I was working hard enough to stay warm, but when I reached the summit, I put on the warmest layers I had for a very cold descent.
The contrast in the landscape could not have been more stark. On the climb up, it was arid and rocky with only the hardiest of cacti, clinging to their meagre existence on the windswept mountain. On the other side, it was lush, green pastureland with trees and fast flowing creeks. Further down the pastureland gave way to orchards.
I got a flat shortly after sunrise on the big climb. Fortunately, my tubeless tires did what they were meant to do and self-sealed. All I had to do was pump the tire back up. That held for several hours until I hit a cattle grid as I approached the towering Harrah's casino in Valley Center. After that the tire would not hold air for long, so I had to stop and put in a tube. I guess Harrah's casino is not a lucky place.
There were many valleys and many climbs. My legs were exhausted from the big climb up Montezuma Valley Road. I was struggling. It didn't help when a motorist threw their drink at me as I was coasting down a hill.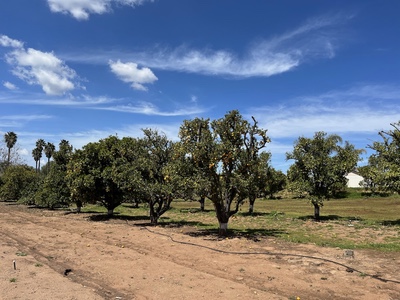 I eventually made it to sea level at Oceanside and stopped for some lunch. Now there were only 70 km to go. But of course, more relentless headwinds. At Dana Beach I turned inland for the final climb back to Foothill Ranch. No more headwinds but 300 m of climbing to get to the finish. It was dark as I rode the final stretches. I was exhausted but I made it with about an hour to spare.
I had so looked forward to a luxurious shower and a long sleep. I got the shower, but the sleep was not nearly long enough as I had to catch an early morning commuter train to Los Angeles for the long train ride from LA to Seattle where Kathy would be waiting to take me home.
On the way home my train got stuck in deep snow somewhere in the mountains in southern Oregon. In the end it meant that I got an extra night's sleep on the train. I arrived in Seattle at first light, about 11 hours behind schedule. But that too was part of the adventure.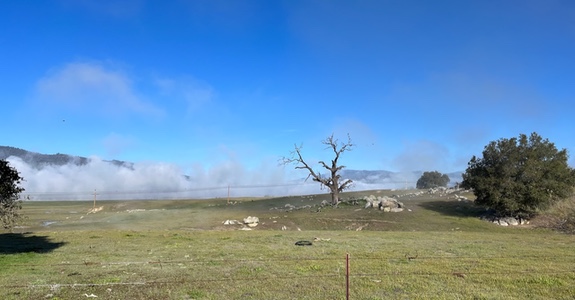 ---
Go to: Results (Database)
Go to: Results
March 27, 2023