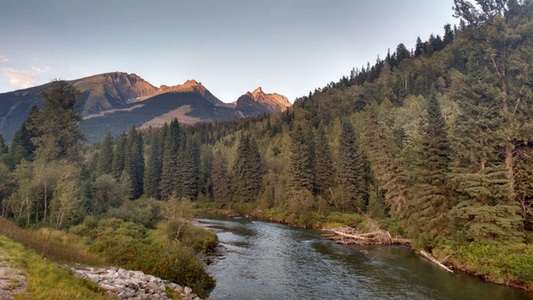 Go for the Goat!
Southern Interior 1000 km
Bob's ride date (start): September 4, 2020
by Bob Goodison
The Challenge: Come up with a 1000 km route that was desirable and doable to ride, but avoided areas with high concentrations of people. The answer: Go For The Goat!
Basically an out-and back, from Chase to the Goat River bridge, about 40 km north of McBride. The original plan of going to Jasper, riding around the block and returning had been abandoned due to the need to keep the ride confined to BC.
Barry Chase and I started on Friday, Sept 4, Barry at 06:00 from Kamloops and me at 05:00 from Chase. We were planning on sharing accommodations in Valemount and Blue River. Barry has been riding every available event this year in his effort to complete his 100,000 km award. So close!
I had a tailwind for the first 80 km or so, but then things turned around. The headwind wasn't bad, the kind that just reduces your speed by 3 or 4 km/h. I caught Barry earlier than expected, and we discussed food options. That is the main problem with this route. Towns are few and far between, more so the further north you get. Stores and restaurants close early, and this has been made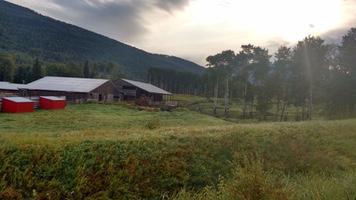 even worse by covid19. I had been optimistically hoping to get to Valemount while the Subway was still open, but the headwind was rapidly closing the door on that idea. I assured Barry that I would have something available for him, and powered on ahead.
The persistent wind, and mild but constant climbing, combined with the fact that I was packing a LOT of food, water, spares, clothing etc, took its toll, and I was fading somewhat by Blue River. If it had been hot, I would have been in trouble, but it was mercifully cool. A sit-down on the sidewalk with a cup of coffee from the Esso (not Husky, as I had it down on the route sheet and control card), was just what I needed. That, and the fact that the wind disappeared about that point. Other than a stretch of about 50 km where the shoulders on both sides of the road were covered in sand, I had a good ride to Valemount.
I rolled into Valemount at about 9:00 PM, answered the control question, and saw a sign at the Esso that said PIZZA! Yay! Almost too late. They had 3 slices left, which I got for Barry, plus a couple of samosas for myself, to supplement the instant Thai Coconut soup I had in my bulging bag. Balancing the pizza box on my handlebar bag, I rode to the Yellowhead motel. Oops. They had messed up the booking, and if I needed 2 beds, they would have to move me to the Rocky Motel across the highway. Ok, getting good at this bike pizza delivery business. Once checked in, I phoned Susan to let her know I was there, and to ask her to send a message to Barry about the motel change, as my old flip phone is not conducive to coherent texting. That was how I found out that Barry had decided to abandon near Blue River. Apparently the headwind and riding 600 km brevets on 3 consecutive weekends had left his legs extremely tired. Go figure. Anyway, I was torn between being sad that Barry was out, and being happy that I had his pizza.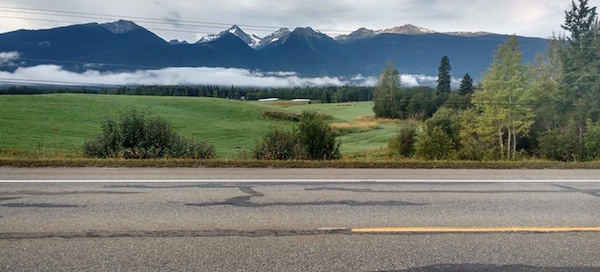 Breakfast was instant oatmeal, the few boiled little potatoes left from day one, and a slice of Barry's pizza (told you I was packing a lot of food). On a scale of 7/11 to Stratis (Sorrento), the Pizza was about Dominoes. On the road again at 05:00. The ride north was very quiet, with great, wide shoulders, and never ending rollers. For a ride with relatively little elevation gain it sure is hilly. I forgot just how hilly it is until the section from McBride to the turnaround- there are two big humps to go over, and then you have to turn around and do them AGAIN. On the second to last descent before the turnaround I was shifting to the big ring when I felt the cable go. No big deal, I had a spare. Doesn't everyone? But no, it had somehow popped out of the clamp, after thousands of kms of use. How does that happen? Digging out the multi tool took longer than the actual repair.
Unlike other (hotter) rides this year, eating was no problem. Well, it was a bit of a problem as I was hungry ALL the time. Fortunately, I remembered that the McBride Petro Can is a good source of calories, so I stopped there on the return . Lots of good choices there. A couple of butter chicken samosas did the trick. It had been calm up until now, but I suddenly found myself with a MAJOR tailwind! Average speed was increasing, along with my appetite. I have found there are a very limited number of "energy bars" that don't trigger a gag reflex by just the thought of them. One of the few I like is the lemon Luna bars. Apparently they are female specific. Is that why every time I eat one I get Shania Twain "Man, I feel like a woman!" stuck in my head?
My A&W plan for Valemount didn't work because it was closed, and the Subway was too peoply so I settled for an egg salad sandwich from the Petro Can, before heading to my second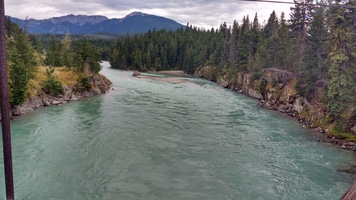 overnight at Blue River. Still had a tailwind, but not as strong. By 7:00 PM I had checked into my "Deluxe" Cabin. It was actually pretty good, just lucky that Barry had bailed, as the second "bed" was a futon that was not even comfortable to sit on. I found a burger stand, but they had just shut down the grill. Fortunately, I was able to get a (enormous) take out burger and fries from the restaurant in the Sandman. (Note to future Bob- just stay at the Sandman). One other complaint about my cabin- there was a pod-type coffee maker, with two coffee pods.... Tim Hortons.... Decaf. AYFKM? I come prepared, though, and with the addition of a pouch of instant coffee, it was pretty good. The coffee maker also provided boiling water for the last of my oatmeal. The kettle that was advertised was nowhere to be seen. Let's see- In at 7PM, on the road at 4:50 AM. Damn near 10 hours of off the bike in Blue River. No wonder I felt good in the morning.
Day 3 was pretty uneventful. The road was trending downhill, and I had a slight tailwind most of the day. The A&W in Clearwater was closed (sensing a theme here). It got slightly hotter than I like, but one can't have everything. I got a little worried when I hit massive headwind between Rayleigh and Kamloops, but that is not unusual, and doesn't mean it is happening anywhere else. In fact, after I controlled at the TKumloops Petro Can, I had an equally massive tailwind that had me flying- until it turned into a headwind for 10 km at Pritchard, before becoming quite calm at the end.
You will notice that this ride story seems centered on food. There is a reason. I went through most towns during normal business hours so I had no problem getting food, and I was packing a lot of it with me. A slower rider on this route is going to have to plan VERY CAREFULLY, or they are going to find themselves in trouble. In normal times, nothing stays open late. This is not normal times. Things that you think should be open are not. Things that are open today may not be tomorrow. Except for a couple of hundred kms of day 1, the wind was in my favour. That is unusual for this route. It may take you 2 hours longer to get to the next town than you planned, by which time everything is closed. It is a beautiful, relatively low traffic route route, and not difficult, but I think that for a full-value rider, the best approach would be to ride it supported to guarantee your supplies.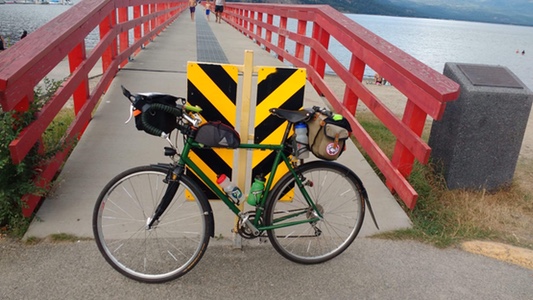 ---
Go to: Bob's Photos (15 Images - Flickr)
Go to: Event Page (Includes Results) (Database)
September 8, 2020