Holy Helmcken Highway, Batman!
Where did my lactic system go?
Ride date: May 25, 2019
by Mike Hagen
Well, that was one of the most unusual 400s I've ever done.
Daughter Kiersten was visiting home for the month of May. She's a long track speed skater training at the Olympic Oval and attending the University of Calgary. She had to be in Penticton on Friday the 24th to join her team-mates for a cycling camp. So the plan evolved that I would drive her to Penticton and carry on up to Kamloops to ride the Highway to Helmcken with Batman 400 km brevet (why "with Batman"? Because of the elevation profile. It's actually obvious when pointed out).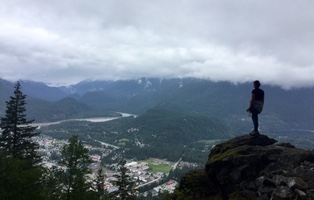 We got a late start, because of course you do, and after meeting Anna for breakfast (because, like most moms, she didn't see enough of her daughter) we were really quite late getting on the road. But we still stopped to hike the Hope Lookout Trail; really wanted to do that. It's Hope's version of the Grouse Grind; not as long, but almost as steep. Nice view of Hope from the top, too. But that took 3½ hours rather than the expected two, because, of course it does.
We got to Penticton just before 7:00 p.m., which is when I'd told my sister I'd be at her place in Kamloops. Missed that by a bit. By the time we'd found Kiersten's group, got some groceries, and settled her in, it was 7:30 and I still had a 2½ drive to do. Finally got to Kamloops at 10:30.
But I made it to the start of the 400 at the Kokanee PetroCan on time. Sort of on time. It was a 5:00 a.m. start, and I was there at 4:45. Hmmm . . . four hours of sleep the night before – not the best planning.
I wasn't quite ready at 5:00 when most of our group of six riders left, but neither was Bob as he had some last minute things to do. The two of us got going at 5:03. Bob led the way across the parking lot and onto the highway. I was a little behind, but no big deal; I'll just jump the bike and get on his wheel. So I did that . . . except nothing happened. WTF? Come on, man, a little sprint to catch up. Nope. Nothing.
I spent the next half hour plodding along as hard as I could while watching Bob slowly pull away. Maybe he'd slow down when he caught the group? We caught Barry and Rick first (Rick on his single for a change), but Bob didn't stop. Maybe when he caught the ladies? Jaquetta was next, but Bob didn't stop. He wasn't chasing after Meaghan was he? OMG, yes he was!
Finally, at the junction of Highways 1 and 5, on the on-ramp to Jasper, I made a supreme effort and got onto Bob's wheel. There I stayed for the next two hours. Drafting is easier – funny how that works. Every now and then, I'd nip by Bob for a little pull, usually on a downhill while he was fumbling with his water bottle. But shortly he'd find my pace too slow (I presume) and go to the front again.
Just south of Barriere it started to rain so we stopped to put on our rain gear. At that time I was working too hard, not having fun, not enthused about riding in the wet (and the clouds to the north looked ominous), getting very drowsy, and seriously thinking about turning back. I told Bob I was going to stop at Barriere for coffee, and was going to ride my own pace. He was going too fast. So we split up there.
At Barriere, I had one bottle of my chocolate maltodrextrin mix, and an empty. I split the malt between the bottles and topped up with coffee. I'd skipped my usual morning coffee – maybe that was the problem? Nothing like a warm mocha on a wet day, and, hoo boy, was it ever pouring when I came out of the PetroCan! It was raining so hard the water didn't have a chance to run off the road, and big bubbles from the force of the drops crashing down were floating on the puddles. Heavy artillery was called for. I went back into the PetroCan and begged a couple of plastic bags from the counter clerk. The bags went over my socks, which were still sort of dry, and inside my shoes. That's a pro tip, by the way.
Half-way up the Barriere Lakes road (we had a 32 km out-and-back to Barriere Forks to do), at the top of the hill, I saw Meaghan for the second time that day (first time was at the start, of course). A little later, Bob went by. I made the U at the control, and saw Barry and Rick half-way out; just about the same place I'd seen Meaghan. Jacquetta was next, and she looked so cheerful. She was an inspiration.
North of Barriere, the rain slackened, the skies cleared, the road dried, and the sun came out. I spent the next few hours to Clearwater gradually shedding layers as it warmed and as the gear dried. I was feeling good, not going as fast as normal, perhaps, but feeling fine. It was turning into a very enjoyable ride. I was glad I'd resisted the urge to turn back earlier. Yes, I tried to push a bit to take advantage of the tailwind, but the body was having none of that.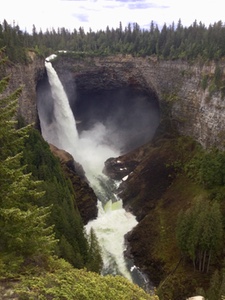 The road to Wells Grey is fun. I saw no wildlife (excepting German tourists in rental motor homes). There was a congestion of motor homes pulled off to the side of the road at one point, with people gathered to look at . . . something. I suppose it might have been the bear Bob saw.
About 15 km before the control at Helmcken Falls, I began looking for Meaghan. I figured that if she'd been half an hour ahead of me at 100 km, she'd be an hour ahead at 200 km, or about 25 km. But, no, it was Bob I saw first, and only five km away from the control. Where was Meaghan? Oh, there she was, just a little bit behind Bob. I was surprised Bob had caught up. Maybe I could too? But no, not today. Bob told me later that Meaghan flew by him on the way back. She finished in 15:59. I take small solace that I did the Tour des Lacs 400 last week in that same time.
At Clearwater, I sat on the bench at Jim's in the sun and had a pizza pie and an ice cream for supper. It was just after four o'clock. I was confident then that I'd make it back to Kamloops by dark, especially as the wind was fading. Certainly I'd be through the stretch between Barriere and Heffley Creek in daylight. That stretch had caused me no end of grief during the Rocky in 2016 with the narrow, winding road, rumble strips and debris-littered shoulders, up and down hills, and chip trucks blasting by. It was night and day, literally: night then, day this time. Big difference.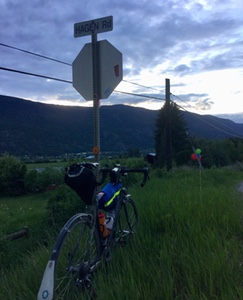 With 75 km to go, I realized I could get under 17 hours if I pushed the pace, so I tried. But nope, not happening. I could not, for the life of me, get my pulse above 120 bpm. I had no high aerobic/anaerobic capacity whatsoever. It was really strange. I was not hurting, I was not feeling particularly fatigued, I was not hungry, I was not thirsty, I was not bonking; I simply could not go faster. Weird.
I got to the Kokanee PetroCan at 10:56 p.m. (under 17:00!) and immediately spotted Bob and Susan in the parking lot. Bob had finished 20 minutes earlier. It appears we spend most of the day about 20 minutes apart, plus or minus. The break I took at Barriere on the way up being the difference. But, excepting the first three hours or so, I'd had a very pleasant ride, perhaps as easy a 400 as I'd ever done. Maybe there's no need for those top end gears after all, hmmm?
---
Go to: Results
Go to: Highway to Helmcken Event Page (Database)



May 29, 2019