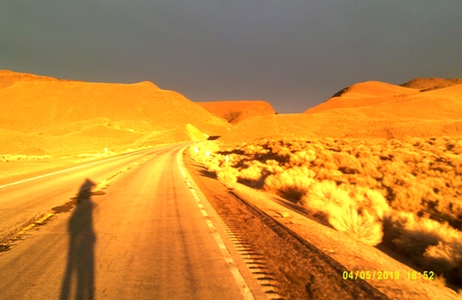 Gamblers 1000
Humboldt Randonneurs, Nevada
Ride dates: April 5-7, 2019
by Bob Goodison
When I first heard about the Gamblers 1000 from Reno to Las Vegas with a loop through Death Valley I was intrigued, but it didn't seem feasible. 1000 km in early April? Then it came to my attention that I had a couple of weeks of holidays that needed to be used by April 30th. Stupid or not, I signed up for it. So did Gary Sparks. Susan would drive the van and meet me at the overnight controls. Training was a struggle. The only thing that got me out the door was reminding myself what I was training for. I got in 200s in January ( relatively warm) and February (bloody cold!), and a pair of 300s in March. That would have to do. Making the training rides less appealing and more difficult was the fact that most of them were done on studded tires that weigh nearly a kilogram each.
Susan and I drove down, taking a scenic route through central Washington, Oregon and the top corner of California. On the way the van developed a vibration that I thought was a lost wheel balancing weight. Our first night in Nevada was spent in Carson, and the next morning we visited the Les Schwab tire store near our motel- after enjoying having breakfast with friends of Ron Himschoot. Small world. One rear tire was completely coming apart! An hour later we were on our way, with a set of 4 new snow tires. We drove to Reno, stopping to be tourists in Virginia City (recommended!). We checked into the ride motel, and connected with Gary for dinner at the local pub. One more day until the ride, so we went into Reno. We had wandered into a couple of casinos in Carson and found them to be not our thing, but downtown Reno was great. We found a park with a path along the river, and had a great walk watching people white water kayaking- right in the middle of town!
Next morning at 09:00 the ride started with a climb up the Geiger Grade to get out of Reno. The road climbs and climbs, switchback after switchback on perfectly smooth pavement. If you ever find yourself in Reno, this is a must-do ride! Just before Virginia City, we turned left down 6 Mile Canyon- not so smooth, but beautiful. Gary, who had fallen a bit behind on the climb, caught and passed me on the descent, and after we made the turn onto Hwy 50 we were able to ride together. Julianne (sp?) from somewhere near San Francisco joined our little paceline and we made good time. What little shoulder there is on Hwy 50 has rumble strips, but with little traffic - it is known as "The Loneliest Road in America"- and good sight lines it was not a problem. Also,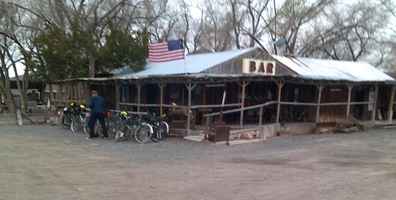 99.9 % of the Nevada drivers were fantastic, waiting until it was safe to pass, and giving lots of room.
This route has very few turn instructions, but I managed to miss one, just after the first control. Fortunately someone flagged me down, and I turned around to rejoin my paceline, having only added about 500 m. We pulled into one of the few supply opportunities, at a place called Middlegate Station, in the middle of nowhere- they even had a sign to confirm it. It was full of randonneurs enjoying burgers and fries- in the dark. Apparently their generator had just gone down, and there would be no more real food until they got it up and running again. Gary and Julianne opted to wait, while I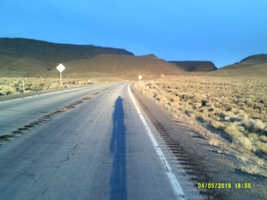 continued on, with the plan of riding in the dark as little as possible. The skies were dark and stormy looking ahead, but it was clearing behind us. This made for one of the most spectacular sunsets I have ever seen. As the evening progressed, there were fewer and fewer vehicles. Straight stretches were ridiculously long- Susan clocked one of them on the second day at over 40 km before it turned, and it may not have been the longest one. I kept seeing tiny red lights in the distance, thinking I was gaining on another rider, then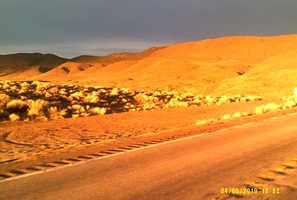 realizing it was the tail lights of a car that had gone by 20 minutes before. After an hour or so in the dark, I reached the first overnight in Austin, a tiny little town with tiny little motels. Time for a meal,a beer, a shower and a few hours sleep. Day one temperature range had been from 6C to about 12C.
It was still dark, and about 5C when I left the motel and started up the Austin Summit, which tops out at over 2200 m. It was light at the summit, which made for spectacular views. After dropping into the Big Smokey Valley (temperature bottomed out at -7C on the way down) , it was an endless straight stretch- the 40 km one Susan measured. It started with a tailwind, but that went away, replaced with- you guessed it- a headwind, and a slight uphill grade of 0.5 to 1 %. Far more tiring than real hills. I stopped in at the only store for many miles just as a few others were leaving. There was a deli in the back, where I got a great sandwich and some macaroni salad. Just as I was leaving, John Pearch and Eric Larsen (event organizer) rolled in. The next bit was a tough, slightly uphill slog into a headwind, and I was fading noticeably when I saw a rider ahead of me. I finally caught up, and spent the rest of the day enjoying riding with Charlie Martin, also from the San Francisco area. Our speed picked up once we were trading pulls, and we arrived at the second overnight at Beatty at sunset. A beer, shower and a huge spaghetti feast prepared me for day 3. Not much navigating for day 2- only 3 or 4 lines of turn instruction, and the only control was at the end of the day.
Once again I rolled out in the dark, climbing unseen hills as the temperature dropped to 5C. Then, just after daylight, the big reward- dropping into Death Valley just as the sun was rising.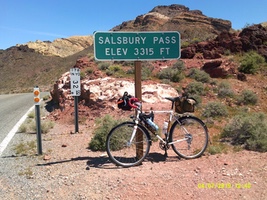 Spectacular! The first part of the valley bottom was perfectly smooth, with a good tailwind. Neither lasted. After Furnace Creek, the surface became chipseal, and the headwind started. I traded pulls with Mike Sturgill until just before the control at Badwater, but could not keep up his pace. Eventually I came to the Jubilee Pass, the long, hot climb out of Death Valley. Despite having no opportunity to prepare for the 38C temperature, I held it together to the summit, to be rewarded with a long descent to the oasis of Shoshone. There was a great outdoor shelter where Mike and a few others were relaxing, and a fountain where I rinsed and soaked my bandanna. A can of V8, and an ice cream bar, revived me and filled my bottles and continued. The views on this ride can not be described adequately. Dropping down a hill on Hwy 160, I could see Hwy 95 in the distance- but it was still 14 km away!. The worst part of the ride was just after turning off 160 onto 95. There was just enough shoulder between the violent (think Malahat) rumble strips and the gravel to ride on. If there was no debris. I tried to ride on it, as the traffic here was the heaviest of the ride. No good. Eating or drinking was enough to make me hit the rumbles, and it was not fun. Enough. I put on my Hi-Vis vest, although it was still too warm for it, turned on all my lights, and took the lane. No problem, as the drivers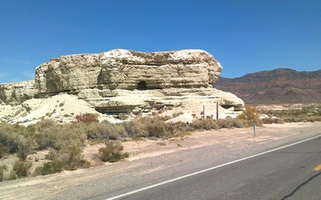 all gave me enough room. Before Indian Springs, the highway became a 4 lane with a wide, smooth shoulder, and I had a tailwind. Just what I needed, as I was starting to fade again. The lights of Vegas were spectacular as I approached it in the dark, but the last few kms were made less fun by the many, many traffic lights. I finished the ride shortly before 10 PM, and Susan helped me find my way through the casino to the finish control. Made it! Gary and the group he was with got a motel for a while when it got cold, and finished early next morning with plenty of time to spare.
It was a spectacular ride, and I am so glad that I did it. All those training rides that I did not want to do paid off, and I felt strong for most of the ride. I had no mechanical issues, other than having to tighten a loose fender stay, and the 32mm Gatorskins I was trying worked great. I had no flats, and they roll easily, although not quite as smooth as the much more fragile Panaracers I have been using.
On the way home, we had some weather. It snowed on us twice (we were happy we had opted for snow tires), and crosswinds in Northern Nevada were so strong the semis were dragging their trailers sideways down the highway. I was so glad I didn't have to ride in it.
Bring on the spring series and PBP! I'm ready!
---
Go to: Bob's Ride Photos (44 Images - Flickr)
Go to: Gamblers 100 Web Page (Humboldt Randonneurs site)



April 16, 2019