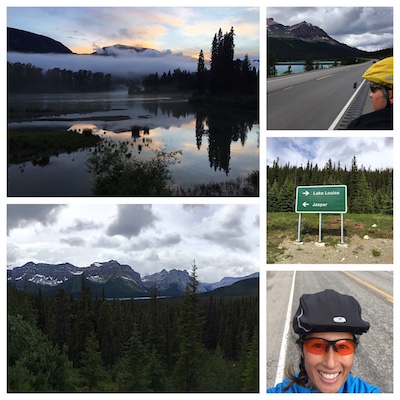 Rocky Mountain 1200 Pre-ride
Ride dates: July 11-15, 2016
Text by John Oswald, Photos Malou Ignacio
Go to: John & Malou's Pre-ride Slide Show
"High on a Mountain" performed by Citigrass. From their 2004 album Serpent in the Grass

The Rocky Mountain 1200km pre-ride was as mentally and physically challenging as anything I have done in my 5 years of randonneuring. Malou and I have done three Super Randonneur series, the VanIsle 1200 and PBP as well as bicycle tours in the US, Spain and France on the tandem, but this ride was the one that almost broke us mentally. Unfortunately, as you will see, a lot of this was of my/our (though mostly my!) own making. Even though we left the overnight controls last almost every day after trying to sleep off the previous day's ride, and even though we tried to keep our exertion levels in check because we had little to no fitness reserve, we still experienced enough wind, rain and terrain to make us question our lifestyle choices several times over the course of four days on the bike.
Our story begins the Saturday before the Monday pre-ride start where I played double bass with a cover band in a local adult beverage establishment and got home at 2am. Not the best way to get sleep the night-before-the-night-before. Then I had to submit an assignment for my Masters and spent Sunday afternoon and evening in the dorm room at TRU banging away at the presentation instead of getting to bed at a decent hour. At least we had a solid Denny's Grand Slam at 4am to fuel the first few hours of the ride!
Two kilometers into the trip I lead the whole group off course instead of taking the correct on-ramp. Not an auspicious debut and likely indicative of sleep deprivation. After climbing out of the Thompson Valley on Barnhartvale Road (and Colin Fingler was shocked we could climb such a steep pitch without puking after a bacon and eggs meal) we enjoyed the sunrise on a rolling ride through ranch land. Riding with Colin and Gary Baker, we savoured the experience because we knew all too well about the many highway miles to come.
The rest of the first day and 3/4 were uphill and unkind to this out-of-form tandem team. The terrain did no favours for Manfred/Bob/Roy either and they got into the team bus between Revelstoke and Golden. Ron Penner, riding far stronger than we were, would eventually have to withdraw on the second day at Lake Louise with Shermer's Neck. In contrast, our challenges on the first two days would be mostly mental and equipment-related.
When we have success as a tandem team it is generally because we let the bike work for us as much as possible. On a course that gains altitude for the first day and 3/4, the bike was usually working against us. Add that to our new training regime—5 to 15 minute bike commutes and an incomplete series so far this year—and we were a lot slower than usual. We also had to change our 42mm front tire on the way up Rogers Pass on Day 1 because the sidewall was starting to bulge on the drive side (at <1500km?!?). Our 32mm spare would turn out to be too light and leave the front end wandering all over the road. I would eventually buy a 26 x 1.75" Schwalbe Marathon in Lake Louse that we would then ride for the rest of the route.
After Rogers Pass the fun was only beginning—at 390+ km, it's a really long first day. Reaching the summit at 7:30pm-ish, I should have put on all my clothes immediately at the sign but I figured I could save time and wait until the snack stop. I froze on the way down and then had to get dressed in howling wind. The snack stop has been moved back towards (the war zone that is) the welcome centre but putting on extra clothes at the summit might still be a good idea. The descent off the pass immediately took us through five snow sheds. Fortunately, traffic was thin at that point in the day and our generator lights are excellent. After the (too) brief downhill we hit some grooved pavement construction work. Fortunately the shoulder wasn't yet grooved but it was now raised 1.5" above the grooved road surface. Then we hit the uphill. Apparently I had blocked this one out of my memory (I thought we just cruised down to Golden..!) and it wasn't finished with us until we reached Kinbasket Lake Campground hours later. We had our chain jam and our light come loose in this section. It wasn't fun. When Malou told me it was after 11pm, I thought we were just going incredibly slow but later on I realized we had crossed into the mountain time zone and lost an hour (keep this in mind that if your phone or GPS changes automatically—all control times are given in Pacific time).

Eventually a nice downhill took us to a bridge over (what I think is) the Columbia River—it was well after dark at this point. Mercifully, it was smooth river-grade rolling terrain into Golden for about 25km or so from the bridge. Golden doesn't have much to offer in daylight and has even less at 12:50am. It was like everything that is wrong with Port Moody and none of the good stuff—but then 390km might have been clouding my perception.
On Day 2 it rained hard on the way up from Golden to Field but it was mostly sunny and reasonably warm from Field until Bow Summit. We were very fortunate as this weather coincided with the most scenic part of the ride, majestic mountains over Lake Louise and the countless hanging glaciers distracting us from a relentless climb towards the highest point on the Icefields Parkway. The gift shop at the Saskatchewan Crossing* is worth a look as it is a neat throwback to what I imagine was the roadside kitsch of a 50's-70's, National Lampoon-style station wagon road trip in the Canadian Rockies.
* Attention Japanese riders: Saskatchewan Crossing is where you can get Canadian Rockies souvenirs! If you carry them to the Jasper control, I will bring them to the finish in Kamloops for you. Just don't forget that Sunwapta pass is a big hill when deciding what to buy! (Nihonjin ga: Kochira wa, Kanada no rokkii sanmyaku no omiyage wo kaeru dekimasu, yo! Moshi, anata tachi wa omiyage wo, Jasupaa made motte kite, sono ato niwa watashi ga Kamuruupsu ni antatachi no omiyage wo mote kimasu. Ano, oboitenaide kudasai, Jasupa no mae ni no Sunwaputa no touge ga takai desu, ne!)
The rain clouds were socked in at Sunwapta pass but we since we had managed to get there in daylight, we could still look back down the valley we'd just ridden up. There are four sections to this climb (and I only remembered three of them). Pro Tip: You have only done two sections when you go around the bend at the viewpoint—and it gets steeper before it gets better! The road from the Icefield Centre to Athabasca Falls is still horrible washboard and we lowered our 54mm rear tire down to 25psi and the new front one to 38psi. Mercifully, the final 30km of road from Athabasca Falls to Jasper has been repaved so you get a break from the jackhammer before the sleep control.
The Jasper to Clearwater section almost broke us. We were venturing into the unknown as I had never ridden past Jasper before and our lack of knowledge combined with some trying weather conditions would lead to fear, loathing and a great deal of self-doubt. We left Jasper at the control close time having eaten breakfast at Smitty's with Ron Himschoot and Bob Koen and it was pouring. On our way up to the continental divide we were holding out hope for a change of weather and some kind of downhill payoff at the BC border. Well, it did get sunny but instead of a downhill coast, we got a massive headwind across a plateau. The only redeeming feature of this section was seeing the mighty Fraser River near its source looking like muddy creek (Will would refer to it as a ditch!). We would eventually get our downhill to the Mt. Robson Centre about 70km after leaving Jasper but I was experiencing so much gut turmoil from the previous night's team dinner by then (Costco bean and cheese burritos—everyone had issues!) that we almost didn't make it.
The ride down to Valemount from Mt. Robson (shrouded in clouds, no sightings) was pretty hot but largely uneventful. There is a section of construction just after turning onto Highway 5 but the flagger let us go through while the cars waited. (Obviously, there is no guarantee the same construction conditions will exist so don't expect to be so lucky!). The dirt section that we rode on was soft in places and we were fortunate to have 47 and 54mm tires to slog through. Others may have to walk a bit.
After Valemount (if the control food isn't speaking to you and you are feeling adventurous, try the goat burger and/or the poutine at the food truck in the centre of town!) we went over the hill (the road out of every Canadian town is uphill) and hit a 3.5 hour-long wall of water and wind penetrated only by a continuous stream of trailer trucks and oversize loads on our way to the Blue River control. If a pickup had pulled over at any point in that section and offered us a lift (and the rain was so heavy I wouldn't have been surprised), I would have gotten in. It was that miserable. I was considering quitting randonneuring, not just the RM1200.
In Blue River the rain finally let up and we ran into Colin and Gary. We rode with them up to Messiter Summit but Gary had to change clothes at the top and we pushed on to maximize daylight riding time. . Coming down off Messiter Summit to Avola in the twilight was surreal as there was smooth pavement and NO traffic for about 20 minutes. This was the best part of the whole day and we savoured the peace and scenery.
The ride from Avola into Clearwater was a series of long rollers in the dark that were just a bit too long to be comfortable on a tandem. When you come down off yet another roller and see a "Welcome to Clearwater" sign, just know that you have at least 5 more km and another small climb before you get to the control. We didn't. The support team rescued our morale with Chinese food at the hotel. We inhaled it and would live to fight the final day of the ride.
The organizers have added a 50km out and back into Wells-Gray Park to fill out the distance for this edition of the RM1200, and for BC Randonneurs and others who have ridden on Vancouver Island, it felt like a mini Campbell River to Gold River section—a super steep road out of town followed by a gradual climb across a plateau and a shorter steep drop down to the control. Then the reverse.
After a 'powerful' breakfast at the Caboose diner we headed out to tackle the climb. It was a cool sunny morning and very pleasant riding. Unfortunately, riding without a computer (our Garmin bought the farm on PBP and hasn't been replaced), we missed the Farmer's Institute which serves as the control in Wells-Gray (their sign said UCFI and we didn't clue in). We did 8km of bonus mileage including an 8% climb. Folks, this is why pre-rides are necessary and...you're welcome! We didn't have the benefit of the BC Randonneurs marker; you will. The final descent back down to Highway 5 was so steep and bumpy that we marveled at the fact we were able to ride up such a hill without walking.
The rest of the run into Kamloops was pretty smooth until massive headwinds kicked in just after the Sun Peaks exit outside of town. It gets a bit narrow just south of Barierre where you have the longest uphill/slow sections so take care. It was here where we had our only sprinkle of rain on the last day but Gary, Colin and Ron H. got hit by multiple thundershowers further back up the valley.
Riding into Kamloops across the narrow red bridge with its wooden deck, we reflected on our experience. Despite our poor fitness, the tough weather, the tandem unfriendly terrain, the mechanicals, and the bonus miles, we still got in at 83h58min with >4 hours sleep per night. All in all a success but far from comfortable.
The support from Deirdre Arscott, Will Danicek and Laura Penner (and eventually Ron Penner, Roy Neifer and Bob Koen) was incredible. Thank you so much! Malou and I would have been pushing up against the time limit without all the food and drinks you provided us en route and at the sleep controls. We would also like to thank Mike and Connie from Jasper for their support and encouragement on the route. Both of us are now inspired to give unforgettable service to the riders during the event.

John and Malou are teachers in Vancouver, BC. They ride a 2001 Santana tandem which they bought used from BC Randonneurs anciens John Bates and Danelle Laidlaw. The RM 1200 pre-ride was their third ultra-brevet. In addition to randonneuring, they have tandem toured on the US East Coast's GAP Trail and C&O Canal, on the Camino Santiago in France and Spain and have become regulars at PAC Tours' Desert Camp. They look forward to taking their tandem on the Route Verte from Ottawa, Ontario to Quebec City this August. Say, "Hi!" to them at the Jasper sleep control during the 2016 Rocky Mountain 1200 or at the post ride brunch.
John & Malou's Rocky Pre-ride Slide Show:
"High on a Mountain" performed by Citigrass. From their 2004 album Serpent in the Grass
---
Go to: Rocky Mountain 1200 Home
Go to: John's Rocky Mt. 1200 Tips Page


July 22, 2016