Cowichan Century Populaire
Organizer's Report, Ride Date: June 11, 2016
by Dave Macmurchie

It seems that the Populaire is indeed, well, popular. The 2016 event, over the rider's choice of 50 km, 100 km or 161 km routes on June 11, brought out 105 riders, of whom 102 finished. Uncertain weather in the preceding days did not discourage the peloton and they were rewarded with dry if somewhat windy conditions and temperatures that were comfortably down from the previous weekend's heat wave reported by the pre-ride volunteers.
This year's event used a new start/finish location, The Hub at Cowichan Station, part way up the infamous Koksilah hill. This is an old school repurposed as a community centre and recently enhanced with the addition of a splendid covered patio. We rented that area along with a room inside the facility, which provided space for registration, refreshments and of course washroom facilities; it seems to be ideal for our purposes. The location also enabled us to use a clover-leaf route with riders passing through the start/finish at intermediate distances, so fewer volunteers were required, although those we had needed to work ferociously. And they did – well done, crew!
We may in fact have created if not a monster, possibly a phenomenon that requires attention. In 2014 the turnout was 38 riders, last year it was 66 and this year over 100 as noted, which is an average of about 60% increase per year. The riders generally seemed pleased with the route and ride, so there's a good chance they will keep telling their friends, and if we see a similar increase in participation, or anything like it, next year, we are going to need more help. So if you enjoyed the ride this year, please give some thought to volunteering next, and don't forget that volunteering entitles you to join the select company of the pre-ride ahead of the event, so you still get to participate – and of course, take home the pin!
This year's ride incorporated some of Steve Mahovlic's good ideas from the Victoria Populaire, particularly the use of on-line registration to give us a head start on building rider lists and estimating snack requirements. As an encouragement to use the on-line process, we offered a discounted ride fee as well as the opportunity to participate in a draw for some swag items provided by local bike stores. So a shout-out to Cowichan Cycles, Cycle Therapy and Experience Cycling, all in Duncan, for helping make us make this work.
Draw (I'm avoiding the phrase "door prize") winners were
Jerry Wysnewski
Jeremy Pearce
Francis Hopcraft
Sandy Szabo
Raul Rivera
Ross Pratt

swag bag and certificate from Cycle Therapy
swag bag and certificate from Cycle Therapy
multi-tool from Experience Cycling
swag bag from Cowichan Cycles
swag bag and certificate from Cycle Therapy
multi-tool from Experience Cycling*

*Dedicated volunteer award
Cycle Therapy also donated a ladies small jersey, obviously not suitable for all riders, awarded to the first lady who looked as though she might be able to wear it: congratulations, Faye Cook!
Food items were a highlight of the ride as well. The first control, at Russel Farms north of Duncan, provided an opportunity to indulge in fresh fruit, so Graham and Edie Fishlock, aided by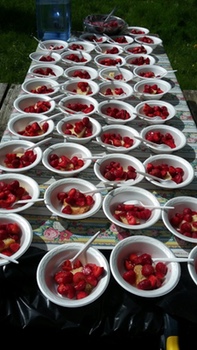 Marjorie Jones, picked up a quantity of strawberries and in a marathon of preparation, turned them into strawberry shortcake for the riders. This was terrific, but set a pretty high bar for the rest of the controls – people were rolling in at the 50 km finish looking for more berries, but had to settle for the more usual watermelon, oranges, etc.
Luckily, Carol and Stephen provided well for the 161 km riders in Lake Cowichan, and at about 2:30 in the afternoon, the La Playa taco truck appeared at the finish. We had been able to arrange this, along with a discount for riders, with Guillermo Oliva, the taco-master, after his gig at the Duncan Market. I'm hoping that he may have done enough business to justify a full-time appearance next year.
For the last couple of years we have used a split start, with the 161 km riders getting away at 8:30 and the two shorter routes starting at 10:00. This was intended to get the long route completed by late afternoon, but also enabling people coming from north or south of the Cowichan Valley to get to the start without too much early morning coffee. We did have requests from 100 km riders to start early though, and rather than confuse the control crews any more than necessary, we decided to give these riders 161 km paperwork but declare them finished when they got back to the start/finish at 111 kms on the long route.
With a surfeit of riders and a paucity of volunteers, some things that we would have liked to do didn't get done. We did not succeed in capturing any new members on the spot, although there may be some who will follow up later on, and despite hard work we still managed to record a few times incorrectly and misspell a few names. If anyone reading this is a victim of those shortcomings, please get in touch with the organizer and we will try to straighten things out. But all in all, the event got good reviews from the riders, while past history doesn't guarantee future performance, this bodes well for the 2017 running.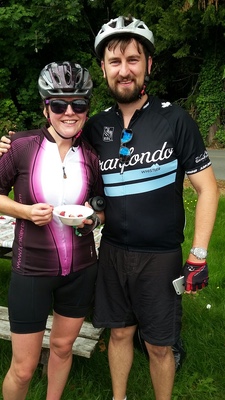 Natasha Dunne & Sean Donnelly
enjoying strawberry cheesecake
at the Russel Farms control
Photos: Graham Fishlock

---
Go to: Cowichan Populaire Homepage
Go to: Results
Go to: Photos


June 13, 2016