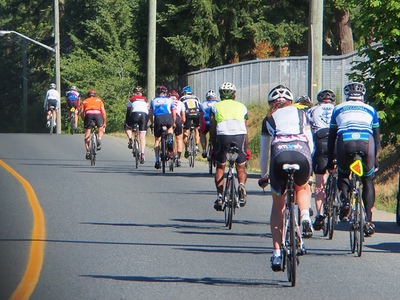 2015 Cowichan Populaire Organizer's Report
Ride date June 13, 2015
by Dave MacMurchie
One of the main purposes of a populaire is to introduce randonneuring to cyclists who may not be familiar with our sport, so the following feedback encourages me to think that we're on the right track:
"Thank you again for a wonderful day of riding. This is a new experience for me and I loved how helpful and cheerful everyone was. The efforts of you and the other volunteers are very much appreciated. Both my daughter and I had a great experience and we look forward to another ride."
The note refers to the great work done by volunteers Carol and Steven Hinde, Mikael Jansson, Steve Mahovlic, Mike Mann and Ross Pratt. The event this year attracted 66 riders, an unexpected number nearly twice that from 2014, and with a small number of volunteers to serve three routes, the control crews went well beyond the "extra mile" that we commonly speak of. And we should include the indispensable Melissa Haynes in our thanks as well, because before breezing through the 161 km route, she looked after registering most of that peloton herself. Well done, and huge thanks, to all you guys!
No doubt one reason for the excellent turnout was the perfect weather: sunny and warm with light to moderate shifting breeze. After last year's showers, this was more like it. The turnout for all routes, 50 km, 100 km and 161 km were up dramatically of course, but it's particularly interesting to see the growth in registration for the longer route. In its initial year, 2013, three intrepid cyclists took on that Imperial Century – last year it was 10, and this year, a plurality of 25. Cycling is growing in popularity in general, so this probably speaks well for interest in longer distances and randonneuring in particular.
The two-phase registration and start, 08:30 for the long route, 10:00 for the two shorter ones, seemed to work well, and given the shortage of volunteers, it seems clear that registration could have been a fiasco if everyone had arrived at once. That also brought the finishing times closer together, with a couple of the 161 km riders finishing ahead of a couple of the 50 km riders, increasing the opportunities for people to meet one another, compare ride experiences (including one bear encounter) and socialize in general.
Socialization was particularly aided by the kind folks at the Pioneer House restaurant, whose parking lot served as the start/finish area, and who provided us with a discount card for each rider, good for a 15% reduction in their next meal there. Many people took advantage of that right away, while others chose to defer their gratification to a quieter moment, but either way it was a nice touch for the ride.
Some lessons have emerged of course, particularly in light of what appears to be growing popularity of this populaire – we don't want it to become a victim of its own success. It's clear that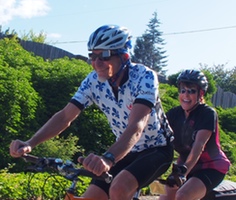 the Organizer needs to put more effort into recruiting volunteers, and to better communication with riders and local business.
We were lucky this year that our crew were able to extend their commitments beyond what was originally contemplated, but we can't leave it to chance in the future. We did have two other activities taking place on the Island on the day, the Gold River Eureka 1000, and a pre-ride for the Salt Spring Surprise, and some of the randos involved in those events might have been pressed into service if they had been available. This is obviously a scheduling issue, one that didn't seem critical with only a couple of dozen riders two years ago, but looks like becoming more significant.
We also need to take better care of community relations. As organizer, I approached the Pioneer House restaurant about using their parking lot, and was very well received and delighted to have them offer the meal discount cards, but I did not do enough to take care of the interests of the other merchants at Whippletree Junction. With the large number of participants this this year, parking was overwhelmed and we had one animated discussion with a proprietor who felt her business was being impeded. There was no bloodletting, but it's clear that if we use that location next year, and it is definitely an attractive venue, we need to do something better. I thought I had included a note on the CowPop web announcement urging people to take care to park well away from merchants' storefronts, but it looks as though that got away from me. Even so, if the event grows again next year, it may be necessary to identify a volunteer as parking marshal, and have them direct arriving riders to suitable locations for their vehicles. Just what those locations might be is yet to be determined, but it looks like something that needs to be done. And of course, that means more volunteers.
In summary, there was a high level of satisfaction expressed by the riders, the volunteers were fabulous and actually emerged smiling, and the event appears to be attracting lots of attention and generating interest in randonneuring. There are things we need to contemplate for next year, but for the most part the problems are good ones and indications are that the Cowichan Populaire will continue to be a success.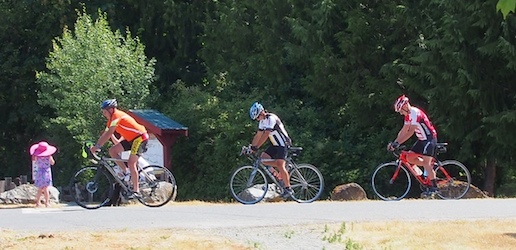 ---
Go to: Results
Go to: Photos (Flickr - 31 Images)

June 14, 2015