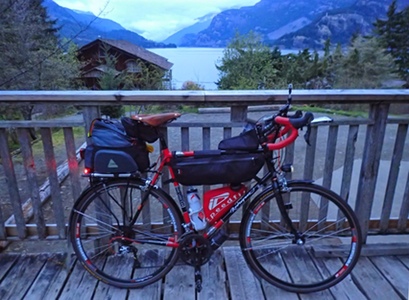 Jim's bike enjoying a nice view from the Strathcona Lodge
Photo: Jim Runkel
Hell Week Bookends (with Volumes in the Middle)
Vancouver Island - April 11-17
by Jim Runkel
As with many our goal this year was to qualify early for PBP. It is a nice feeling to know that all the must do rides are over. Hell Week on Vancouver Island is such a great opportunity to do those qualification rides.

In order for riders to be considered true Hellions and earn that special Hell Week pin at the end, they need to complete over one week all rides in a Super Randonneur series. I have done this twice in the past. This year we (Graham Fishlock and I) were bookends to this week. We rode the 200 on Saturday and the 600 (with Philip Lennox) on Thursday so did not qualify in the true sense for this pin.

But the volumes in the middle do give a right to claim Hell Week volunteer credit and add to the hard work put in by all those who made this week happen for each Hellion this year.

We were tasked with the job of riding both the 300 and 400 as pre-rides to ensure that each rider who did claim the week as theirs could do so on safe routes, with correct distances and accurate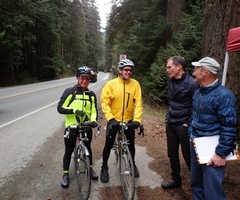 route sheets and control cards. So we put in the hard work of taking extra time off work and away from family to ride both these routes. We had our own set of hellish conditions on each of these rides in the form of extreme cold. During Hell Week then, we ran the control in Cathedral Grove for the 300, driving just under 400 km round trip from Victoria, and servicing tired cold riders for 6 hours. For the 400 we helped out at the start (Philip) and the Port Renfrew Control (Jim and Graham). Many long hours were spent for each ride creating the all important control cards and route sheets and printing all the needed copies. Because these were new routes, all this had to be done from scratch, and meticulously checked and re-checked for errors. Thankfully except for one wrong L on the 400 all other directions were entered in correctly.

So all this work was done along with the immense efforts of Brynne and Mike Croy and all the other volunteers so that Hell Week could be successfully completed by the Hellions this year.

------------------------------------------------

600 km Report:

I had the task to ensure that this years Ride for Gold route sheet was updated and a few changes made. And so it was that we all headed out with this "untested" route sheet which in the end was very accurate and exact (its so much easier updating an already excellent route like this one as opposed to starting from scratch).

As with any ride this time of year, WEATHER???? was always the big question. Anything can happen from gale force winds to snow, to driving rain and even tailwinds and blue sky....as was the case this year. We headed out from Chemainus in chilly clear conditions. As we made our way up the island through Parksville the sky was blue and temperatures warming. The wind was pushing us too...it was a perfect start to this long ride. My day was made better because I was riding with two awesome companions, Philip and Graham. We planned to do this ride and complete our second full series (and a 1200) together. And so we did. Graham had worked out a nice schedule. We made our way on dry roads through Campbell River and stopped at Strathcona Lodge to pick up our key. Having a room here has so many advantages...on the way you have place to have a quick bathroom break and do some clothing adjustments as well as eat food. It also puts a lot of climbing behind you before you sleep after you make the control in Gold River. We enjoyed ~5hr of sleep at the Lodge and set out again on dry roads toward Campbell River. To our amazement, the day was even nicer weather wise. The tailwind that had pushed us UP island on Thursday were now back but pushing us DOWN island on Friday..

The day warmed up nicely so that we could strip down and cycle in short and short sleeves. We enjoyed a nice cup of coffee and some food in a great coffee shop in Royston...and Graham was even kind enough to cart back a half pound of fresh roasted coffee beans for me...my bags were too full to carry it...

We did have two frustrating flat tires...both very close to the end...but we fixed those fast and got done just after 7p.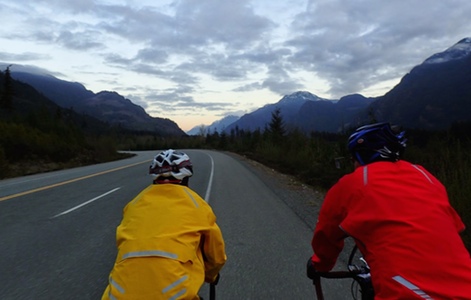 Graham & Philip - Night approaching on the road to Gold River
Photo: Jim Runkel

To complete a long ride like this is a reward in itself, but to complete a long ride like this we two amazing friends is just pure enjoyment...Thank you my friends Philip and Graham and thank you Mike and Brynne and all the volunteers who played a part in making this week a success.
ps...the drop bag and food in Gold River was such a treat...thanks for arranging that Mike and Brynne.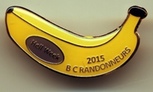 ---
Go to: Eau de Hell Week home
Go to: Photos
Go to: Results

April 20, 2015