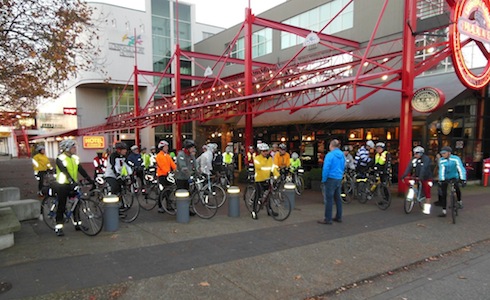 Start - Lonsdale Quay
Photo: Wayne English
Eleventh Hour 200
Featuring the new "Golden Lions" route
by Tracy Barill
The 11th Hour Golden Lions 200k began today from the Bean Around the World (opened early just for us today!) at Lonsdale Quay, as 32 riders set off in early dawn with clear skies, a temperature of 2 degrees and a light easterly breeze. Over the next 8-12 hours, riders were graced with sunshine, a strengthening breeze, temperatures that rose to 9 degrees and by early afternoon, an easterly that gusted to 70 km/hour. All riders but one returned successfully (Graeme Hooper – a new member in his inaugural ride – lost a free wheel just as he was looking forward to some much deserved tailwinds leaving Pitt Meadows) despite the cool temperatures and the very strong headwinds for over 60 km of the ride.

It was a privilege to coordinate this ride again with a team of volunteers who helped make this ride a success. Etienne Hossack and Wayne English helped get everyone registered with a route sheet and control card. Three fully supported control stations – Janet Barill with baking at Lions Bay, Ron Stewart with his famous soups at Iona Park, and Etienne Hossack/Jenny Auxier/Gary Baker at a secret control on the access to Golden Ears bridge – helped riders remain stocked with ample food and drink. Chris Cullum welcomed much of the early pack back. Behind the scenes, Karen Smith dropped pins off to Gary Baker who brought the pins to the ride and the remainder home thereafter (3 riders completed their first 200 km ride this year – with Kamil Krawczyk his first 200k). Etienne Hossack and Ron Stewart rode the pre-ride on Saturday in warmer, calmer weather – perks of volunteering. Their feedback helped make the route what is was with positive feedback by many.

Thank you to all the riders and the volunteers who made this 11th Hour brevet a worthwhile day to remember. Looking forward to 2015!
---
Go to: Results
November 12, 2014