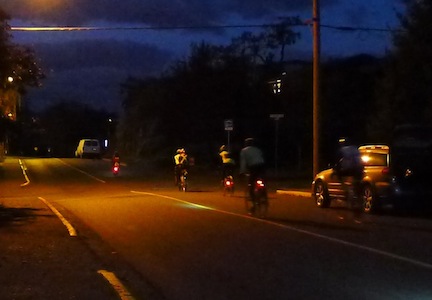 Fall IsleLander (200 km)
Ride date: October 19, 2014. The "Somewhat Familiar" route.
by Lorraine Nygaard

In the dark hours of October 19th, 14 riders from various cities and of various abilities, pedalled out the driveway and down Lampson Street, in pursuit of something familiar.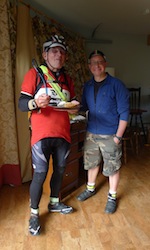 The fast veterans led the pack, then the others, and finally, the excited new girls, Jen and Leah. Lucky for the newbies, they had Stephen Hinde on their side, as he promised that he would not leave them behind.
Thank you to Melissa that arrived early and ended up doing the registrations solo, as I served guests breakfast.
There were many happy faces that came in throughout the day, everyone enjoying the incredible weather. The cue sheet appears to be solid now, as there were no complaints about extra miles due to being lost. Therefore, I will apply for a permanent status for the route. Some folks reported that the trail offered resistance training, and one rider felt that the final hill in the hilly last 50 kilometres would be the last one they could do that day. Gord Litster commented that several unleashed dogs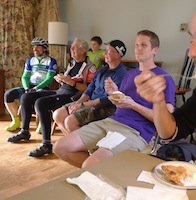 were on the trail, and I felt similarly on the pre-ride day. If folks noticed the same, they could contact CRD by-law control. Other than that, all appreciated the unusually warm temperatures offered in mid-October.
Thank you to the Croys, Luke Galley, Carol Hinde, and Craig Lylack that kept the finishers' welcome warm and enthusiastic.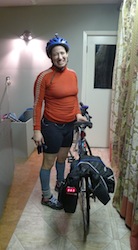 Thank you to Holland Gidney that dropped off terrific muffins, Dave MacMurchie and Ross that welcomed riders at Kemp Lake Store, Carol that kept folks on track at her secret control, and to Stephen Hinde that helped with the tweaking of the route sheets. Many others help make these things happen, and if I've forgotten someone, please forgive me. We are grateful!
As Stephen and Leah recognized that they wouldn't make Kemp Lake in time, they decided to pedal back and were the only ones that experienced a good downpouring for the last bit of their ride. They pedalled180km, arriving at 8:30 p.m. Leah was ecstatic, and we know that she'll be back soon. We encourage Jen to try again too. Thank you to everyone that participated and made it a truly memorable autumn day. Safe pedalling throughout the winter!
---
October 24, 2014