Sunshine 200 Pre-ride
Route Info from the organizers
by Deirdre Arscott

Start info (different start location from earlier year's routes):
Black Bean Cafe, 467 Marine Drive, Gibsons (just before Molly's Reach)
9 am Saturday Aug 16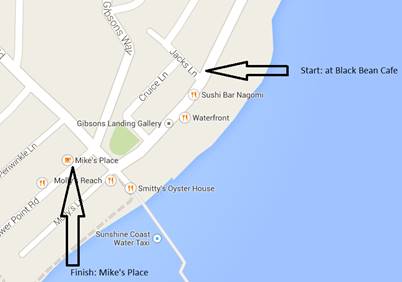 A beautiful ride but make sure your gears are working as this is a hilly one. At the end Bob and I could only think of two places where the road was flat - just south of Sechelt and around Garden Bay Lake for total of about 5 km.

We started to get overheated in the afternoon and we had to slow down. Yes, I can hear the laughing from those of you who did the VanIsle 1200 or the Cascade 1200. It was nowhere near as hot as those rides. We passed quite a few lakes and I regretted not dunking my head in one them. There are plenty of places to stop for drinking water. At the Bathgate Marina Store (118.1km), there is water at the sink in the laundry building beside the store but it says to boil for 10 minutes. The women in the store told me that the tap water was actually treated and it should be fine. I bought water.

The ride will start at 9am as the first ferry from Horseshoe Bay leaves at 7:25 am and gets to Langdale at 8:05. From Langdale it's about 5 km to the start. If you want to stay in Gibson's there are a number of motels. If you are looking for less expensive accommodation, try "Up the Creek" in Robert's Creek. This is a family run backpackers and cyclists B&B with dormitory style accommodation for $28 per night. The last ferry is at 9:40 so you will have to stay the night if you are really late finishing.

There are lovely vistas of the Georgia Strait and various lakes. North of Sechelt the traffic is very light but it is fairly busy between Gibson's and Sechelt. On the Sunshine Coast Highway the shoulder is good most of the time.

Hope to see you the 16th.
---
Go to: Results

August 10, 2014