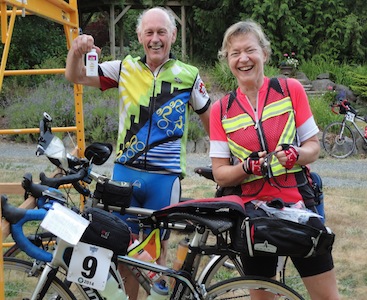 Brief Report from the Yellow Point Control
VanIsle 1200
Ride dates: July 14-18, 2014
by Graham Fishlock

Bob Koen and Kathy Brouse were two of just under 50 riders that passed through the Yellow Point Control at the 97.8 km mark of the Van Isle 1200. All riders were through the control before 8 A.M. Most of them took advantage of a breakfast of maple baked French toast, home made granola, yogurt and other goodies. Riding conditions so far have been close to ideal with little wind, but the day will soon become hot. Despite a few mechanical issues, including a broken spoke and bent rim, all is going well.
---
Go to: VanIsle 1200 Home

July 14, 2014