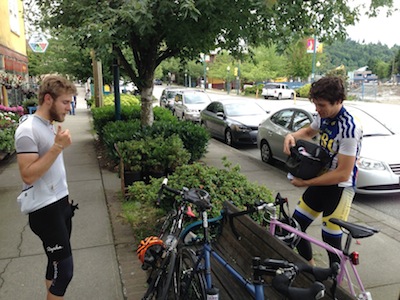 Party in the Parks 200
Permanent #213
Ride dates: June 27, 2014
by Étienne Hossack
Gallery Here
And thus I was to ride my last ride of the BC-12.
Realistically I'm not going to stop riding until I have to, but let's just say this is the last one.
After the spring 600, the fateful Cache Creek, I ended up getting a bit of a cold. That put me out of riding action for a couple of weeks. Then I had the Ride to Conquer Cancer, wherein a friend wanted to ride the challenge route, 160kms each day over the weekend. So I rode with her nice and slowly through a barrage of: rain, sun, rain, cloud, sun, cloud, DOWNPOUR, rain etc. over two days. It was nice, but at the end of it, and due to close proximity with others having the same ailment, I ended up with a sinus infection.
So coming in to June, I was ride-less and had to miss a couple June races, only squeezing in this 200 in the last weekend as I realized much of my fitness had vanished for the 1200. Oops.
So the plan was to go out and re-ride Party in the Parks to enjoy the route again, get in some hills and see where I was at. Of course this happened to be one day with nice and moody weather (in Port Moody!!! :D) so we had the cloud, THUNDERSTORM, cloud, sun mixup.
Meeting at 8, Ben from permanents past came to join as well as his friend Mackenzie, a rather fast new-to-town racer, in for some fun! We were supposed to meet my other EV teamie Khaled, but due to some miscommunication that never materialised.
After a short chat at Siegel's and enticing random strangers to sign our control cards, we were off, wondering when Khaled would show up.
We made a short stop under the bridge, hoping he would materialise, but nothing came of it so we headed off into the park, myself trying to set a decent pace to see how my body was at. Turning off into the park after Beach Ave, my phone started ringing, and sure enough, Khaled was indeed out to play! So we agreed that we'd meet at the turnoff to the Stanley Park Causeway and that the three of us would ride slowly so he could catch up.
After a bunch of riding, we reached the top and stopped in the turnoff. Nothing, nobody and silence. Eventually a pack of riders came up and joined us for the stop. Anxious to get going, we gave up waiting at 9AM and took off over the bridge. (Turns out he was waiting for us ON the Causeway, and also gave up, and did a nice Britannia Beach run himself. Oh well?)
So we rolled off to Deep Cove, hoping to make a not-too-fast pace in case Khaled did decide to join us.
We went a little fast haha.
Deep Cove was an ever-so brief stop, sign the cards, get a hilarious show by all the Chilean fans watching the FIFA match, and press onwards.
I had totally forgotten that I put in a bunch of steep hills in this route, so wow. We got some hills on the way to the Demonstration forest. Given that I was out of shape, it was nice to see those granny gears on my bike again - "Hello long-lost friends!"
The ride up to the forest was nice and quick, my sort of gradual hill which was fun. Ben got stuck behind some sort of farm-truck and eventually showed up at the entrance to the park road, where we took off on a car-free segment.
I love the demonstration forest, and with nobody out there it's hard to complain. Despite the clouds above us, and the forecasted rain, it ended up being quite sunny up there, which was rather nice, and we whizzed up and down, before bombing the hill and heading towards the Iron Worker's Bridge.
Luckily we only encountered one person on the bridge, and that was before getting to the railed off section. Since only one side of the bridge is open, and riders and pedestrians both have to squeeze past each other, and that can be a bit of a mess. But we successfully crossed the bridge and with one wrong turn and a short detour through a stoney alleyway, we were back on the Francis/Union bike route.
Heading port-moody-ward we were handily passed by John Tolkamp after his morning jaunt to Horseshoe Bay, and watched him disappear off in the distance as we made our way to the Barnet Hwy. We blasted as fast as possible down the highway and popped into the usual Café in Port Moody for a spot to eat - it ended up being an entire sandwich and coffee break, but whatever - before jumping back on the bikes and riding the new bike path down to Murray Street.
Of course, as soon as we had finished our stop, and had turned off to Belcarra, the rain started storming down, so it was change into raingear time. The ride around Belcarra ended up being pretty darn wet, and climbing makes one warm, so it wasn't the bestest of times. However, most of the way through the rain did end up vanishing, so we were able to at least ride with flappy jackets.
Exploring a new exit-point to Coquitlam, we climbed up the plateau through a residential neighbourhood I didn't know existed, and enjoyed the lovely 10+% grade (especially Ben on his old Campagnolo crank, spinning an easy 46-27 up all the hills). Reaching the top, we stripped down some layers and scooted through some bike paths before rejoining E road and the usual David Ave route.
The ride out to Pitt Lake was fairly uneventful. We took a brief stop in the same gas station as the previous iteration of this ride to fill up bottles, before cranking out the pace along the Lougheed and Dewdney Trunk. Of course Pitt Lake has the lovely chipseal section, but luckily I had my heavy 35s on, and floated rather nicely - at least as nice as really bad chipseal can be - towards the lake. Mackenzie on his Cervélo S5 might have had more fun than I :)
Info control signed, butt-recovered, we took off back towards New West. By this point I noticed my lack of endurance was showing and I popped off the back as we passed through Pitt Meadows, reconnecting just before the bridge, and had nice and lovely cramps climbing up. However, they went away, and the lovely spiral exit to the Golden Ears raised my spirits and we were off to see the South Fraser Perimeter Road.
Of course the bike path to get there is lovely, but then the highway is so dirty it's quite a contrast. And construction left some cones on the road that forced us to ride in a lane under the new HWY1 bridge which sucked. But riding into New West was a welcome sight as we had all run out of water. The climb up the hill may not have been welcome by Ben.
At this point, we were already well into 9+ hours, and it was not going to end too soon. We were a bit hungry and needing water, and then we passed a Waffle restaurant. SOLD. Off we went, trundling our bikes inside and had a delicious meal of waffles. What clock?
Okay, so afterwards we did have to go home, so we dutifully followed the route down to Marine Drive, and along the Kent Ave bike route. At the bottom of Cambie I decided it was still worth gunning it, so I gave it all I had going up the hill, and pushed along the 29th bike route, eventually noticing that Ben and Mackenzie had vanished amidst their chatting. When I reached the end at got my control card signed at Siegel's I received a text: "Thanks for the ride, we're heading home down 10th".
Apparently it wasn't worth finishing, despite signing control cards all the way? Weird.
And thus concludes the BC-12 marathon. I'll keep going until I'm off on another adventure!
---
Go to: Permantnt Results
Go to: Photos

July 12, 2014