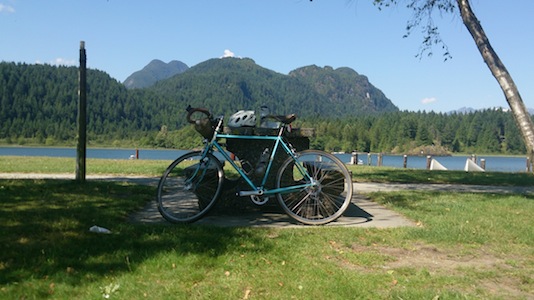 Miss Golden Pitt 200 - Preride / Route Notes
Ride date: July 12, 2014
(Pre-ride was earlier)
by Kevin Bruce
Generally, this is a mostly flat route with all the climbing concentrated between the 50 – 100 km marks.

Please note that the original route sheet posted on the website is no longer valid. The control that was to have been located at the Ruskin General Store has been changed, and a new control has been added at Stave Falls Dam.

A few notes:

From Start Britannia to Control 1 Stave Falls Dam

• There are only a few kms of the Lougheed Highway on this route, and we got stuck with the section that has construction going on. Shouldn't be much of a problem at the early hour riders will be passing through.
• Take a rest stop in Maple Ridge as there will be no services at the Stave Falls Dam control.

From Control 1 Stave Falls Dam to Control 2 Shell Gas:

• There was some roadwork being done on Dewdney Trunk Road at about 62 – 64 km (after the climb once you've crossed the dam). Short sections of gravel appeared every now and again.
• The Shell gas where the first control is located has a Subway and other eating options.

From Control 2 Shell Gas to Control 3 Golden Ears:

• On one of my pre-rides I stopped for a bit to eat at the Iron Mountain Grill. Please don't make that mistake. It's disgusting.
• Make a food stop in Maple Ridge because once you leave here there won't be another opportunity to get anything serious to eat for about 70 km.
• The Golden Ears Store where Control 3 is located is located in a nice, shady spot. The store is quite small and doesn't offer too much, but they do have water and orange slushies.
• From this point, carry as much water as you can since it'll be about 50 km to the next place you can get water and it's going to be a very hot day.

From Control 3 Golden Ears to Control 4 Pitt Lake:

Once you leave Golden Ears Park you will be riding under the hot sun for a very long time. The Pitt Lake Control no longer sells bottle water (even though they did just a few weeks ago), and they don't provide access to a tap – weird and inconvenient.

From Control 4 Pitt Lake to Finish Zawa Restaurant:

The short section of Lougheed will be much busier at this hour than it was this morning, and the road construction will still be there.

The Zawa Restaurant is about 100 meters from the start and has an outdoor patio so you can keep an eye on your bike if you choose to have a meal there. The food is good, and the beer is cold.

---
Go to: Results
Go to: Photos

July 10, 2014