Hot and Heavy
Cascade 1200 - Day Two
Ride dates: June 21-24, 2014
by John Oswald
Go To: Day 1 - Day 2 - Day 3 - Day 4 - Epilogue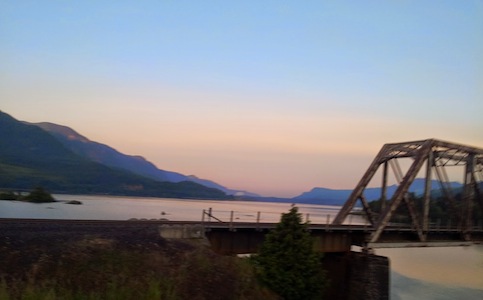 If you ever need a warm body to get you through a cold night, call a randonneur after 300-600km of riding. There won't likely be much in the way of fireworks but you definitely won't be left shivering.

Sharing a room with three other guys who rode fairly hard, sleeping outside of the covers and radiating heat like sun drenched blacktop, I got about two hours of sleep in 15 minutes bursts. Despite the lack of sleep, I actually felt pretty good trudging up to the mess hall at 4:30am in the pre-dawn glow on Day2 of the Cascade 1200. After my "Bike Path Antics" left the powder keg empty on climbs in the second half of Day 1, I was determined to keep some in reserve because today's ride was 15 miles longer than Day 2 in 2012.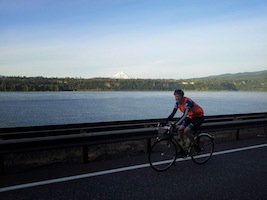 Chris Cullum and Mt. Hood as seen from the Columbia

The ride started with a climb back up to the road from our overnight accommodations at the Carson Hot Springs Resort(!). We stopped at the top to put on our reflective wind vests and set out for some sunrise riding along the Columbia River Gorge. If you have not had a chance to do a ride down there, I'd highly recommend it. I will always have fond memories of Malou and my first bike tour up the gorge after the Chris King Gourmet Century in 2012. You're spinning along the river-grade road travelling past the glacial flood-carved canyon walls with the mighty Columbia surging along below you. With innumerable waterfalls and ravines that you can hike in to and the occasional freight train rattling by for atmosphere, you have all you need for a sublime cycling experience.

On this morning we were keeping the powder in the keg and drifting past the early risers on our way to the Klickitat River. Soon, Nigel and Ryan zipped by but this time we were content to let them have their fun while we continued to spin along.
After making the turn on to the SR 142, we soon came across Bob Goodison's group. Bob had kindly lent me his backup gloves before his departure this morning--my hands were pretty raw after riding 12 hours bare-handed the previous day once it became too hot for my gas station Patriots mitts--and I thanked him again as we sat in for a while before heading up the road. We also saw Whidbey Island native Ward Beebe of the SIR whom both Bob and I rode with on Day 2 in C1200 2012. I thanked Ward for helping Keith Patterson develop the Whidbey Island 600km route--one of my favourite rides that year. Shortly after the town of Klickitat I heard something in my left ear, looked back and saw a train of riders and assumed, based on speed, that it was a group of roadies out on a training ride.

It wasn't.

Mick Walsh and Chris Ragsdale were towing a group of C1200 riders up the gentle road at a phenomenal pace. I caught a glimpse of Ed Person in the middle of the line grinning like a kid in a candy store just before I grabbed the last wheel in the line. It was quite the pull but when I looked back at Chris he shook his head and we sat up. Shortly after we did, Ed came to the front as the road hit the first real rise of SR 142 and it all blew up. There were riders all over the road and only Ragsdale and Mick were holding Ed's wheel. All the guys that had hung in for sixty relatively flat kms were now feeling the effects. It took 2km for them to regroup but as we were now climbing up to the Columbia plateau, the group would never be the same.
We would pass a lot of them on the way up the first sustained climb of the day, but Ragsdale and Walsh disappeared over the top long before we did. We caught up with Nigel and Ryan at the first control, a grocery store in Goldendale, but when Ryan offered some leftover potato salad, I followed Colin Fingler's advice and shied away from the mayonnaise. After a scorching climb out of a deep ravine, we rejoined Dave King for the arid, cross-headwind-influenced, gradual ascent of 1600' to a water stop in Bickelton. Once there, Dave took a page out of Grant Petersen's playbook and donned a collared dress shirt that he had soaked in the bathroom sink to take advantage of some extra skin protection and evaporative cooling. When I asked Dave about it, he said he used to wear collared shirts while tree planting and figured it would help on a long day in the sun.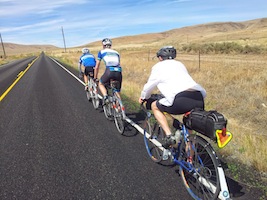 Late for the meeting
Before our next control in Sunnyside there were a couple of notable climbs followed by speedy descents. Where Chris and I would get into our aero-tucks, Dave would drift off the back and have to 'dig deep into the suitcase of courage' on the flats to get back up with us. It was now more than 40C on the road so these efforts every 20km or so would eventually take their toll. Just before Sunnyside we joined forces with Theo Roffe, a member of SIR from Portland, Oregon and this four man group would stick together until well after Mattawa, two controls and some 100kms later. Shortly after, we came across the lonely figure of Chad Coates in the distance. Apparently he had set out from Carson at 2:30am in an effort to beat the heat. He joined our line briefly but we lost him over a couple of bumps just before the control. At the AM/PM he ducked into his girlfriend's minivan and we didn't see him again.

I had been dealing with an annoying rattle on the chip sealed roads of Central Washington and finally identified it as a loose bolt on my lower water bottle cage. I knew I'd enjoy riding with Theo when I made a comment about Grant Petersen being disappointed that I wasn't applying beeswax to the bolt before tightening it and he responded with,"Shouldn't you be locking it down with hemp twine?"

Getting from Sunnyside to Mattawa would prove to be one of the most challenging sections of the C1200. It was another in today's endless stream of slight uphills, this time a slog out of the Yakima Valley, into a cross-headwind. We were lucky to be in a reasonably tight group of four but it was still a relentless effort. We would pass Ken Bonner on this rise and for once I was covetous of his Camelback--I had already drained one of my three bottles in less than 10km from the control!

Eventually, after what seemed like two or three years of our lives had passed, we got out of the valley and had a downhill break to allow the wind to evaporate some sweat. We soft pedalled a bit for Dave to get back on and then began making some headway toward Hanford. We would need to make one more climb before we actually got to the gates of the infamous US nuclear facility, but were actually relieved that the climb was shorter and steeper than the last one. I flatted just before the turn at Hanford but with the other guys' help, we were back on the road shortly. I repaid their patience with a pull to the top of the descent into the Vernita rest stop.

Vernita is THE oasis of C1200 Day 2. There is a cold water fountain, shade trees where you can lie and/or stretch out in the GRASS while you re-apply sunscreen…AND they have a soda vending machine. I was dying to get there. A long descent back down to the Columbia (Vernita Rest Area is just before the bridge) meant we gapped Dave, but he would soon meet us there. Just before our arrival, a school bus passed us and turned into the driveway to the rest stop. I panicked. Would the high school band or debating team clean out the vending machine before I had a chance to get my cold Dr. Pepper?!?

We gunned it and I managed to squeeze a George Washington into the machine before the busload of...not teenagers, but hispanic migrant workers had a chance to survey their options at the rest stop. Dave came in and just laid himself out on the concrete in the shade and was followed shortly after by Ken (who had made up some time during my flat repair). Ken was stoked to see the vending machine and commented that he thought he was gonna have to ask one of the RV's for something cold! I got a good stretch in and began mentally preparing for the stiff kicker across the river. Road L-SW climbs back up onto the plateau from the riverside in less than a mile and a half. I was happy that I was finally 'getting in synch with my bike' and managed to stay with Theo on the climb. When the group reassembled on the plateau, we shared pulls into the Mattawa control. When a volunteer in a Subaru pulled up alongside to let us know that the control wasn't staffed, I told the others that we needed to get Cavendish to the front for the sprint. So obviously when I got to the front as we hit town, I 'sprinted' for the control.

At the 76 Station we saw Susan Goodison and since Chad's support van was there too, he couldn't have been that far behind us. Chris and I had glass-bottle Hencho en Mexico Pepsi's made with cane sugar instead of corn syrup. After savouring that smooth sweetness we blasted off back down the hill toward the river and I promptly led the group astray when I missed the turn at a roundabout that (I swear!) wasn't there two years ago. In my defence, there was no signage. On the other hand, I did have a route sheet…. It was only about a block and a half of bonus miles but we did lose all the momentum.

We got back down to the riverside and rode through the exact same cloud of moths as two years ago, before turning off onto Beverly Burke Road for the fourth and final climb of the day up onto the plateau. This time, I gapped the whole group and then on the gradual grind that followed, it became apparent that only Chris and I had any of what the French call "le gout de l'effort" (a taste for the effort). We tried to keep it together but soon Dave couldn't get back on after a steep dip--he would later tell us he had to lie in a ditch under a field sprinkler to recover--and Theo was lost on the subsequent rise.

Chris and I continued toward the final descent of the day which would take us down to the I-90 frontage road. Our aero tucks allowed us to get up to 87km/h on the final straightaway. We traded pulls every 3km for the remaining 45km to Ephrata. We got in just after dark and volunteers came running out of the hotel waving us in as we passed the Best Western in favour of the gas station next door to purchase an adult recovery beverage. This time we hounoured our riding role models and opted for Fat Tire.

Dinner was lasagna, garlic bread and salad, and both Chris and I got greedy and had seconds of lasagna. We followed dinner with a session of hot and cold contrast baths in the hotel pool and spa. A pretty civilized way to end the second day of a 1200, nest pas..?

#Training4VanIsle #CanAmMedal #Tastefortheeffort
---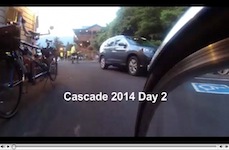 Day 2 Slideshow (2:33)
---
Go to: Results
Go to: Cascade 1200 Home
July 1, 2014