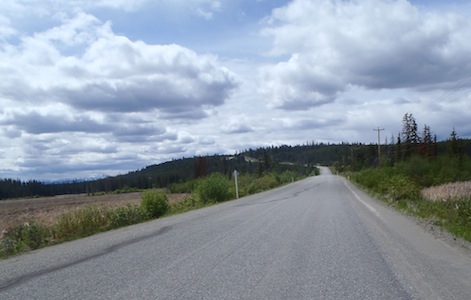 Nimpomaniac 600
Ride date: June 7-8, 2014
by Bob Goodison

The Nimpomaniac 600 based out of Williams Lake was a bit of an experiment. We had never run an event so far from the Thompson-Okanagan area, so we were unsure if enough people would show up to make it worthwhile, especially after the low turnout for the Mica Dam 300 earlier this year. The novelty of the route made the trip attractive enough that nine riders - four from the interior, and five from the Lower Mainland - made the trip north. The Sandman Inn in Williams Lake were more than cooperative, giving the riders a good rate and secure bike storage. Th 24 hour Denny's didn't hurt either.

With everyone staying at the same place, registration was taken care of Friday night, reducing the rush on Saturday.

We rolled out at 05:00, and soon started up a huge climb - a sign of things to come. Someone had described the route as "a few big climbs to get up to the plateau, then gently rolling". Like a nice gentle shark. The view of the Fraser River as we dropped down to the bridge was stunning. Then it was climbing again, up the Sheep Creek hill- 8.5 km at 8 to 9 %. The weather was cool , especially on the descents, but the sun was out and we warmed up quickly on the climbs. There was some cloud, but it didn't look too threatening. I had the high point of my ride about 50 km in: A cow moose with the smallest calf I've ever seen (obviously very new), wandered across the road in front of me. The mum stepped easily over the fence, the calf caving a little trouble getting through. The cow gave me a very hard stare as I went by, trying to not appear menacing. On this ride I also saw one black bear, about ten deer, a rabbit and squirrel. My ride plan, because I had to be at work early on Monday, was to ride fairly quickly to the overnight at Tatla Lake, get as much sleep as possible and ride the second day with Peter and Randy. I caught up with Alex and rode with him for quite some time, stopping at an excellent convenience store at Alexis Creek. Eventually he dropped off the back and I continued on my own. Alex had warned me to expect headwinds on the plateau, and there they were. Not the debilitating type we had on the 600 a couple of years ago, just enough to wear you down. I was feeling pretty strong, and knew I was probably going a little too hard, but was having too much fun to slow down.

I was starting to fade by the time I pulled into the Tatla Lake Manor at 220 km on the out leg to register at the motel and to partake of some of the great food Christine and her friend Sally Johnston had put out for us. There was excellent soup (I had the lentil soup), buns, fruit, chips, and a variety of drinks.Wow! Like being spoiled on a 1200! I continued north to the turnaround about five km west of Nimpo Lake, answered the info control question and headed back, stopping at the Nimpo Lake store for liquids. The store closed at 8:00 pm, and it was obvious few others would get there before closing time, so I asked if there was an outside tap available, thinking I could advise riders as I met them. No luck, though. They would have to figure something out. Randy and Peter got water from the river at the turnaround, using purification tablets just to be sure.

Where the ride from Tatla to Nimpo was a slog, the return was a blast. Now, with a tailwind, the chip seal which had been getting progressively rougher and more tiresome since Tatla now seemed smoother. I met Alex first, then Peter and Randy, then Gary, Gary and Rick. Missing were Richard and Barry. I came upon Richard about half way back to Tatla. He was in a lot of pain from the shoulder he had broken last year and turned around. He already had Ibuprofen, so I gave him some Deep Woods Off wipes and headed back as quickly as possible to ask Christine to go give him a lift before the mosquitoes carried him off. I rode into Tatla at about 10:45, had some more soup (hamburger this time), a piece of chocolate cake, and a shower. Getting into the top bunk was a bit of a challenge, but I made it, and fell asleep quickly, waking only briefly when Peter and Randy rolled in. I still go for personal records on rides, only now they rarely have to do with speed. This was a new PB on a 600 - five hours sleep.

We got up at about 4:45 and went for the DIY breakfast which had been arranged through Johanna at the Tatla Lake Manor. She had hard boiled eggs, cereal, instant oatmeal, yogurt, juice, fruit, etc for us. Rick and the two Gary's were just getting ready to leave after a too-short nap. About a half hour later we were on the road as well, headed for our next breakfast (you can never have too many). Christine had arranged for the Kinnikinik Lodge (www.pasturetoplate.ca) to open early for us. About half way there we overtook the other group, and rode with them for a bit before going on ahead. When a business is so cooperative it's always nice when a good portion of the riders take advantage of the offer and make it worthwhile for the business. This is the first 600 I've ever been on where everyone involved with the event organizers, riders still going, plus dnf's, had breakfast together on the second day (Alex overslept and was a little late, as was Sally, who cycled there from Tatla). What a wonderful experience. Good thing we weren't trying for a fast time.

Back on the road we climbed a long hill torn up for re-paving, then continued to make fairly good time. We saw the other group one more time at Hanceville where we had stopped for water and ice cream. They were starting to look a little weary. We had a couple of small rain showers, one of which seemed enough to put on rain gear for (it wasn't). Finally the last couple of huge ups and downs, and we rolled into the finish. A new personal record for all three of us, I think. Slowest 600, that is.

I loved the route. I would like to see it done again some time in the future, although I may get some opposition on this. The scenery and wildlife was spectacular and diverse. Road conditions went from perfect to very rough and everything in between, but there was very little debris on the road. There was very low traffic, and the vehicles that were out there were the most courteous drivers I've ever encountered. There were so many friendly waves (using all fingers, not just one), friendly horn toots, (only one sustained blast while passing), and drivers waited patiently behind until it was safe to pass. Christine and Sally's support made it that much better. If we ever do run it again, it should be run two weeks after the LM 600 instead of one, to give more recovery time and maybe attract a few more riders. Also, some means of later riders getting water at the Nimpo turnaround after the store closes needs to be arranged. We had thought that most riders would make it there in under fifteen hours, but that was not the case.

Thanks, Christine and Richard for putting together a great ride.
---
June 11, 2014