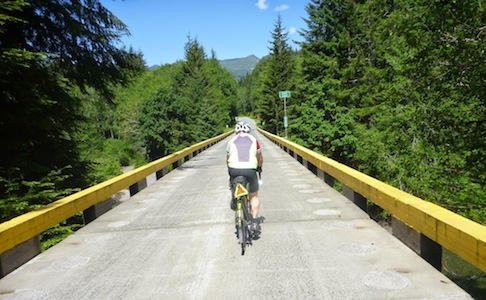 Coastal Inspiration 200 pre ride
Pre-ride date: June 2, 2014
by Jim Runkel

The events from the weekend 600 were front and centre in our minds as Graham and I set out for the pre-ride on Monday. Our thoughts were centred on the health of the rider and hoping he was OK and also on the circumstances.

We are so privileged here in Canada to have roads like the ones this ride take you on. It is also a unique experience to be able traverse an island.

Graham is a great riding partner and as the organizer has done a great job of providing a unique route. The essential of this journey include:

- A sea level start in Chemainus, with a few bumps in the middle down sea level in Port Renfrew where you turn around and repeat most of the fun...

- Magnificent scenery, including pastoral views, mountain scenes, rushing rivers, one lane bridge crossing, and ocean breezes.

- Some interesting climbs to a maximum elevation of 400 m, and a few switchbacks thrown in for good measure.

- Good food at the turn around point courtesy of the Coastal Kitchen Cafe
It is however, the relatively quite roads, free from too many cars that really makes this route unique.

So come out and enjoy this 200...good weather is on order, but good company and fantastic memories are guaranteed.
Ride date is June 7, 2014.

---
Go to: Pre-ride Photos
Go to: Route & Info Page

June 3, 2014