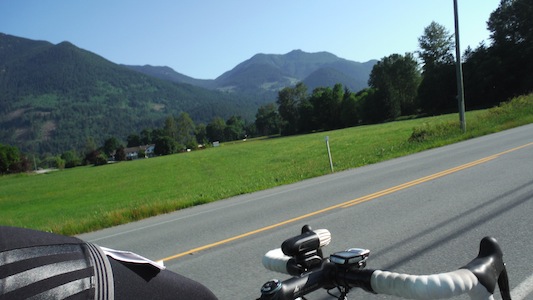 Cache Creek 600
Ride dates: May 31-June 1, 2014
by Luis Berhardt

You might be surprised to know that the Cache Creek 600 completes my first randonneur series done completely on a fixed gear. All of my previous series I have used a geared bike at either 400 or 600 km, but the last time it was because my fixie was already packed up for a flight to Hawaii the next day. This 600 was also notable for the crazy shooting near Spences Bridge, but more on that later.

The start in Maple Ridge was a good compromise, being able to start and finish outside the heavy metro traffic, but close enough to town. I had put the powermeter crank back on the week before, and since I was planning to ride all night, I had the front generator hub as well as an external battery for the Garmin 500, the first time I had used it connected directly. Unless you have the right cable, turning on the external power will shut down the Garmin, but the cable that comes with the Garmin seems to let it charge without resetting everything, as long as you don't shut off the unit. If you do, you lose all your ride data, as I found out at km 420!

This was a big group for the 600, and predictably it started fast. I think people had ideas of a sub-24-hour 600, especially after Craig Lylack's on the island (23:36). So a fast group went up the road. I think they were starting off too fast for a 600; I could think of maybe two or three guys in that group who could sustain that tempo over the distance. I was registering over 300 watts up some of the climbs, and I would shut it down rather than go for 400 watts, but guys were flying past me to stay with the leaders, so they must have been at 4- or 500 watts at that point. Far too many matches getting burned in the first 25 km!

Even then, the second group that I had slipped into was tickling 35 to 37 kmh on the flat sections with some tailwind, and when we broke up at the Seabird Island gas station, we had been averaging 30 kmh for the past three hours and were well ahead of a 24-hour schedule. In fact, I was actually one hour ahead of schedule by the time I hit Yale and the tunnels, but I was also sleepier than I usually am at that stage, and I don't often become sleepy on long rides.

I was also experimenting with a liquid diet. During the 400, I had carried a bland Subway sandwich with me, but I could not bring myself to eat it. I just had no appetite for a sub, it was too dry. I needed something moist. This time, I brought a can of London Drugs meal replacement and a plastic bottle of Boost in my jersey pockets (plus more in the drop bag) to see which one tasted better. Both tasted pretty much the same, although I think I preferred the LD product. It had been on sale; I should have bought two six-packs! The only problem is that the LD can is a little wide for a jersey pocket, but at least it's easy to open, but you have to drink it all at one time, and then you're carrying an empty can until the next garbage stop. The Boost is more expensive, but comes in a plastic bottle that fits easily in a jersey and can be resealed. Its downside is the foil seal underneath the cap. It is very difficult to remove, especially when wearing gloves; you have to use your teeth to rip the thing off.

You can feel the liquid meal replacement quickly kick in shortly after feeding as your speed picks up, so it does keep you going, but I'd say you need one every two or three hours starting at maybe km 100, and provided you had a good breakfast before the start.

We lucked out with the wind until Spences Bridge, getting blown east to Hope and then up the Canyon. I also had a train come alongside on the flat stretch between the two sets of tunnels. I picked up my tempo to almost keep up with the train, which is moving at about 40 kmh on this section.

The first major climb is up to the Elvis Rocks café, which now appears to be closed, unfortunately. The road then descends past Hell's Gate to the Fraser River rapids, muddy and churning quite dramatically, before climbing back to Boston Bar, but it's still several more kilometers before you reach Nigel's well-stocked controle at the Canyon Alpine Motel. From here, the road takes you up the major climb of Jack Ass Mountain, then into open range land, past Spences Bridge and up to Cache Creek. A lot of riders were taking the nearly 3-km detour (1.4 km there, 1.4 km back to Hwy 1) to get to their drop bags at the Inn at Spences Bridge, even though it wasn't a controle on the way out. It's still 125 km between the Canyon Alpine and Cache Creek, so Spences is not a bad idea. In fact, the route used to stop at Spences Bridge, but it continued across the old bridge, which is now inexplicably closed, forcing riders to backtrack to get back on Hwy 1. (Aside: one of the rules of officially-santioned routes is that you cannot go in the same direction twice on the same piece of road. This eliminates any possibility of doing "laps," but it also removes the Inn at Spences Bridge as a controle for both out and back, since you'd have to cover Hwy 8 to the hotel twice.)

From Spences to Cache Creek is largely uphill in gradual steps. The biggest climb is in the last 20 km to Cache Creek, where you can see the road rise high above the river over a couple of kilometers, and it continues to climb in a series of false flats as you round successive turns. The altimeter on the Garmin was showing around 450 meters by the top of the climb, and I was expecting a long, gentle roll back down to Cache Creek, but after a short descent, the road continued to climb, and into a tough headwind! Cache Creek, it turns out is actually above 500 meters! About 10 km before Cache Creek, I saw Ryan and Keith pounding their way back, downhill with a tailwind. I was still maybe 20 minutes ahead of a 24-hour schedule at this point, but this would put them over an hour ahead of me!

Besides the climbing and the wind, I was also getting very sleepy, and I was getting very tired of the sugary energy drink and energy gels I had been taking. At the first gas station I saw in Cache Creek, I pounded down a Coke and refilled the large bidon with two bottles of V-8; time to go from sweet to salty. I turned around and managed to get to Spences Bridge still ahead of schedule, mostly downhill with a good tailwind, but I decided to sleep for up to an hour, so the schedule went out the window. My wife Carole was having a great time manning the station, so I was able to sleep undisturbed in her car before setting out at 10 pm for Boston Bar, my bottle filled this time with plain water. I turned on the battery pack, and the Garmin lit up, and stayed lit! Looks like I can navigate with it at night! It also appeared to recharge the unit, as when I turned off the charger later when it was getting light enough to read, it continued to display another six hours.

Spences Bridge is decidedly weird. Carole told me that just that afternoon (Saturday), the police had come in and dragged some crazy guy off in handcuffs who had been causing a nuisance in front of the hotel. Then, about three hours after I had left, some insane shooter had blown Craig Premack off his bike before evidently driving off in his truck. We were completely unaware of this when I had arrived at the Canyon Alpine at close to 2 am, and when I left at about 2:45. Apparently, Craig had left the Spences Bridge controle at about 12:45 am. Shortly after, three other riders took off. About 15 minutes later (1 am), one of the three came back to inform Carole and the hotel manager that they had come upon a blood-splattered Craig and his bike laying by the side of the road next to the concrete barrier, about 3 km south of town. Carole jumped in her car and drove down; the ambulance quickly arrived to take Craig to the hospital in Ashcroft (injuries were non-life-threatening and he was soon released, fortunately). Craig's blood-splattered bicycle was put on top of Carole's car, but the police then carted it off for evidence. The rear tire was evidently flat; they wanted to know if it was flat at the time it was picked up, but since Carole hadn't been the person to lift the bike onto the roof rack, she was not sure.

Ride organizer Nigel Press was informed of the shooting between the time I had left the Canyon Alpine and the time the next three riders (Ed Person, Peter Stary, and Andrew Hartline) left at 3:30 am. The police wanted the ride shut down, but by this time riders would have been spread along the entire 200-km length of the Trans-Canada between Hope and Cache Creek. Nigel offered to drive back anyone who wanted to withdraw, but no one took him up on this. At most, some of the riders who were contacted (Nigel drove up from the Canyon Alpine to Spences Bridge to inform riders on that section) decided to wait until light before continuing. The RCMP appeared to be satisfied with that.

Meanwhile, I was riding blissfully along the southern part of the Fraser Canyon, but getting cold and sleepy. My generator hub was powering a B&M older technology halogen headlamp, which had nowhere near the power of my backup battery-powered Serfas TL500 LCD light, even at its lowest setting. Going up hills, the B&M's brightness would fade and recover with each pedal stroke. I will have to replace this halogen light with a newer-generation LCD headlamp.

The Fraser Canyon is remarkably quiet on a Sunday morning. I might have one car or truck pass by every five or ten minutes, or even longer. I even made it through all seven tunnels plus the Alexandra Bridge with no traffic in either direction. To avoid the rough shoulder, I took up the entire right lane. It was easy to hear traffic coming up from behind, and the headlights would reflect off signs and objects in plenty of time to move to the shoulder. Even then, vehicles – especially big semis – would give me a wide berth, taking the passing lane or oncoming lane to get by. No need to replace the German "standlight" tail light – very bright and it stays lit even after you stop.

Past Yale I was getting very sleepy again, plus it was getting very cold, so I ducked into a convenient bus shelter. I found it very chilly at 9 deg C, but I was still able to sleep about 20 minutes, then attacked the next few rises to raise my body temperature. By now, the sun was starting to rise, and with it the temperature. Once it was above 10 deg C, it was not uncomfortable in arm and leg warmers and vest.

Seabird Island gas was still closed when I arrived just before 7 am, so I took a photo of the address in lieu of route stamp and continued on. I stopped at the gas station at the Harrison Hot Springs turnoff and had a cup of hot chocolate, then went on to tackle the Woodside grade. The sign says 2 km at 11%, but it's more like maybe 1 km at 12 to 14%, a steep climb. Fortunately, the yappy dogs were not barking at the kennel near the top.

By this time I was crawling in, fighting the headwinds on the unending stretch over Nicomen Island (It's slightly over 10 km, but it goes on seemingly forever), just trying to get home. At Mission, I stopped for a red light, then was just starting off on the green when I was passed by Ed, Peter, and Andrew, the fast-moving train that had left Canyon Alpine at 3:30. This is when I found out about the shooting, and my first thought was if Carole had been worried if I'd made it out of the Fraser Canyon alive. I latched on to the end of the train, moving a good 5 or 10 kmh faster than I had been. It was far easier sitting at the back of a string of riders than it was to slog away by myself. And in fact, Carole drove past us as we were cruising down the highway towards Haney.

We quickly covered the remaining kilometers, just floating over the rolling section of Hwy 7 between Whonnock and the old Albion ferry. I didn't think I had the speed or energy to stay with the group, but it's amazing what a useful drug adrenaline is, and your body provides it for free! I finally made myself useful navigating the group past the turn off the Haney bypass, nearly got dropped on the final twisty climb past the Westcoast Express station, and we made it to the finish in under 28 hours, still a good time for a hilly 600.
---
June 2, 2014