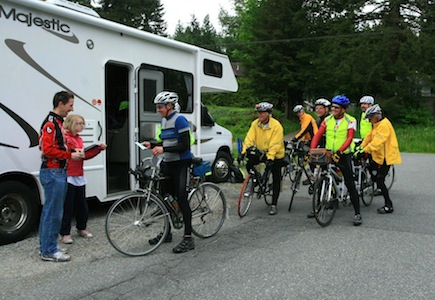 Alex & Danika Pope checking happy riders through at the Langley secret control
Photo: Will
Concrete Seahorse 400 Organizer's Report
by Will Danicek

Wasn't that a great weekend for a brevet, 34 starters gathered in Coquitlam to head south. On the pre ride we decided on a location for a secret control before the border, Alex thought it would be a good idea to bring his newly acquired Class C motorhome I dubbed the "Pope" mobile. Shortly after I arrived there at 7:40am the first riders appeared, and what a group it was, almost half the field. Danika Pope did a great job getting everyones cards processed. Spirits were high and appetites satiated as the field headed off towards the US border at Lynden. Rec'd a call from Phil Hall at 10:30. He and Jodi were on their first 400 a week after completing a 300. A knee issue caused them to withdraw in Lynden, they would make their way back to Coquitlam on their own. Great spirits, they plan on more brevets.
The lead group came in at 9:25 with the balance spread out over the next 7 hrs. It was when Nigel & Cheryl arrived I was puzzled about John & Malou on the 2nd of 3 tandems in the field. Turned out they had organized a planned stop to inspect a new tandem and were swaping components from theirs to test compatability. Lantern Rouge was Ross Nichol, he was out there. A late start and then a few navigation issues meant he never was able to catch up to the group.
3 tandems and Luis Bernhardt on his fixie made for a broad range of riding styles. A personal thank you for all the smiling faces at the finish. All in all the event was a great success because of you, the riders. Turned out the roads from Mt Vernon to the border were heavily traveled this weekend, not so much by cars but randonneurs, as SIR also ran their 400 on Saturday.
---
May 24, 2014