Concrete Seahorse 400 Pre-ride
& Organizer's Route Notes
by Will Danicek

Alex Pope & I headed off on Saturday morning on the pre ride. A different approach to the Queensborough bridge this time should make route finding a little simpler than last summer.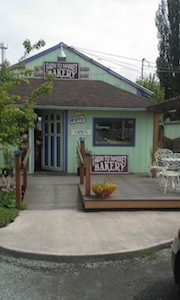 I realized as we passed the Cloverdale Fairgrounds it will be a lot more hectic on ride day, the Cloverdale Rodeo falls on the long weekend. Clouds were all above us, but in true fashion there looked to be blue skies in the distance. We made good time to the first controle, the difference I felt almost immediately, spring winds alive over the prairie. I removed the Edison controle, but no fear for pastries, Farm to Market Bakery has opened on Route 11 beside the Rhododendrum Cafe. The next controle at Westside alleviates the traffic through Burlington then its off to the Skagit Highlands.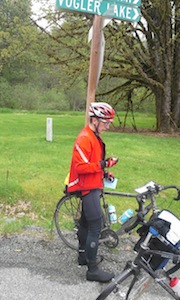 Be careful on the descent down the parkway. There is a stop sign at Rt 538. From here to Concrete there are no services after Clear Lake ( 5 km down the road). The climb to Lake Tyee hopefully gives you a great view of Mt Baker, we saw only clouds. The return will send you through Sedro Woolley for supplies then to the Deming Controle. I doubt the Nooksack Market will be as quiet as it was for us. The final 100k sends you to Mission then the Lougheed for a relatively flat finish.
If you haven't already signed up on randopony, please do. Your organizer would be very greatful. See you all at the start.
P.S. Street parking in the area is available on Westview St & Guilby St (east side of road) south of Austin Ave. There is also street parking on Whiting Way behind the North Rd McDonalds. Pay attention to the no parking signs.
---
Go to: Route

May 14, 2014