Cycling Legend Jack Eason dies at 87
by Richard Blair

Here is an e mail message send to me from Richard Blair in Kamloops. Reprinted here with his permission. EF
Eric: I just got around to reading my copy of Arrivee, the magazine published by Audax UK, the British Long Distance Cyclists' Association, and learned that Jack Eason, described at page 6 as "an AUK legend" had recently died. The article stated that he died in 2013 although it did not give the exact date of death. It appears he was 87 when he died, an inference drawn from a picture in the Arrivee obituary which noted that he was aged 79 years when he rode the 2005 London Edinburgh London ride.

Although Jack had ridden huge mileages before joining the Audax Club in 1991 he subsequently participated in many brevets both in the UK and offshore. In the mid 1990s, Jack would typically ride some 22,000 miles. And, in his rides, Jack would typically finish in the slowest time because he did not like to rush and was known for riding just for the fun of it.
In 1996 he rode the 1,200km Boston-Montreal-Boston and became a regular participant in the BMB brevet in subsequent years.

It was in 2000 that Jack made his way to British Columbia where he rode in our club's Rocky Mountain 1200. Our club records indicate that on that ride he was 73 years of age and that he finished the ride in 86 hours and 10 minutes, reflective of his approach to cycling. Finishing was the important factor, not the time in which a ride was completed.

I met Jack after he finished the 2000 RM 1200k as my wife, Fearon, and I hosted the end of the ride BBQ at our home, it being a time when the RM1200 attracted somewhat fewer riders and we could cope with the social side of the ride's completion.

I recall Jack sitting outside with a full plate and a full beer stein when I asked him how he managed the RM1200. His reply was something like, "Oh, it is nothing. You just keep putting one foot down after the other." He made it sound easy, but after his response, his eyes closed and the contents of his plate and stein fell slowly to the ground. We let him sleep in admiration for what he had just completed.

In subsequent years, Jack's name appeared from time to time in the Arrivee magazine, but it was only with the publication of his obituary did I realize the full extent of Jack's involvement in riding, not just in the UK, but also around the world.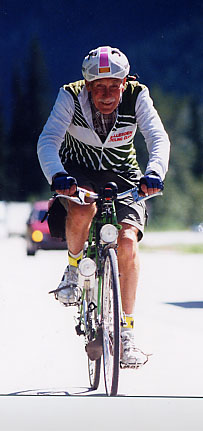 Jack Eason on the 2000 Rocky Mountain 1200
Photo: Bob Boonstra

November 28, 2013