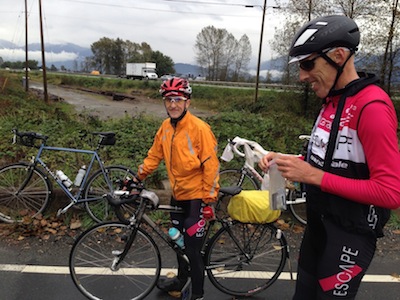 Alex (orange jacket) on the Flatlander
Photo: Étienne Hossack

Fall Flatlander 200: Quick Summary
Ride date: September 22, 2013
by Alex Pope

I got talked into riding the 200km Fall Flatlander, in spite of the not-so-favourable weather forecast, by some Escape Velocity teammates, who were interested in working together to set a fast time (plus Étienne who just wanted to have ice cream at the Birchwood Dairy).
In spite of some rain, wind, and a fifteen-minute delay waiting for a train that parked in a rail crossing to move, we set a respectable sub-8 hour time. Interestingly, though, this was not my fastest 200km this year and yet I felt like I had worked quite a bit harder during the Fall Flatlander than my previous 200km. Answering questions like "why was this?" is why I like using a GPS to record, and subsequently analyze, my rides.
My fastest 200km time this year was in May, during "Eau de Hell Week" on Vancouver Island with 2,400m of elevation gain (according to my GPS estimate – varying estimates of elevation gain is fodder for a full discussion on its own). My average moving speed was 28.2km/h, my official elapsed time was 7:20, and I spent 13 minutes off my bike at controls.
The Fall Flatlander had 600m of elevation gain, my average moving speed was 30.4km/h, my elapsed time was 7:43 (unofficial as results are not yet posted), and I spent a total of 69 minutes off my bike at controls (including the aforementioned 15 minutes waiting for the train and 30 minutes at the Birchwood Dairy for Étienne to have his ice cream, which he had in the form of a milkshake).
I think the lesson is that learning to do a fast turnaround at controls can really make a big difference in having a fast brevet time, and if I can convince my teammates to spend less time stopped, we could be almost as fast as Nigel.
Fall Flatlander 200km: http://connect.garmin.com/activity/379952970
"Eau de Hell Week" 200km: http://connect.garmin.com/activity/315893289
---
September 24, 2013