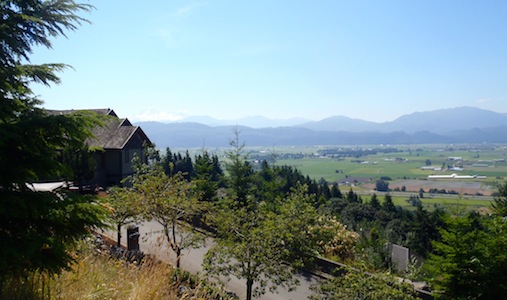 Triple S 200 Pre-ride
(S stands for Sumas - 3 times over Sumas Mountain)
by Rick den Braber

In Australia they would say Slip on a shirt, Slop on some sunscreen and Slap on a hat. With the day being hot with some scattered clouds it was a good warning.
This was my first ever pre ride so I did not know what to expect. More people would have been nice. My co organizer was unable to ride due to a nasty virus from the Oregon Coast 1000.
I decided to ride at least the first 100 km hard and I was able to ride it in 4 hrs and about 17 min. I have ridden under 4 so that should tell you a bit about the hills. I paid for that later. The hills make this a challenging ride and not one where you can expect a real fast time. I am sure someone will prove me wrong.
I left the start at E4th and Boundary at 7 AM and although I thought I knew all the ways out of town, Gary found a new one for me Using Parker St to head East to the Hastings access to the BBy Mountain Parkway UP and eventually DOWN (fun) to Westwood and the "85 dump truck road repair". I rode the Sidewalk and got on to Kingsway and the Mary Hill ByPass and on to the Lougheed and headed for the Golden Ears bridge. I was making good time and some guy with a new bike decided to draft me going up the bridge. I never Slowed down for the bumps and I think he may have been concerned for his rims because he backed off. He could not have been tired? After the bridge it was about 9 km to the first control of at least 7 at the IGA in the Fort(48.5 km). The Store opens at 9AM and I was there 10 minutes before it opened. As I had food on board, I moved on. The course takes you all the way up River Road to Lefeuvre Road and is nice and flat and fast through there. I spoke to soon Lefeuvre has a hill we are used to going down. This is only my second time up (4kph) and you should not be ashamed if you have to walk. Short but brutal. The next obstacle is a bridge under repair on Satchell forcing us to reroute. (There was no bridge just a fence and dirt and a big hole in the ground). There will be a route change here. The course makes its way to Downes Road and Clayburn and on to Straiton for the first run up the Mountain. I saw two deer cross the road in front of me but could not get a picture. I like this hill, there was no traffic when I made the climb. Instead of going down the nice hill we backtracked West and around the Mountain for Control 2 and than up to Eagle Mountain Drive. A steep hill with a good grade but nice pavement. Another Control and than down Lower Sumas Mt Road and on to the Yellow Barn Control at about 106 kms.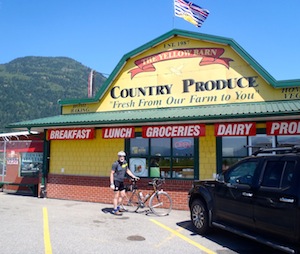 I suggest a food Stop at the Yellow Barn. I did have and Egg Salad Sandwich and liquids. Don't hang around to long because the longer you do the Stronger the head wind will be on your return West on the South Parallel. After noon the wind starts to pick up a bit. For me it was there every road West all the way in but it was not too bad. It might pay to have some friends to break the wind on the return trip.
Well the third trip up Whatcom and some Mountain Drive and a Control and back down and up to some really cool trails and another control. Cool means down. One trail even has a switch back, so take care. To get in to the trail system involves a double gate so you have to dismount and walk through that. I was Sneaking away from Sumas Mt now so I was tired but happy.
It was quick ride down Immel to McLure and some climbing through Abby and ending up on Downes Road to run all the way to 272 and North to 52nd and 56th and than a nice run through some quieter backroads to 232nd where we have to go North to the bypass and West to Glover Road and a climb up Crush Cres. to 208th. North again towards the Golden Ears bridge. But now I was tired.
The route takes you down the Lougheed but diverts off a few times to get away from the traffic and the lights on the Lougheed. There are a few hills Pitt River bridge and the Coast Meridian and Chilko Drive. There is Cape Horn on to Brunette and than connecting to the Lougheed for about 11 km to the finish. I was trashed because of my fast first half and had to work to keep the pace up. I was some happy to See the end in just over 10 hours.
Stopping to talk to Gary about what I thought about various sections so that he could fine tune the cue sheet did not slow me down too much. I used the stops at the lights on Lougheed to catch my breath but by this time I just wanted to get out of the Sun.
This route is challenging but has some nice views and some very interesting features. There was a lot shade on the climbs so if you needed to take a break on a long climb you would be sheltered from the sun. Some of the climbs even had benches along side the roadway for a rest. There are many spots along the way to stock up on food and liquids. I suggest you pace yourself better than I did. Unless of course you think that I am Slow.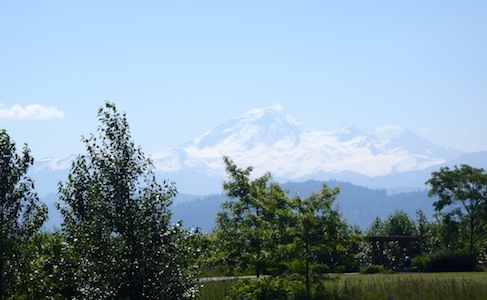 ---
Go to: Route & Info Page

July 7, 2013