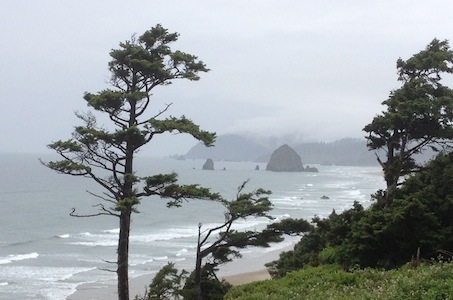 Photo: John Oswald
Oregon Coast 1000 Ride Report
June 22-25, 2013
by Bob Koen

This ride turned out to be epic in lots of ways.

The ride started out well with 19 riders starting under clear skies and warm temperatures. Things went bad in a hurry however when Miyako Morita went down hard after hitting a piece of wood while descending the Alex Fraser bridge. She had a bad case of road rash and a suspected broken collarbone. Motoyasu Meguro abandoned his ride at this point to assist Miyako. Ross and Keith Nichol as well as Susan Barr (who was not on the ride but who had turned up to ride part of the way with us) assisted Miyako and Motoyasu to get to the hospital. We heard later that Miyako did not have a broken collarbone and was not kept at the hospital. What a pity that they came all the way from Japan to ride 29 km with us. Hopefully they will come back again and join us for another ride under better circumstances. Keith, Ross, and Susan all caught up with most of us later that day at Edison while we were having lunch. I want to extend a huge thanks to them for the tremendous Rando spirit that they exhibited in helping our guests from Japan, and for showing how hospitable we can be in BC.

The rest of the first day went well for the remaining riders. There were massively low tides due to the "super moon" that appeared that evening. Everyone still riding made it to Montesano for the overnight control. Bob Koen didn't fare well there and had to abandon the next morning due to getting a cold/flu. He rode to Olympia instead on Sunday and took the train down to Eugene in order to man a finish control and greet arriving riders. Manfred had been riding with Bob and continued on, but with some serious time concerns by this point.

Sunday started out damp and got increasingly wet and windy as the riders headed south. A hard time was had by all, but most of all by Richard Blair. He crashed in the dark while descending Cape Lookout on Sunday night and did manage to break his collarbone. Deidre abandoned the ride at this point to help Richard. He was taken to hospital in Tillamook and got x-rayed and patched up. There was some suspicion of a broken hip as well but that didn't turn out to be the case. Richard has many good things to say about the treatment that he got from the hospital staff in Tillamook. Bob Lepage then drove down to Tillamook on Monday to transport Richard and Deirdre back to Vancouver.

Most of the remaining riders elected to get a room in Pacific City on Sunday night rather than go on to the recommended overnight control in Lincoln City. The weather on Monday was equally awful as the remaining riders struggled into headwinds and rain down the coast. Near the end of the coastal section Gary Baker got an unfixable mechanical problem with his rear hub and had to abandon at km 815. Eric Fergusson also struggled mightily with mechanical issues but did manage to fix them well enough to keep going. By this point all of the remaining riders except for John and Manfred had come together and rode as a group (more or less) to the end. John finished at a reasonable hour on Monday night. The others all arrived between 4 and 6 am on Tuesday morning, where Bob greeted them with refreshing liquids.

Meanwhile Manfred barely made the control times at the beginning of the coastal section of the ride after separating from Bob on Sunday morning. Then he somehow managed to mix up the old and new route sheets and found his way to top of Cape Meares and on to the lighthouse (which was never on the route at all) where he spent the night in a gazebo. He claims to have slept well. In the morning he skipped Cape Lookout and decided to just get himself to Eugene. He managed to find a route through Corvallis and on to Eugene where he arrived a day late but in good spirits.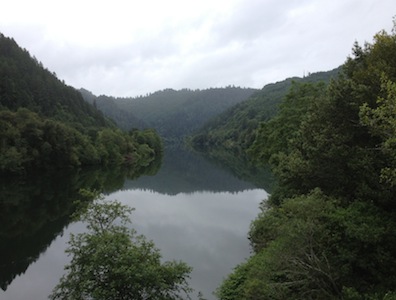 Photo: John Oslwald
Conclusion
This was a hard route. The climbing was measured at a bit over 7700 meters, which isn't all that extreme for a 1000. However, it's a PBP style route that never stops going up or down with many of the climbs being quite steep. The weather was the main contributing factor to make it a really difficult ride under the circumstances. In good weather it is tough but doable, and extremely scenic.

This was the first ultra for at least 3 of the riders, all of whom managed to finish. Chapeau to Eric Guillemot, Dave Campbell, and Dave King.

There were a few glitches with the route sheet, including the worst one near the end where a distance to a turn was very wrong and Eugene wasn't where it was supposed to be. Fortunately all the riders did manage to find the finish control, mostly by homing in on the city lights of Eugene. I have already started reworking the route sheet to fix the problems, and to remove Cape Lookout from the route. There is no point in leaving that piece in since almost all riders will do it in the dark even under good conditions.

I hope that this route will get done again, under better conditions and with a better outcome.

I intended this to be an adventure style ride where there was a high degree of self reliance on the part of the riders. I got what I wished for. I think it was a tremendous effort on the part of all concerned, even for those who didn't finish. And I am especially proud of Motoyasu and Deirdre for abandoning their rides to help their injured companions.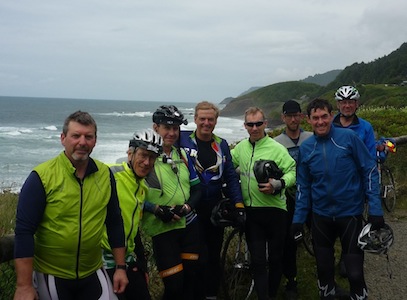 Photo form Will Danisek
---
Go to: Ultra Results
Go to: Photos

June 29, 2013