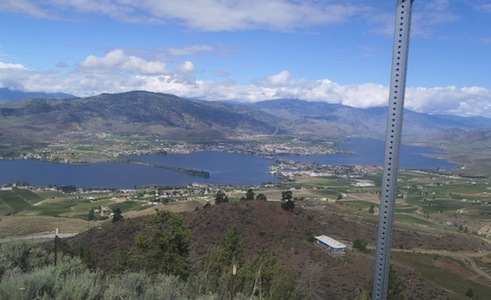 Photo: Bob Goodison
Midway Republic 400
by Bob Goodison

I think most of us were looking forward to the Midway-Republic 400 with a mixture of eager anticipation and dread. We all new it would be extremely challenging with lots of climbing, most notably the Anarchist climb out of Osoyoos. We also knew that the organizer, Doug Fox, likes to ride low traffic, scenic roads. When asked to describe the route before the event, I was telling people "we start out by going up Green Mountain Rd., then it gets hilly". The weather forecast kept changing throughout the week before the event, making it tough to decide what clothing to take. P.O.P forecasts varied from 30% to 60% and back again.
The morning of the ride started cool and clear, with 11 of us staying more or less together for the first few kms to Green Mountain Rd. where our diverse climbing speeds spread us apart. We had been warned not to push too hard to Osoyoos because of the 35 km Anarchist climb but there was also the need to put some time in the bank, as spending 2-3 hours in the granny gear tends to diminish ones average speed and the border crossing at Midway closed at 5:00pm. It was a beautiful ride up Green Mountain, and a chilling and thrilling descent. I finally got to see the herd of wild horses that I had heard stories about, as well as one deer.
After an information control at Keremeos we rode through orchards on Upper Bench Rd., then over the rollers of Hwy 3 to the Richter Pass and the descent to Osoyoos. A quick stop to fill bottles, and up the endless climb. The views were spectacular, with lots of time to enjoy? them. There was a clay cliff just below the road where birds (swallows?) had dug out caves to nest in, and limitless views of the valley. Finally over the top, we descended into Rock creek. I was wet with sweat from the climb and too stubborn to put on my jacket so I got quite chilled on the descent. I remembered there was a deli in the Petro Can in Rock Creek so I stopped and got a ham and cheese croissant. I always enjoy the ride from Rock Creek east on Hwy 3 with it's smooth pavement, low traffic and slight downhill grade but today there was a bit of at headwind. I started to see wet roads, then caught up to a light shower. This, and another brief sprinkle south of Midway was the only rain I experienced. Later riders got wetter. I got into Midway just before 2:00 pm, got my card signed and a turkey mozzarella sub (huge, barely fit in my handlebar bag), and headed for the border and roads I had never seen before.
It was a beautiful ride south along the Kettle River, but when I turned onto Hwy 21 I was smacked in the face with a headwind. This coincided with a slight upgrade and my speed dropped accordingly. At this point I wish to ask the reader (you) a hypothetical question. If you were riding in a rural area, into an endless headwind, uphill, and you happened upon a sealed can of beer on the shoulder of the road, would you drink it? Ok, so it isn't hypothetical. I did and it was good (even if it was a Bud Light). I saw lots more deer on this section. I continued over increasing hills past beautiful lakes to the next control at Republc.
Immediately after Republic we went up the Wauconda Pass. It was not too steep or long, and knowing it was the last real climb of the ride made it seem much easier. Once over the top it was an easy ride to the next control at Tonasket. The hills we had cursed on last year's 300 were now reversed, mostly about 5% to 6%, and they went on for miles. i could feel the temperature rising as I descended back into the Okanagan Valley. Later riders got really cold on the descent, especially Bob Boonstra who made the smart decision to get a motel for a hot shower and a nap before proceeding to the finish. I got into Tonasket at about 7:20, had a couple of nice warm bean and cheese burritos, filled my bottles and was off again.
My legs were still feeling strong and I had a tailwind going up the mostly flat valley to Penticton, so I made really good time on this last stretch. I didn't quite achieve my goal of a sub 18 hour time (I'll blame the traffic lights in Penticton), but I finished still feeling strong, which I think was due to the fact that I was constantly stuffing food into my face, and riding slowly enough to digest it. I definitely enjoyed the route ( all but Anarchist ), and contrary to expectation, it was not the most difficult 400 I have ever done. That distinction still goes to Gord Cook's Nelson 400 (2005).
Thanks, Doug for a memorable (in a good way) ride.
---
May 28, 2013