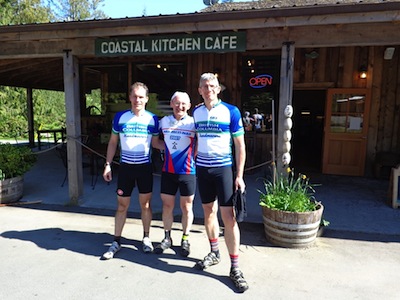 Coast to Coast 300 Pre-ride Report
by Jim Runkel

More pre-ride photos.

http://connect.garmin.com/activity/309252443

As the route organizer, you have the chance to choose the day of your pre-ride. Its good to choose a day that the weather looks good as it make the volunteers, pre-riding with you much happier...so I nominate Graham Fishlock to organize all Island Brevets and choose ALL pre-ride dates...Monday May 6th was a rare day on the coast and it was this day that we had the pleasure of pre-riding the Coast2Coast 300. Philip Lennox had a goal for this ride...he wanted to get it done before he turned 50! which meant we needed to be done before midnight. So with this goal in mind, we headed out with Graham, from the Best Western in Chemainus. This is the starting point for all Hell Week brevets.

Graham will have specific routing instructions on the day of the event based on our pre-ride, but the route overall is in great shape and the mileage on the route sheet was exact at all turns. There are two info controls, so please remember to bring a pen on the ride.

Philip and I will meet each rider in Port Renfrew at the Coastal Kitchen Cafe. Food is excellent at this spot. Speaking of food and water....I went through ~ 8 litres of water on this ride. Depending on the weather, this ride can be hot, but it can also throw the worst of "wet coast" weather at you...so be prepared. In Lake Cowichan, at the Country Grocer, there is a great deli/cafe where you can get fuelled for the ride over the to Renfrew. It is also a good location to get your fluids stocked up. There are no/zero/none! services between Lake Cowichan and Port Renfrew. Lake Cowichan also has a Tim Horton's and Subway if you prefer.

This route has a few hills. See the Garmin profile from my GPS (Link attached). It is scenic and roads are relatively quiet. There are logging trucks so please do not cut corners on the road over to Port Renfrew. You may just encounter the grill of a MACK truck in your face!

NEW JERSEY PRODUCT EVALUATION

On this ride, both Philip and I wore the new club jersey. If you want a quality versatile stylish cycling jersey...then is a great choice. In the morning, I started with the zipper done up all the way as it was cool. As the day got hotter and hotter (we topped out at 31C!) the full zipper proved it worth as it got lower and lower! Fit was excellent. Philip is wearing a small, and I am wearing a large. Great job by Chris to source these for the club. Philip and I give them 4 thumbs up!

Randopony is ready to ride so sign up now and see you in Port Renfrew
http://randopony.randonneurs.bc.ca/brevets/HW/300/21May2013
---
Go to: Photos (Picasa)

May 13, 2013