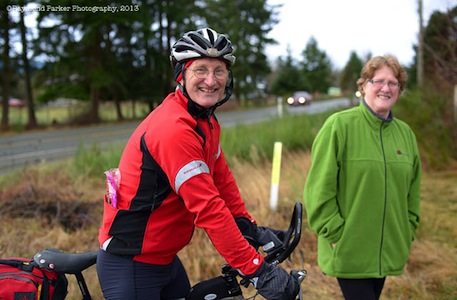 Permanent #37 Coincidence
by Graham Fishlock
Graham was out riding his second February permanent when he met up some mutual friends. Ray Parker is a past Vancouver Island brevet coordinator. Ray provided the photo of Graham and Amanda above. EF
I was out on the road again yesterday completing Permanent #37, Pacific Shoreline, 201 km (Feb. 10th). Time: 8:47
An interesting highlight of the ride happened while cruising along the road between Courtenay and Campbell River. A car pulled up beside me while I heard the passenger window roll down. It was Ray and Amanda heading home after an overnight retreat at a local resort. We met up further down the road and had a nice long talk.
The other highlight was witnessing about 5-600 Trumpeter Swans in a roadside field near Courtenay.
I had drizzle most of the day but I am not complaining for this time of the year! Consider the alternatives back east!
---
Go to: Permanent Results
February 15, 2013