Mt. Baker 400
Organizer's Report
Ride date: August 11, 2012
by Gary Sparks
This was my first attempt at organizing a brevet. I had originally planned to modify the Horseshoe Bay - Harrison Hot Springs permanent designed by Tracy Barill. It's a great route, along less travelled roads. I played with it for a while, but changed my mind after I couldn't overcome assorted logistical problems, including long term parking in Horseshoe Bay. I then decided that an existing route would be easier to organize, and announced a change to the Tour des Lacs 400. I have no idea why that seemed like a good idea. In 2010, I had nearly expired on the climb to Chilliwack Lake Park in 35 degree weather. So, when Chris Cullum suggested the Mt Baker 400, I quickly agreed. I had no idea what the route was like, but it sounded more interesting and included a stop at a place called Artist Point. I had never heard of Artist Point, nor spent much time around Mt Baker. However, the first warning sign came quickly in the form of an email from a club member, asking if the road to Artist Point was open. Open? Why would it be closed? A few minutes on the computer told me that Artist Point (elevation 5,140 feet) is at the end of a 24 mile climb, beginning in Glacier, Washington. I also learned that the road hadn't opened in 2011, because the snow was too deep. I confirmed that this year, the road had opened on July 24th and the ride was on.

Chris and I had agreed that the archived route would be modified to change the start and some of the return portion. I quickly discovered that even modifying an existing route can take (at least me) a very long time. After struggling with the software, I was prepared to give up and go back to the existing route. As I threw up my hands, Chris jumped in and created the modified route. All was ready.

Eight riders assembled for the start. The pre-ride briefing was a bit longer than usual, when it was noted that the Aldergrove border crossing might be closed by the time the last riders arrived. After some discussion, a suitable alternative was agreed upon and off we went. It was a great day with pleasantly warm, dry, weather and a new route to explore.

We headed east through New Westminster to the Pacific Highway border crossing. After a protracted wait we were headed towards Mt Baker and the big climb. The ascent to Artist Point is certainly long and challenging, but the weather was perfect and the scenery is spectacular. The climb seems to be a relatively popular local ride, although probably not as part of a 400 km day. Apart from the physical effort, the mental challenge of our route is working so hard to reach what seems like an obvious endpoint, and then realizing you have another 230 km left.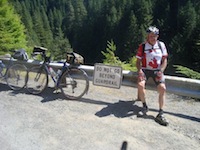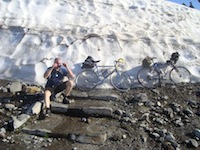 Dave Gillanders (left) - Gary Sparks (right)
Photos from Dave Gillanders

Dave Gillanders and I rode to the top together where we were greeted by enormous snow banks, with people wandering around throwing snow balls. We were a little dehydrated and didn't stay long after learning that the drink machine was still under the snow. Yes, of course the descent was exciting!

We continued on with a stop in Acme, a tour around Lake Whatcom, a late night snack at Denny's in Ferndale, a visit to Fort Langley and a final stop back at the Knight and Day.

Eight riders started and finished. In the category of completely "random" information, Eric has pointed out that among the eight riders, there were three David's and two Gary's, leaving three riders who were neither. The significance of this is unknown, but it has been noted here!

Thank you to Nigel Press and Maciej Szarecki for helping out with the start and to Chris Cullum for the hours spent sorting out the route.
---
Go to: Results
Go to: Chris' Photos
(Flickr)
October 21, 2012