Ripple Rock Ramble Report
by Jim Runkel, co-organizer

Weather: Saturday - Sunny and pleasant. Sunday cloudy with some light rain.
Volunteers: Jim Runkel, Philip Lennox, Kristy Lee Mighton, Lee Ringham
Cheerleaders: Graham Fishlock, Fred Rockwell, Stephen and Carol Hinde, Kristy Lee Mighton, Lee Ringham and all Team Croy's Family and Friends

A rides success can be defined on many levels. For Philip and I we consider this 600 a very successful event for many reasons. Not only did 5 riders start the ride but 5 riders finished the ride. But it is not just numbers that matter, it is the determination of riders to finish that really make this ride "successful". Mike and Brynne set out this season to accomplish a goal, that is, to see Brynne get her SR pin. And standing between her and that pin was one last ride...this 600.

And so on Saturday morning, Sept 8th, Team Croy, along with Eric set out from Tulip Ave on the Ripple Rock Ramble 600 (for a VERY COMPLETE route description see my pre-ride report... you will need at least 30 mins to read it LOL).

Conditions were ideal on Saturday, with sunny skies and warm fall temperatures. But as is usual it seems, on Sunday, the riders did experience a few drops of rain, but not enough to dampen their spirits too much!.

4 controls were "officially" staffed, and one control, in the South end of Nanaimo, became and "unofficially" staffed control when both Lee and Kristy Lee showed up, Kristy bringing "bags of food" with her.

At the Chemainus control, Philip and I waited at Utopia bakery and ate way too many pastries... The riders arrived with just over a 100k done. Eric decided to forgo any attempts at breaking the 600 record time and instead enjoy the beauty of Vancouver Island while keeping the excellent company of Team Croy. Just before we sent them off, Graham came riding in, and cheered them on.

We would not see them again until Sunday afternoon as they came off the Malahat and down Goldstream into Langford. But we followed them closely on-line using the SPOT that Mike and Brynne had. Mike also gave me a quick call from Campbell River, the turn around spot, and over halfway, to say all was well. The plan was to head back to Courtney and grab a hotel. We were happy to see the SPOT moving and reaching the Parksville Control with lot of time to spare. I knew at this point, they would "make it".

Finally, after much anticipation, we saw the trio coming down the road to the finish control on Tulip Ave. After 600 k Brynne still had enough energy to "jump" for joy. I presented each rider with a well earned bottle of "Ryder" beer (I also printed the Control Cards on PINK cardstock to commemorate the historic "Pink Jersey" Giro win).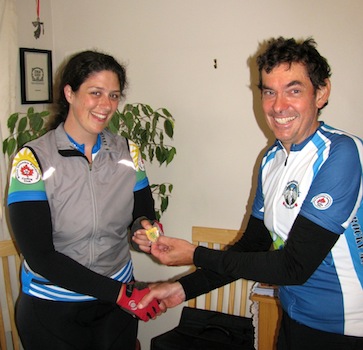 Eric presented Brynne with her first 600 pin, completing her SR for 2012. The smile on her face and the obvious emotional joy in her voice....now that defined this SUCCESSFUL RIDE!

---

Go to: Results
Go to: Photos
September 11, 2012