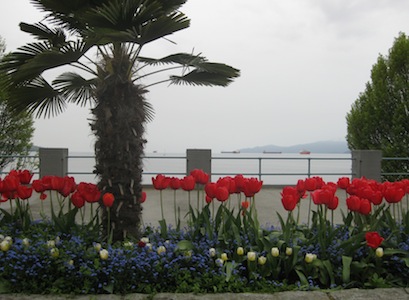 View from English Bay on permantent #30 - TGV
Squeezing One In...
Permanent #30 Report
by Eric Fergusson

I had signed on to help Chris Cullum on the registration table for his Crouching Rat 300 yesterday. Knowing that my favourite permanent, #30 - Tour of Greater Vancouver (205), also starts at Kalhoun's in Kits I had this idea that I could squeeze in the permanent and be back to help Chris and Deirdre with receiving riders at the finish.
My plan was in part motivated by the optimistic weather forecasts early in the week. It turned out to be a drizzly ride. Dry on the North Shore but then light rain becoming more serious at UBC and then again in South Richmond. But beautiful blossoms and signs of spring everywhere.
Permanent #30 is a tough one to do quickly. There's some climbing up front, and slow progress through the city both at the beginning and especially in the home stretch. I actually really like that last leg from New West to Kits. You just have to be prepared to take your time. On this day the final 25 km took me 1h45m.
As for my plan of helping out... I did realize my goal of getting back before the first finishers, but that's as far as it went. I had a slice of pizza and a draught, took a photo of Nigel, Keith and Andrew. I told Chris I'd had it - he sent me home.
-----
I was very happy for the rule change that made this ride possible. When we first introduced permanents there were restrictions about permanents and ACP sanctioned brevets being on the same day. The worry was mainly about draining both rider and volunteer interest for ACP brevets. It was a point worth considering, but the drain didn't happen. It turned out that most riders were focused on ACP sanctioned brevets. Permanents, though enthusiastically embrased by some, has resolved into it's own niche.
One final word... When I mentioned my plan to do a permanent in the LM300 "window" to permanent founder and co-director, Tracy Barill, he did have an observation: "Now that's a turn of events... a permanent might just add to the possibility of volunteering."
---
Ride date: April 28, 2012
Go to: Permanent Results
April 29, 2012